Shiga Kogen is limited in terms of 'nightlife' but there are some great dining options throughout the area. Most of the bars and restaurants are located within the hotels and range from traditional Japanese cuisine to fine dining international fare.
DOWNLOAD SHIGA KOGEN INSIDER'S GUIDE
Prince Hotel - East Building

Within the Shiga Prince Hotel East Building there are a variety of dining options. Your options include, the main dining room which is open all day and serves both Japanese and western meals as well as the GoGo Curry restaurant and Bar Le Etoile which is open as a cafe and for après drinks.

Prince Hotel - South Building

At the Shiga Prince Hotel South Building you have several dining options within the hotel. The main dining room serves dinner which is a Japanese and Western buffet and for lunch Restaurant Mizubasho serves up quick meals to get you back on the slopes. If you're looking for something different, Izakaya After serves up delicious Japanese food and local sake.

Prince Hotel - West Building

Within the Shiga Prince Hotel West Building you have a variety of options to choose from. Restaurant West Side is the main dining room which serves breakfast, lunch and buffet dinner with Japanese and Western options. Just next to the West building you'll also find a Chinese restaurant open for lunch and diner and the Ramen Corner, open for lunch.

Shiga Kogen Traveller's Bar

Shiga Kogen Traveller's Bar is located in the Ichinose Village in the bottom of Shiga Grand Hotel. Here you'll find a variety of mexican inspired meals, to enjoy with your cocktail. Being only a short walk from Ichinose Ski Area it's a great place to relax and have a drink after a day on the mountain.

The Crumpet Cafe

At the top of Yokoteyama you'll find one of the most unique cafes in the region, The Crumpet Cafe. Here they serve a variety of sweet and savoury crumpets. It's a great spot to take a rest and recharge while enjoying views from the highest lifted point in Japan.

Junk Food Cafe

The name says it all! Here you'll find all your fast food cravings such as burgers, hot dogs and crepes, which you can wash down with a selection of beers and chuhais. The cafe is located in the bottom of the Silver Shiga Hotel.

Yokoteyama Bakery

At the top of Yokoteyama you'll be at the highest lifted point in Japan, which is also home to the highest bakery in the country, the Yokoteyama Bakery. Here they sell a delicious range of pastries and soups along with breathtaking views.

Yaki-ni-ku

Yaki-ni-ku is part of Japan Shiga Hotel (enter through Kamoshika restaurant and turn left). Not recommended for vegetarians, the Yaki-ni-ku is a meat eaters paradise where you get to barbeque your own meats and vegetables at your table. It's always a good experience. Reservations are recommended.

Grand Phenix Hotel

Located in the Okushiga Kogen area you'll find three high quality restaurants offering Italian, Japanese and Chinese cuisine which are all open for both lunch and dinner. If you're after a drink they also have a lounge & bar which is open all day and into the evening.

Lift Up Coffee

If you're craving a good coffee then head to the Lift Up Coffee at the top of Higashidate Gondola. Visitors often say this is some of the best coffee they've ever had in Japan. They serve up Melbourne style coffee which is perfect when taking a rest break.

St Christoph's

At the bottom of the Okushiga Gondola you'll find St Christoph's. This is a great spot for a Japanese lunch or a few beers on the deck while waiting for the bus back to your accommodation, especially on a bluebird day!

Okushiga Kogen Hotel

In the Okushiga Kogen area you'll find the luxurious Okushiga Kogen Hotel. Within the hotel you'll find 3 upmarket restaurants offering French Cuisine, Japanese Cuisine and Teppanyaki. Along with this the hotel also features a lounge and bar which is great for après ski or an after dinner wine and cocktail.

Kamoshika

Kamoshika is a reasonably priced restaurant offering tasty Nepalese and Indian cuisine. Their homemade garlic naan bread is a must try, it's huge, delicious and many say the best they've ever had. Try it with their tandoori meats and curries.

Cuisine:

Nepalese & Indian

Teppa Room

Teppa Room at Chalet Shiga is a lively brew pub with friendly and attentive staff, serving sensational locally brewed Shiga Kogen beers on tap. Teppa Room has a western feel and as well as a great choice of beer, it has a large selection of sake available. They offer lots of shared plate options including yummy fried chicken, gyozas and pizza.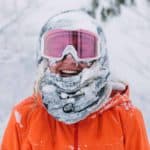 HAVE ANY QUESTIONS? Speak to one of our ski travel specialists today!
GET A QUOTE