Your Complete Guide To Hakuba This Season
Just over three hours from downtown Tokyo in the Northern Japanese Alps lies Hakuba – one of the world's great ski destinations. If you've rightfully decided to tick this winter paradise off your bucket list, we've put together your complete guide to Hakuba for the 2023/24 winter season.
The Hakuba Valley can claim more sunshine than its neighbours, and has a large cluster of mountains with wide-ranging terrain and delicious restaurants. Not to mention great bars, huge snowfalls and the steepest runs of the country's 600 alpine resorts. The region debuted on the world stage while hosting the Winter Olympics in 1998 and has grown to one of Asia's most popular ski destinations! Ready to find out more? Keep reading our guide to Hakuba below. 
What's New This

 Season

?
Lifts 
Advanced skiers and riders will be excited by the new lift at Norikura. Lift 11 sits at an elevation of 1,598 metres and provides access to untouched backcountry terrain between 9am and 2pm daily (as conditions allow). You'll need your trusty avalanche beacon, shovel and probe. Then register your intent with the ski patrol and you're away. Happy riding! 
Bars & Restaurants 
Where French après-ski meets modern Japan, Hakuba Après is a must-visit this season. With two levels, the first floor is home to an indoor-outdoor après-ski bar with a focus on mulled drinks and beer, while the second floor is an upmarket speakeasy lounge bar serving mostly whiskeys, cocktails, wine and champagne
Looking for traditional dining? Tori Co is the place to go, an intimate, new 35-seat Yakitori restaurant in Upper Wadano

Lead by Andrea Ferrero, who previously worked as executive chef in some of the world's finest hotels like the Bvlgari in Milan, The Clubhouse by Stars'n Cacio is bringing incredible Italian food, American nibbles, and innovative cocktails to Hakuba this season

Next door to the clubhouse, a new wine house is set to open, stay tuned…
For relaxed dining from Breakfast through to dinner and amazing cocktails, head to the new Calico Restaurant in Echoland
Unjuane will be serving up its loved burgers and beers from a new location in the Grace Hotel complex this year
All-day eatery, Cantina is moving to Echoland this season
Ski Hire & Experiences 
Snow sports store, Rhythm is moving to THE HAPPO Plaza
Hakuba Base Camp (Nagano Snow Shuttle) has moved from Echoland to the train station
Lion Adventure, operators of the famous snowmobile tour, have opened a beautiful new storefront in Echoland, complete with a cafe
Central Snowsports is opening a new shop in Echoland (where the old Bear's Cafe was)
Snow Machine Japan
 

Music and après-ski festival Snow Machine Japan is heading back to Hakuba from 26th February –
2nd March 2024 for four days of music, pow, and après adventure. It's your ultimate ski trip and music festival in one. Check it out:
Guide to Hakuba's Resorts 
The Hakuba Valley boasts an incredible variety of terrain across its 11 resorts, meaning there is something for everyone. Plus, for ease, they're all accessible on the one lift pass. The five major resorts are Tsugaike, Cortina, Happo-one, Iwatake, and the interconnected Hakuba 47/Goryu. Each mountain has a mix of intermediate runs, off-piste tree areas, open powder bowls, steep leg-burning groomers, and a number of terrain parks. This guide to Hakuba has all the tips and tricks for the ultimate experience on the slopes.
Insider Tip: Epic Pass and Australian Epic Pass holders can enjoy five consecutive days of complimentary skiing with their Epic Pass. Just head to a designated ticket office, show your epic pass and ID and you will be handed a 5-Day Hakuba Valley Lift Pass.
Tsugaike Kogen
Beginners and intermediates are best suited to start their skiing at Tsugaike Kogen. The slopes are wide, gentle, and devoid of trees making it the best place to build your confidence. The main street at the foothill of Tsugaike has various izakayas as well as western-style restaurants for you to explore. All in all a very charming experience.
Insider Tip: "Kane-no-naru-oka" (The hill where the bell rings) is the best run for families and beginners. This mellow run is 1,200m wide, 980m in length, and has comfortable 9-degree average gradient. It also has night skiing.
Cortina 
Powder hounds heading to Hakuba will of course have heard the great lore of Cortina and its off-piste tree runs and unmatched side country. It receives the highest and driest snowfall in the valley and usually gets nearly twice as much snow as neighbouring resorts! The snow patrol team at Coritna is quite relaxed, and off-piste skiing is not an issue. Ridgeline runs that drop into near-perfectly spaced trees will delight those wanting to earn their turns and get waist-deep in the pow. Cortina is also interlinked with the neighbouring Norikura, giving you access to all 25 combined runs.
Insider Tip: GO HERE ON A POWDER DAY. You can basically ski any of the tree runs, and most on the front side of the resort. It is not to be missed!
Happo-One
The largest and most central resort in the valley is Happo-One (pronounced On Ay), spreading across 220 hectares. The pitch is on the steeper side with a 1701 vertical metre drop and is best suited for intermediate and advanced skiers. Beginners at Happo should visit Saka where the terrain is more mellow. Terrain park dudes are in luck, the Happo Banks Terrain Park may be the best park in the valley. On a powder day, our suggestion would be to check out the tree runs on Skyline.
Insider Tip: On a clear day, head up to Reisen Grat, the resort's highest peak, and ski all the way down through Alpen, Usagidaira, and Panarama, coming onto what was once the Women's Slalom course and finishing up at the bottom of the Kokusai area.
Iwatake
Iwatake has terrain for every skill level and is a great option for families or groups with a mix of abilities. Just 10 minutes from Hakuba Station, the resort is easily accessible from Happo Village. Once beginners build confidence, they can take an easy run from the top of the mountain all the way to the base, there are also more challenging intermediate routes that branch off from this run. Advanced skiers can stay busy with high-speed runs, powder skiing, and a terrain park.
Insider tip: One of the best ramen shops in town is located at the base of the ski resort. Come out from the gondola entrance and cross the road to a wooden shack with skis and snowboards out the front. Enjoy!
Hakuba 47
Connected to Goryu, this resort sits right next to Happo-One (the two have reciprocal views of each other) and is adjacent to Goryu and Echoland villages. This is another resort that's great for the family, with a large variety of beginner and intermediate terrain and some challenging blacks thrown in the mix. A few good days could be spent here, as the tree runs are mint when the powder is on and the terrain park is perfect for firmer conditions.
Insider Tip: Sign up to the "Double Black Diamond Club" and you'll have access to the formidable off-piste and backcountry. It's free to register and you'll receive a bib that gives you access to the exclusive terrain.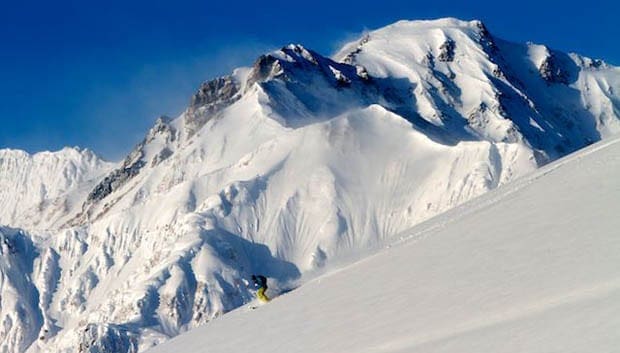 Getting to Hakuba
Whether you're flying into Tokyo, Narita, or Haneda Airport you will have two options for transportation to Hakuba.
From Narita Airport
Option 1: The fastest route (just under four hours) requires two trains and a bus. Take one of the frequent trains from the airport to Tokyo Station. From there, take the scenic bullet train AKA Shinkansen to Nagano Terminal, make sure you pre-book to secure a seat. From Nagano, take a bus to Hakuba Station.
Option 2: Take the Nagano Snow Shuttle from Narita Airport straight to Hakuba. This trip will take just over five hours in total, but it's the most direct route and will save you from having to lug your things around from station to station.
From Haneda Airport
Option 1: Take the monorail to Hammatsucho Station, transfer to the Yamanote Line (the large green circular line), and catch it to Tokyo Station. There you can board the Shinkansen to Nagano Station and then the bus to Hakuba Bus terminal as outlined above.
Option 2: Take the Nagano Snow Shuttle from Haneda Airport straight to Hakuba. This trip will take just over five hours in total.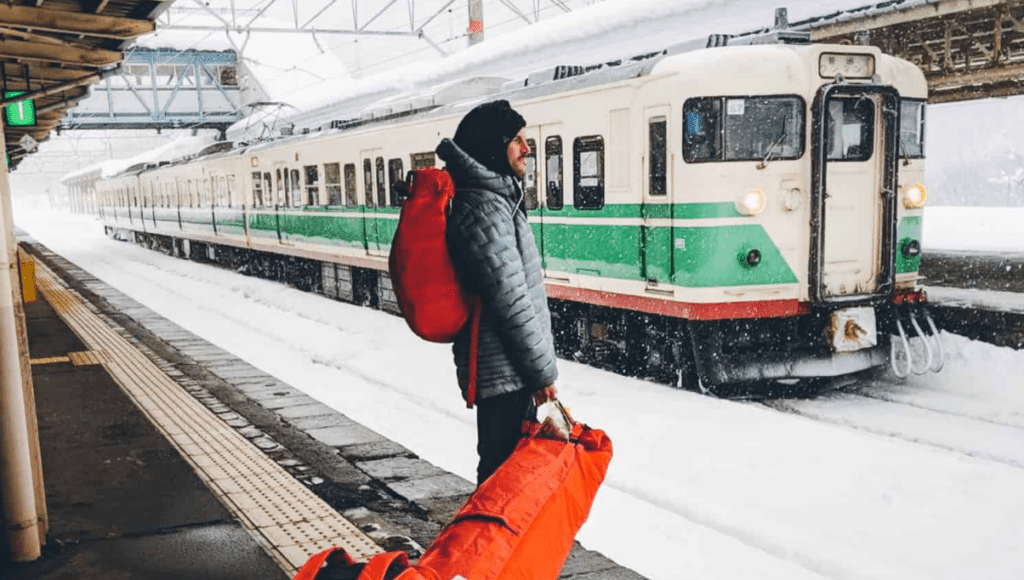 Lessons & Rental Equipment
There are a number of ski schools in Hakuba, with lessons available at all resorts and English-speaking instructors – so no need to worry if your Japanese isn't up to scratch.
Lessons
Whether you are an absolute beginner or a freestyle guru, Hakuba Snow Sports School has well-trained, friendly, and professional instructors to help you get the most out of the mountain. Choose from a group lesson at Iimori Snow Resort or a full/half-day private lesson at any resort in the area.
Operating out of Hakuba 47 Winter Sports Park, Hakuba Ski Concierge is the area's boutique ski school. Different from the more conventional ski schools, the ski concierge exclusively offers private lessons and fully customisable guided experiences.
The largest ski school in Hakuba, Evergreen International Ski School, offers everything when it comes to getting you to the next level. And, with Rhythm Snowsports around the corner, it's somewhat of a one-stop-shop with the two running shuttles to and from.
Rental Equipment 
Rhythm Snow Sports has an enviable selection of attire and equipment to either rent or purchase, as well as a small café (Rhythm & Beans) with some of the best coffee in town! The range of premium and standard rental packages available at Rhythm suits all budgets, skill levels, and ski conditions. Plus, the friendly, English-speaking staff will happily order shuttles so you don't have to lug your new gear back to your accommodation.
If you're after demo skis & boards, Central Snow Sports has the largest and widest range in the Hakuba Valley. Not only that, they have a huge range of gear for hire regardless of your ability. Head to one of their three stores: in the Gondola area of Happo-One, Echoland, and the Sakka area of Wadano.
Guide to Off-Slope Adventures
Whether you're after an adventure, relaxation or a cultural experience, there are plenty of ways to spend your days off the slopes in Hakuba…like snowmobiling, sightseeing, and cultural day tours. We've included a few of our top picks in our guide to Hakuba's off-slope adventures below or click here to read more about the hidden gems of Hakuba beyond the slopes.
Snowmobiling
Driving through fresh powder on a powerful machine is one of the best ways to spend an hour when you need a break from the skis or snowboard. Check out Lion Adventures website for more details.
Snow Monkey Full-Day Tour 
The world-famous Snow Monkeys are the only known monkeys to bathe in hot springs and they're easily accessible! We recommend going on a full-day tour to witness these incredible creatures, as well as historic temples like the 7th Century Buddhist Temple, Zenkoji. Plus, an awesome lunch is included.
Matsumoto Castle Self-Tour 
Monkeys not your thing? How about a trip to one of Japan's oldest standing castles? Nicknamed "Crows Castle' for its unique black colour, it's one of the few castles in Japan constructed on an open plain. It's about 90 minutes on the JR train from Hakuba Station.
Day Trip to Nagano
A day trip to Nagano is a great option from Hakuba. You can take a bus from Happo to Nagano station or alternatively, you can hire a car. There are plenty of things to do here, including visiting RoundOne a multi-level building full of games and arcades, shopping the town's many second-hand and vintage stores, visiting the Kids Ninja Village or the Togakure Ninpo Museum and sightseeing at the Zenkoji Buddhist Temple. If the thought of all that exploring makes you feel like a drink, there's also an awesome tour experience at Yoshinoya Sake Brewery.
Guide to Hakuba's Accommodation 
As ski towns go, Hakuba is definitely on the vast side and therefore has plenty of options to choose from when it comes to accommodation. The valley is separated into various boroughs – we recommend staying in the Echoland, Happo, and Wadano areas of Hakuba. This will not only give you easy access to more ski resorts but more après options (bars, restaurants, cafés and shops) too. Whether you want to experience the luxury of Hakuba or you're on a budget, there are plenty of options to suit in our guide to Hakuba's accommodation.
If you're looking for value, Nomad Lodge is an excellent retro-style Japanese accommodation offering located in the heart of Echoland. Moving up to mid-range our top pick is Hotel Goryukan – why? It's a five-minute walk from the chairlifts! For actual Ski-In/Ski-Out, we recommend The Marillen located at the base of Happo One. Or for a boutique stay, you can't go past the deluxe rooms at The Happo, Hakuba's newest offering.
If self-contained is more your forte, we'd recommend the mid-range Mizuho Chalets or for a luxury ski-in/ski-out stay look no further than the apartments at Roka.
Guide to Hakuba's Restaurants and
Après 
The Hakuba Valley is blessed with an array of delicious restaurants spanning a seemingly endless number of cuisines and price ranges.  It's the type of place where you can try a new restaurant for every meal during your stay, and still have so much to discover! Read our guide to Hakuba's restaurant scene below and start planning your culinary adventures!
All Day & Western Eateries
There are plenty of options when it comes to western eateries in Hakuba. And, the great thing is, plenty of our favourites spots are open all day, meaning you can enjoy coffee and breakfast at sunrise through to après at sunset! Our top pick for this especially is The Rabbit Hole in upper Wadano serving up delicious breakfasts, through to toasties and burgers and plenty of happy hour deals at the end of the day. The Clubhouse, Cantina and Calico (coming soon to Hakuba) also deliver when it comes to an epic Aussie breakfast and brunch and come alive in the evening with music and plenty of cocktails.
For dinner, head to Cherry Pub in Echoland for all your pub classics or Bernd's Keller at Hotel Marillen for hearty German cuisine. If wood-fired pizza has your name on it after a long day on the slopes head straight to Blizzard at Happo Gondola.
Japanese Restaurants
As you'd expect, there are plenty of amazing traditional Japanese restaurants in Hakuba serving up a range of delicious delicacies. If you're like us and love dumplings, make sure you check out Yamagami in Hokujo or if noodles are more your thing, Soba Shubo Zen specialise in tasty soba noodles. For the freshest sashimi and sushi, Kikyo-ya is the perfect spot, or if you want a restaurant that offers all the Japanese classics in one place, head to Izakaya Hie.
Fine Dining
Fancy fine-dining? There are plenty of memorable gastronomic experiences in Hakuba to enjoy after a day on the slopes. Helmed by head chef, Andrea Ferrero, who previously worked as executive chef in some of the world's finest hotels, The Clubhouse by Stars'n Cacio is new this season – bringing with it incredible Italian food, American nibbles, and innovative cocktails. There are two crowd favourites that deserve a mention here too, Mimi's Restaurant and Bar offers a memorable tasting menu at the Phoenix Hotel in Wadano and Hybrid serves up modern fusion like nowhere else in Hakuba.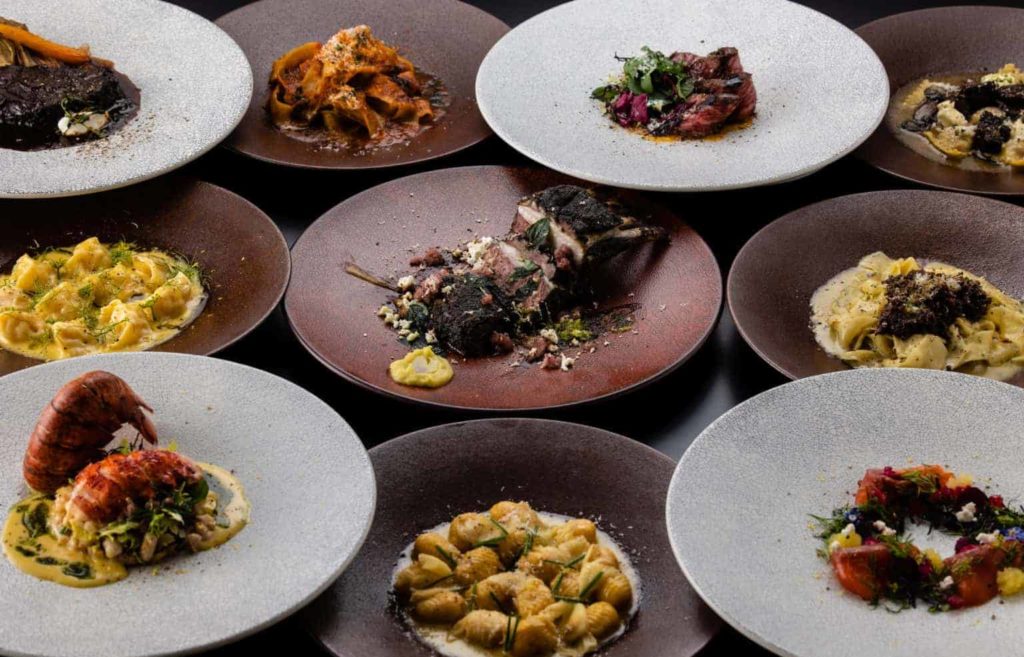 Après & Nightlife
As the sun goes down, Hakuba's restaurants and bars come to life. Our pick this season is the new double-level Hakuba Après bar on Nakiyama! the first floor is home to an indoor-outdoor après-ski bar with a focus on mulled drinks and beer, while the second floor is an upmarket speakeasy lounge bar serving mostly whiskeys, cocktails, wine, and champagne. Other top picks are The Rabbit Hole, in Upper Wadano Bar Refuel at Happo Village and Mockingbird at Echoland.
If you've read the complete guide to Hakuba and you're ready to experience this powder paradise for yourself, complete an enquiry form, and our team will happily create a custom package for you or discover our packages below: