Where To Ski In Japan? – Honshu's Best Resorts
Which Honshu resort is right for you?
Honshu is the largest and most popular island of Japan with an abundance of different ski resorts to choose from. Fly into Tokyo and you have direct access to some of the best ski resorts in the country via a direct coach transfer or the famous Shinkansen bullet train and shuttle buses. With all these snow resorts to choose from it's hard to know where to start. You'll see that world famous 'Japow' at all resorts but there are a few favourites we recommend. Whether you're after a family holiday, wanting to get deep in the backcountry or if it's your first time skiing, there's a resort suitable for you. 
This guide is to help you decide which resort is best for you. 
Hakuba 
Hakuba can be accessed via a direct coach transfer or the bullet train to Nagano and a shuttle bus to your accommodation. Once in Hakuba there is so much terrain to explore for all abilities. Ski 10 different ski resorts on the one lift pass, ride 135 lifts and more than 200 runs. There is something for everyone in Hakuba. 
The largest resort in Hakuba, Happo-One is the centre of the valley and is within walking distance of most accommodation. All other ski resorts can be accessed with the frequent shuttle bus services that run throughout the day. The other resorts are within 5-30 minutes from Happo. There is a variety of terrain with mellow beginner terrain, long wide groomers for intermediates and some of the best tree skiing in the country at resorts like Cortina and Iwatake. Hakuba receives an average of 11+ metres of snowfall each season so there is no shortage of snow across the resorts.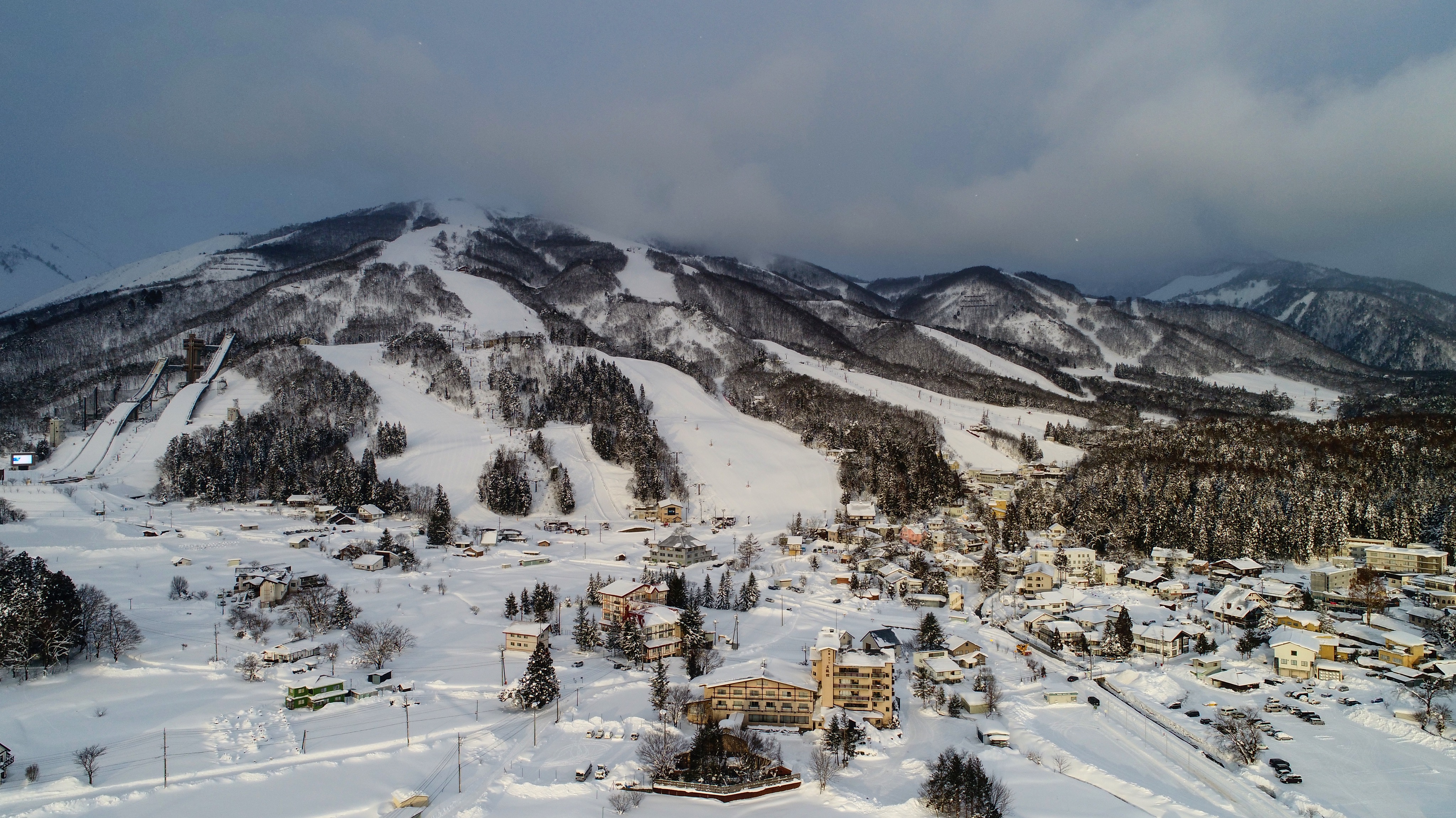 The main villages of Happo, Wadano and Echoland are at the base of Happo-one and have a vast selection of bars and restaurants. If a vibrant nightlife is what you're after you can find that in Hakuba. Whether you're after a traditional Japanese Izakaya, a hearty pub meal or are wanting to party all night, you can find it in Hakuba. 
Hakuba is great for families and those who are after western facilities while still having traditional options available. Hakuba also has world class ski schools offering lessons and kids club in English.  Most restaurants and hotels have English-speaking staff so you can get by without knowing a word of Japanese. Hakuba is a good balance of Japanese and western influence. 
Myoko 
Myoko is a little further away than Hakuba and closer to the west coast of Japan which means it gets some of the best light dry powder in the country.  From Tokyo, take the Nagano Snow Shuttle from the airport directly to your accommodation in Myoko in about five hours or take the more scenic bullet train and then a local train to Myoko.  It's worth the journey with over nine different resorts accessible including the newly opened Lotte Arai.
Powder chasers will be happy with Myoko as it gets inundated with more than 17+ metres of total snowfall in an average year. Myoko is another destination that's great for everyone with the choice of large and small resorts. Akakura Kanko and Onsen are 2 interconnected ski resorts within walking distance of the main village of Akakura. Suginohara is popular for its long, steep runs and is great on a powder day. Ikenotaira is smaller with mellower slopes but has some gentle tree skiing and never really gets crowded! You can access 9 resorts in Myoko and surrounding areas with our exclusive Snow Chaser Pass, only available with our packages. 
The village is small with only 2 main streets but there is still a  great selection of onsens, bars and restaurants to choose from whether you're after sushi, okonomiyaki, pizza or something a little more sweet like a crepe. Myoko is a more traditional resort compared to Hakuba and Niseko but still has everything you need in one place. 
Nozawa Onsen 
Nozawa Onsen is famous for exactly that, its public and private onsens found throughout the village. Natural hot onsens are used for washing food, feet and for bathing. Like all these resorts, Nozawa is easy to get to from the airport with a direct shuttle bus. You can't be disappointed with the snow quality in Nozawa either. . Nozawa is made up of one ski resort but it's large, offering 300 hectares of terrain. With 1085 metres in vertical drop there is steep skiing on offer as well plus mellow green runs for families and beginners. There's also backcountry options and a park too if that's more your thing.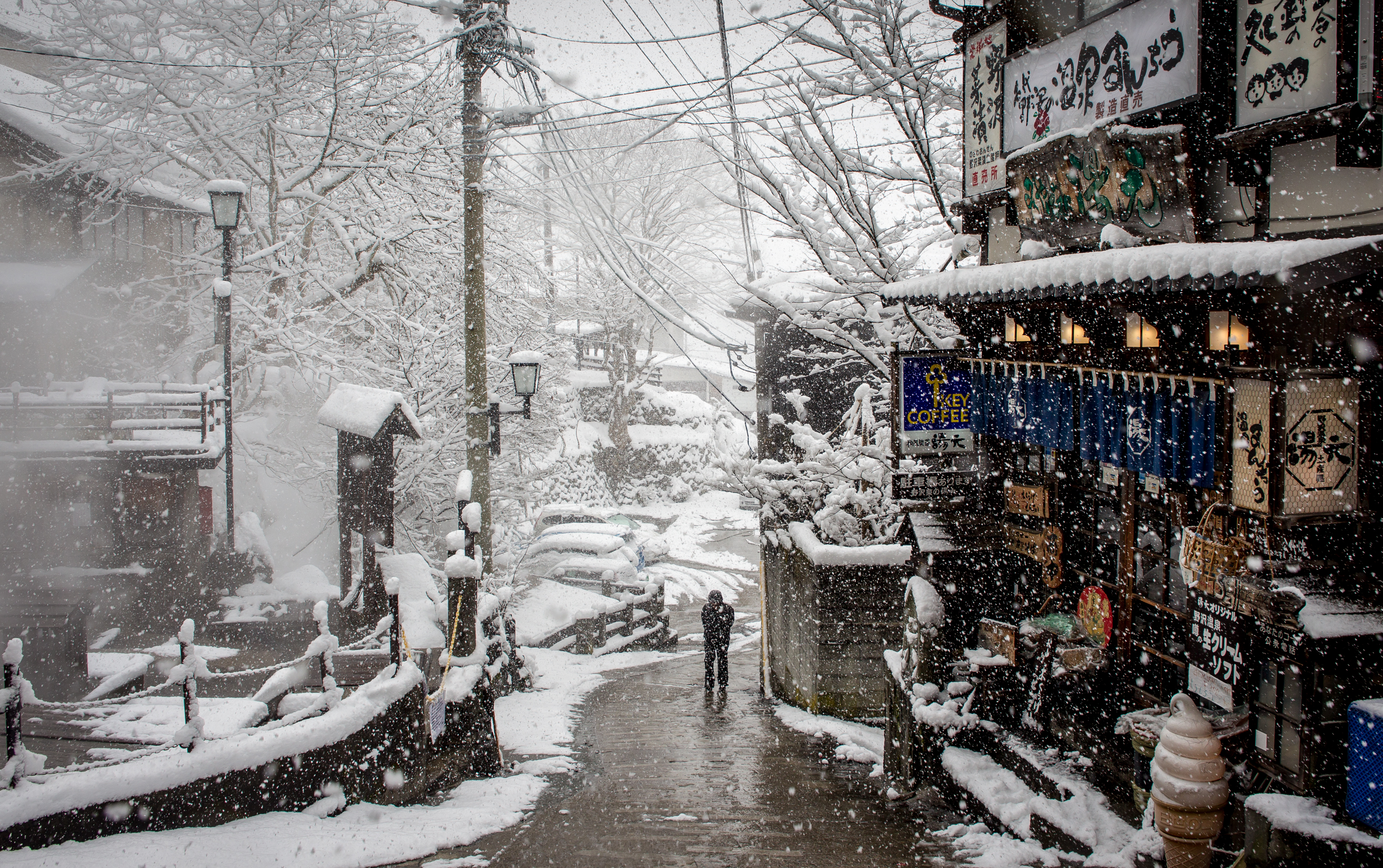 Nozawa Onsen is most popular for it's beautifully traditional village offering a selection of Japanese bars and restaurants and even karaoke as well as a selection of western options. If you're looking to relax after a long day of skiing then find yourself a public or private onsen to soak in around the village. Nozawa also has a good quality ski school offering lessons in English. 
Due to Nozawa's popularity you'll need to book quick especially if you want to travel over the peak periods. Nozawa is the quickest resort to book out each season and when you see it for yourself you'll understand why. 
Shiga Kogen 
Famous for hosting various events at the 1998 Nagano Winter Olympics, try the terrain for yourself. Shiga Kogen can be accessed via a direct coach transfer or the bullet train to Nagano and a direct bus into the resort.
Shiga Kogen offers some great ski-in and ski-out hotels such as the Prince Hotels at the base of Mt Yakebitaiyama. Shiga Kogen is the largest interconnected ski area in Japan made up of 21 ski areas so there is no shortage of terrain to explore. With so much terrain there are runs suited for all abilities from beginners and intermediates to more advanced riders chasing powder. 
The region offers off-slope activities too, including the famous snow monkeys soaking in the onsens. Shiga Kogen is the closest resort to famous snow monkey park, Jigokudani Yaen Koen, and is accessed via shuttle bus. 
Shiga Kogen is limited in its nightlife options with only a very small village and most facilities are contained within the hotels. If you're wanting to ski all day and relax in the hotel at night, Shiga Kogen is a great option. 
One of the best draw cards of Shiga Kogen is it is one of the best value resorts if you book early. Book early and you can receive free nights and free lift passes which saves you up to 30% off. 
Which resort is best for you? 
You can't go wrong with any of these resorts but here's some guidance. If you're wanting something for everyone, travelling with a family or after an active nightlife then Hakuba is the best option for you. If you want deep powder and lots of it with minimal lift lines then Myoko is the place to be! If you're wanting the most traditional resort out of the lot, Nozawa is suitable for you with a beautiful village, large mountain and traditional Japanese nightlife. Shiga Kogen is the best option if you're after a great value package and all you want to do is ski and snowboard. 
This is just a handful of our favourite resorts in Honshu, Japan. If you're looking to get off the beaten track and escape the crowds there are a heap more to explore. Check out our guide to some of the more unknown ski resorts across Japan.  Read guide. 
Want more advice on which resort is best for you? Call and speak to one of our Japan travel experts on 02 9905 6162  or email us at bookings@snowtour.com.au