Embrace the Myoko Magic: A Safe, Fun, and Enlightening Backcountry Adventure
Get ready to embark on an extraordinary journey through the winter wonderland of Myoko, Japan. Our daily backcountry tours are more than just adventure; they're about prioritising your safety, ensuring you have a blast, and taking you on a journey of continuous learning. With our trusty 4×4 van as your ally and a team of expert guides by your side, let's delve into the essence of a Myoko adventure that combines professionalism, fun, and an ongoing commitment to your safety!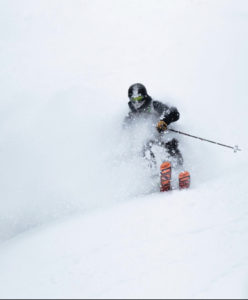 Safety First: Guiding You to Knowledge
Before you dive into the backcountry's thrilling embrace, we put safety front and center. But safety isn't just a checklist; it's a journey of knowledge. Our meticulous planning and experienced guides lay the foundation for a secure adventure. We meet the afternoon before where your guides will run you through your equipment. Having the right backcountry equipment is great, but knowing how to use it is even more important! This is also the time your guide(s) will go over the plan for tomorrow, the optional areas, and to answer any questions you might have. But here's the exciting part: it doesn't stop there. Throughout the day, we'll be your guides not just in terms of navigation but also in learning. We'll empower you to read the terrain, recognise potential hazards, and make informed decisions, ensuring you're not just safe but also informed.
Safety isn't a one-time thing; it's an ongoing process.
Guides: Your Fun Facilitators and Safety Guardians
Meet your adventure companions, the experts who make it all happen. They're not just certified; they are the guardians of your fun, here to ensure you have the time of your life. They're also your savvy companions, qualified to navigate the intricacies of Myoko's backcountry. Forget the academic tone; think of them as your hip guides, dedicated to making your Myoko experience unforgettable, enjoyable, and, above all, safe.
A Day of Epic Exploration and Learning
Imagine waking up in Myoko, where every run is an adventure and an opportunity to grow. Our tours cater to all levels, from newcomers seeking thrills to seasoned experts looking for fresh challenges. It's not just about skiing; it's about expanding your horizons and embracing the joy of discovery.
Myoko boasts a terrain paradise, and our 4×4 van is your gateway to it all. Whether you crave the exhilaration of deep powder or the tranquility of scenic routes, Myoko delivers. Our van ensures you experience it all, from heart-pounding descents to awe-inspiring vistas.
Apres-Ski: Where Fun, Knowledge, and Memories Flourish
Now, picture this: You've conquered the backcountry, your heart is brimming with excitement, and the sun sets, casting a warm glow over the mountains. What's next? It's time to experience the true essence of Myoko: Apres-ski. Gather with your fellow adventurers, share stories, and reminisce about the day's unforgettable moments, newfound knowledge, and the memories you've created together.
First Drink on Us
To kick off the Apres-ski festivities, the first drink is on us. It's our way of saying thank you for choosing us as your Myoko adventure partners. We believe in creating memorable moments both on and off the slopes.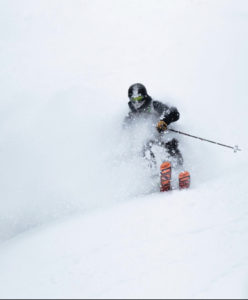 Conclusion: Myoko Magic Awaits
As you savour your first drink at Apres-ski, surrounded by kindred spirits, you'll realise that Myoko is not just a destination; it's a journey of safety, education, and unbridled adventure. It's where you evolve as a backcountry skier, score incredible snow, make lasting memories, and enjoy the warmth of camaraderie.
Don't wait any longer. Gear up, hop into our 4×4 van, and embark on your Myoko adventure. We're here to ensure your safety, maximize your fun, and facilitate an ongoing journey of enlightenment and excitement. Myoko is calling, and it's time to answer the call of adventure, knowledge, and joy.
Our daily backcountry adventures are available now to be added onto your Booking! Simply email your travel consultant who can add this onto your booking right away!
Full day Backcountry guiding is 80,000 yen, Half day is 60,000yen for 1-4 guests.