Hakuba's Top 10 Onsens
A traditional Japanese onsen is the perfect way to start your day or relax after a day on the slopes. Hakuba has a variety of beautiful onsens throughout the village that you can enjoy. Here are some of our favourites. 
10. Hakuba Goryukan Onsen
Hotel Goryukan is planted very much at the foot of Happo One resort, making it one of the most easily accessible Onsen to attend after a day on the hill. A key feature is the water's purportedly rare mineral composition. The water is sourced from the Happo Hot Springs and has one of the highest ph levels around at 11.28. It's said the high alkaline levels encourage the natural healing of muscle pain, neuralgia, bruises, stiffness and more.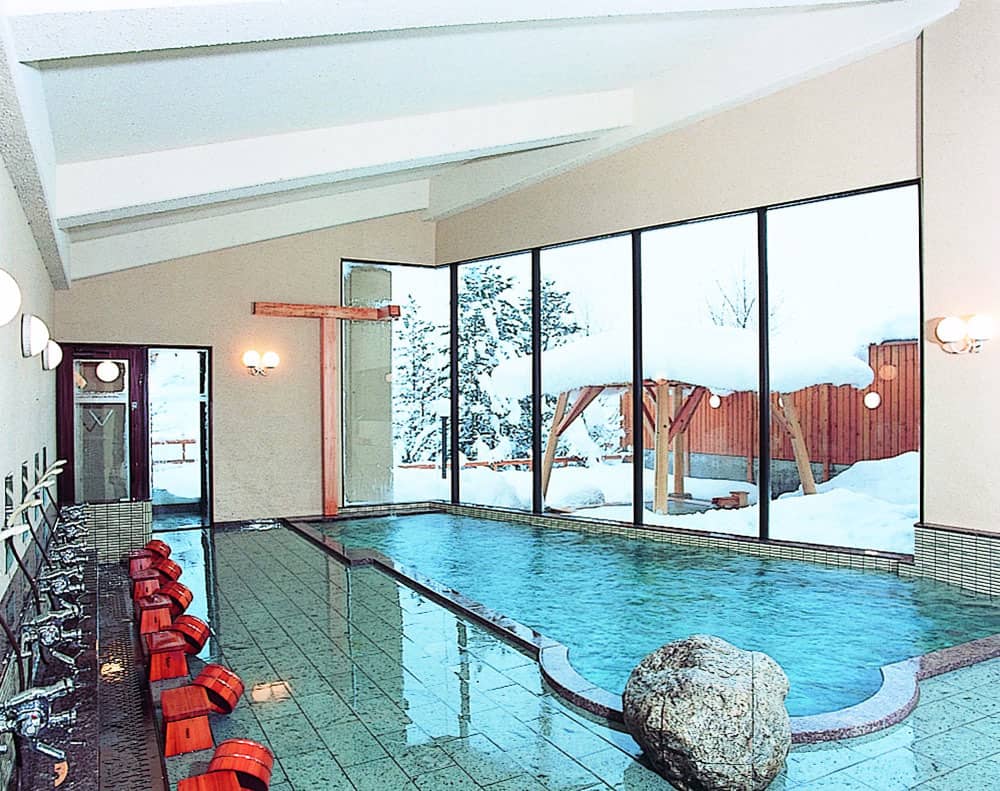 According to the hotel, "The clear transparent hot water feels like soap and is locally known as the 'Spa of Belles'."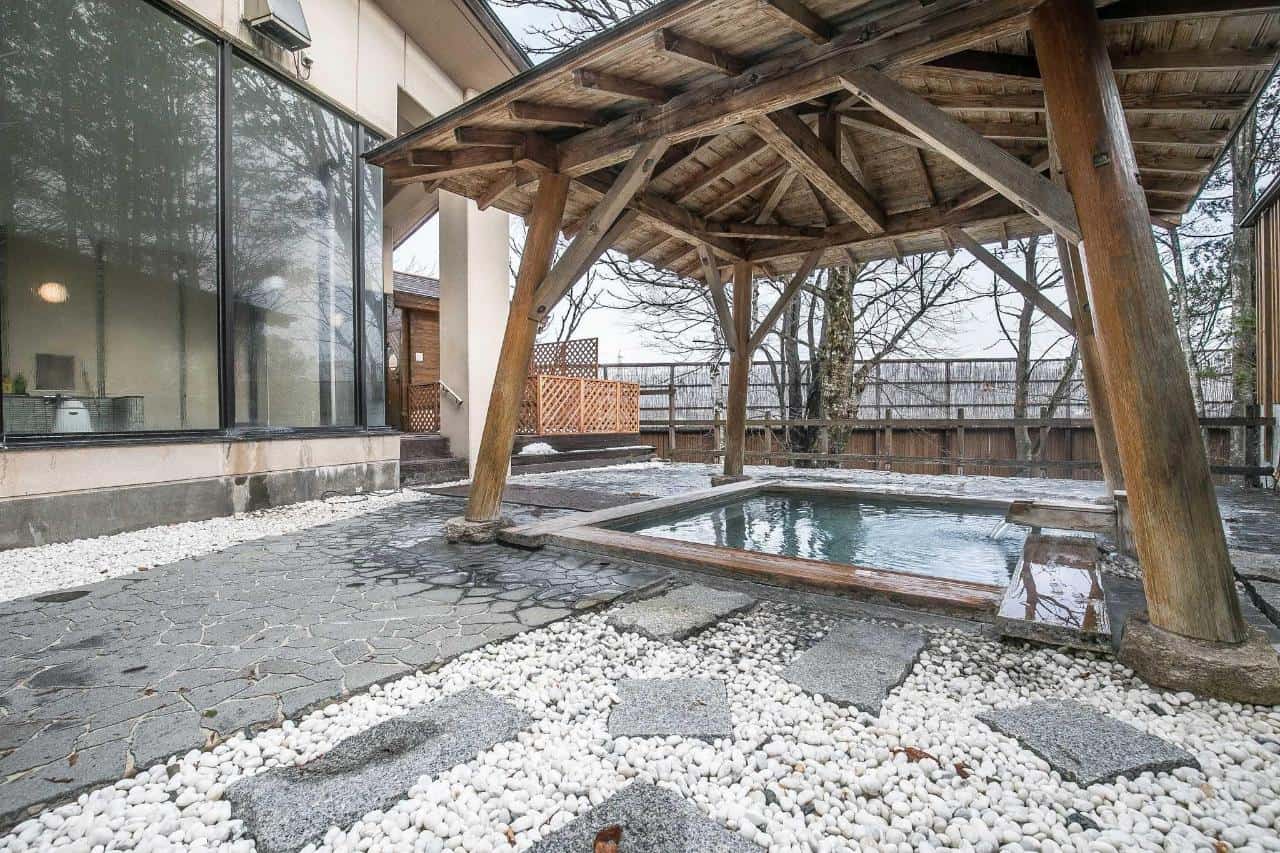 Open: 6:00am – 10:00am / 11:30am to Midnight.
Price: ¥1000
Notes: Log house sauna open 3:0pm – 9:00pm.
Tel: +81-126-172-5011
9. Rosenheim Hotel
The Rosenheim Onsen is similarly famous for having some of the highest alkaline levels in all of Japan. Both the inside and outside baths afford views back up to the northern alps and there's even a sauna room to go with them.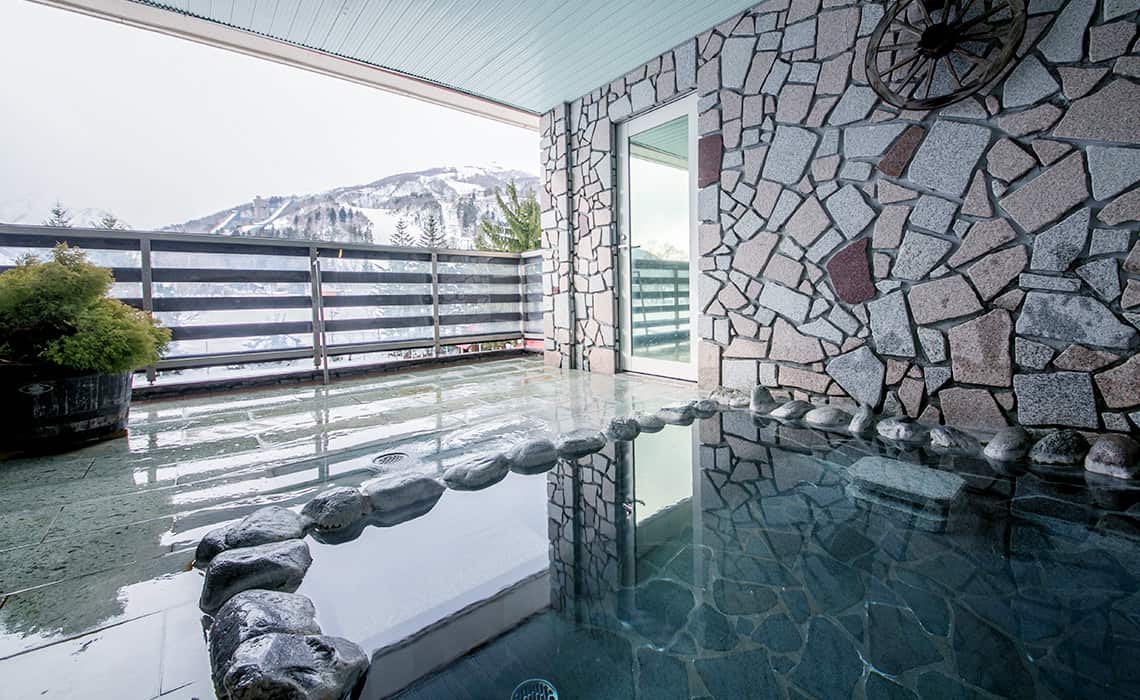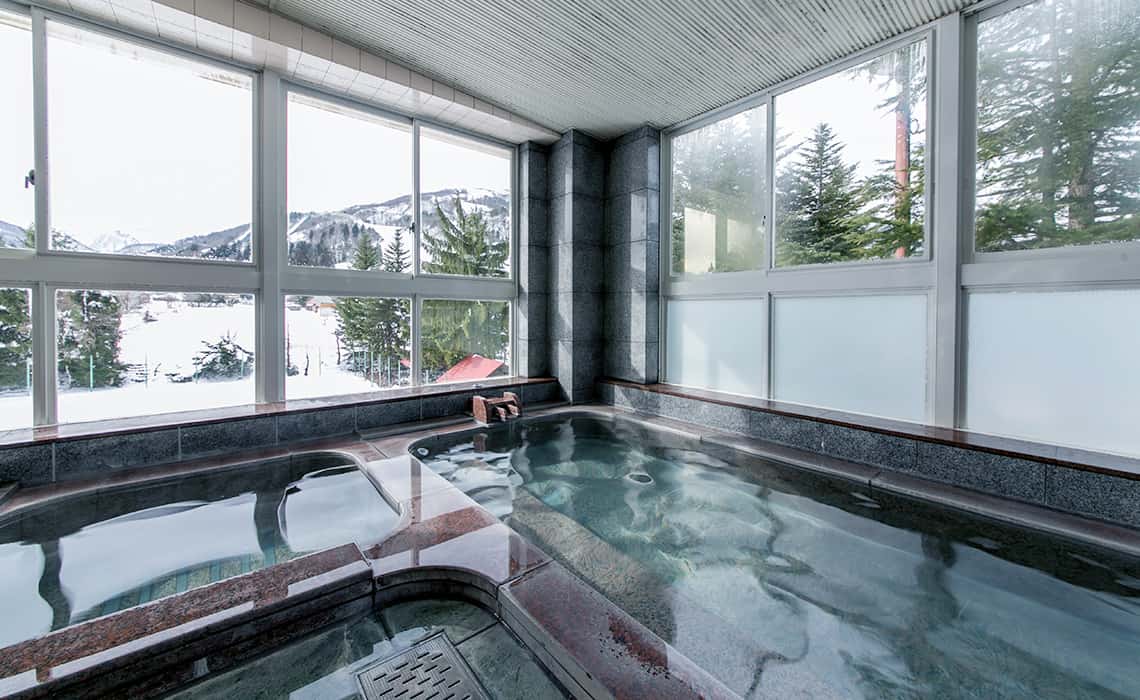 Open: 6:00am – 11:00am / 3:00pm – 10:00pm (Day use Onsen)
Price: ¥500
Tel: +81-261-72-2073
8. Tokyu Hotel Onsen
The Tokyu Hotel Onsen comes with the distinction of offering aromatherapy treatment if an Onsen by itself simply isn't going to cut it when it comes to unwinding. There are both male and female indoor and outdoor baths which draw from the alkaline waters of the Happo Hot Spring yet provide some shelter from the elements.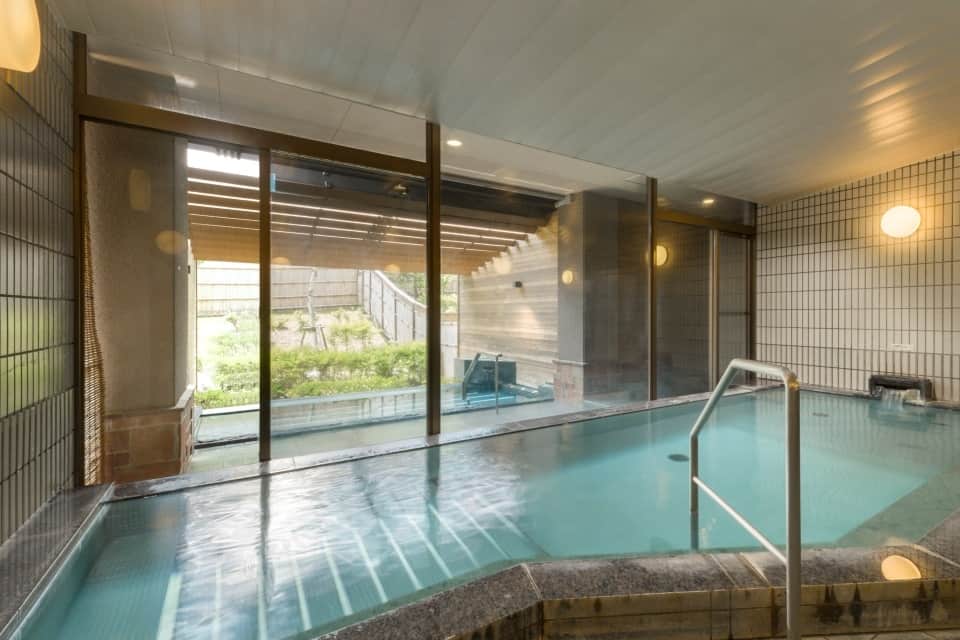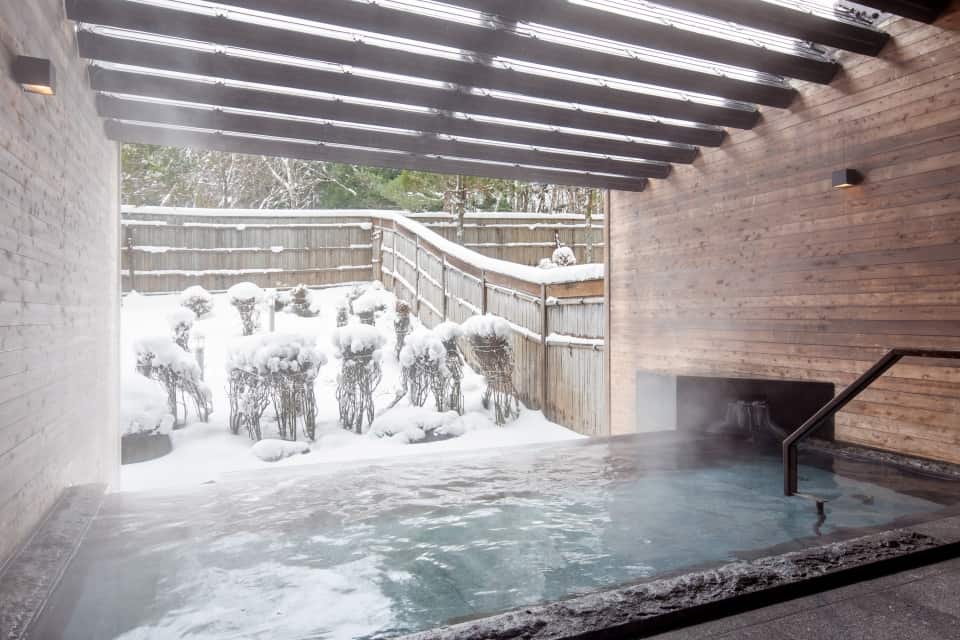 Open: 5:00am – 11:00am, 1:00pm – Midnight / 1:00pm – 4pm (for non-staying visitors)
Price: ¥1500
Tel: +81-261-72-3001
7. Obinata No Yu
Obinata No Yu is Hakuba's only private Onsen available for bookings by mixed groups. Ideal for families, it's an enchanting outdoor pool surrounded by snow banks and rocks which can be booked for 1-hour periods and comes with free accommodation pick-up.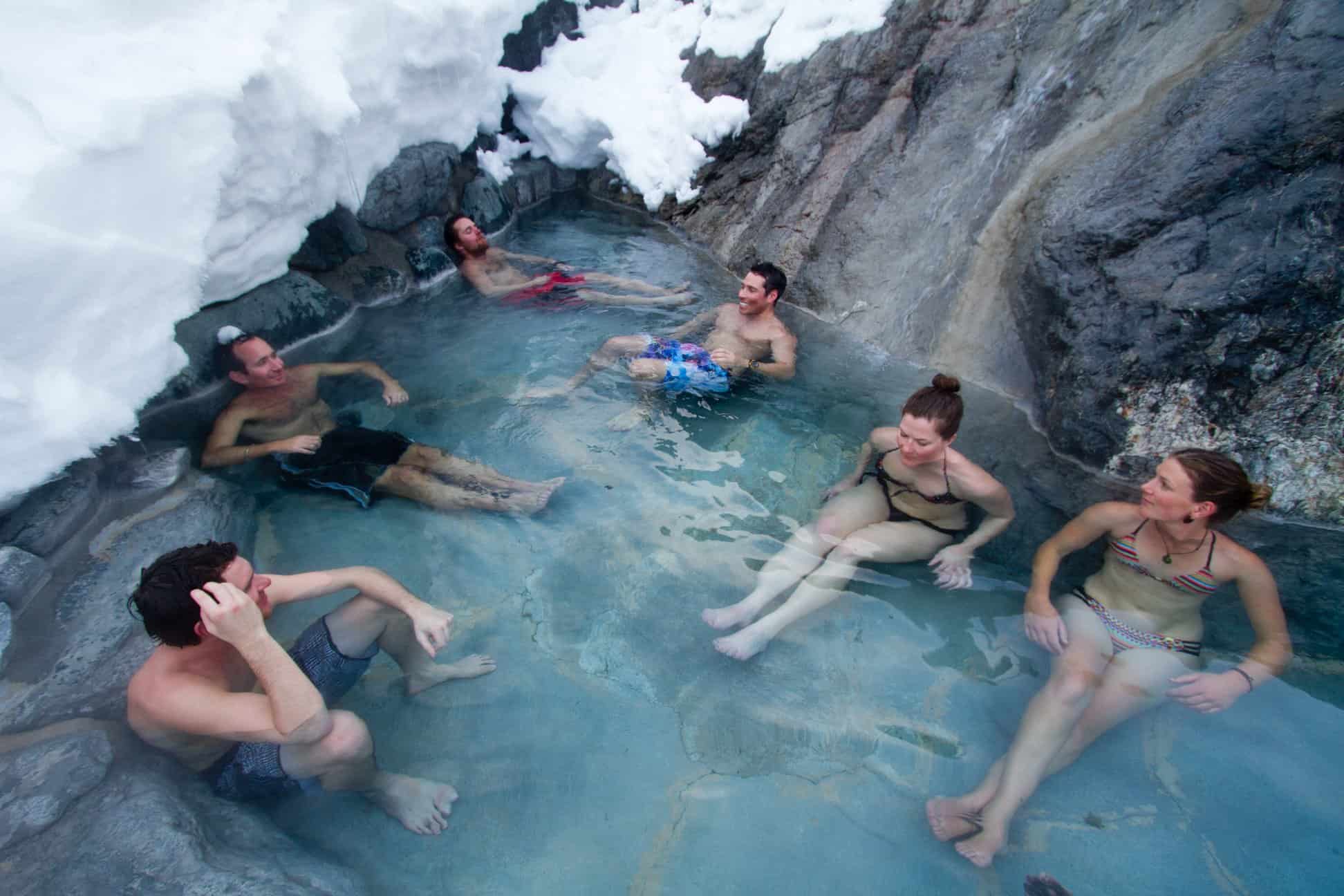 Open: there are three times available to book – 3:30pm, 5:30pm and 7:30pm.
Price: 1 – 5 guests = ¥2,000 or 6+ people = ¥4,000.
Notes: Swimsuits are optional. 1 drink each is permitted and vending machines can be found outside.
Tel: (0261)-72-2715
Website: http://hakuba-happo-onsen.jp/obinata- (online reservation here)
6. Hotel Green Plaza (Cortina Onsen)
At the foot of Cortina resort in Hakuba exists a hotel which looks like it belongs in the Shining… If you've seen that film, it's safe to say you won't want a bath in such an establishment, but fortunately the hot springs at Hotel Green Plaza are as peaceful as they come.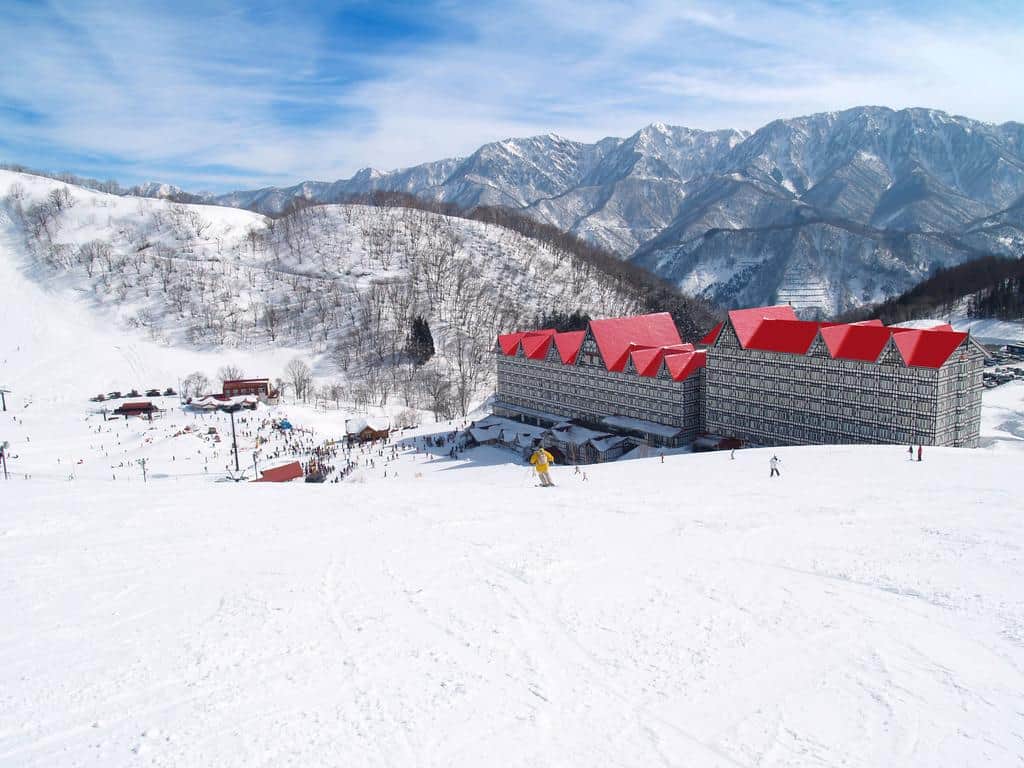 Choose between 11 different hot tubs and enjoy expansive views back up the hill. The water is sourced from nearby Oku Hakuba Hot Spring at 56.5 degrees Celsius before cooling to a manageable 42 ° C in the Green Plaza pools. The Ph levels over in Cortina are also very neutral compared to some of the Happo Onsens at 7.2.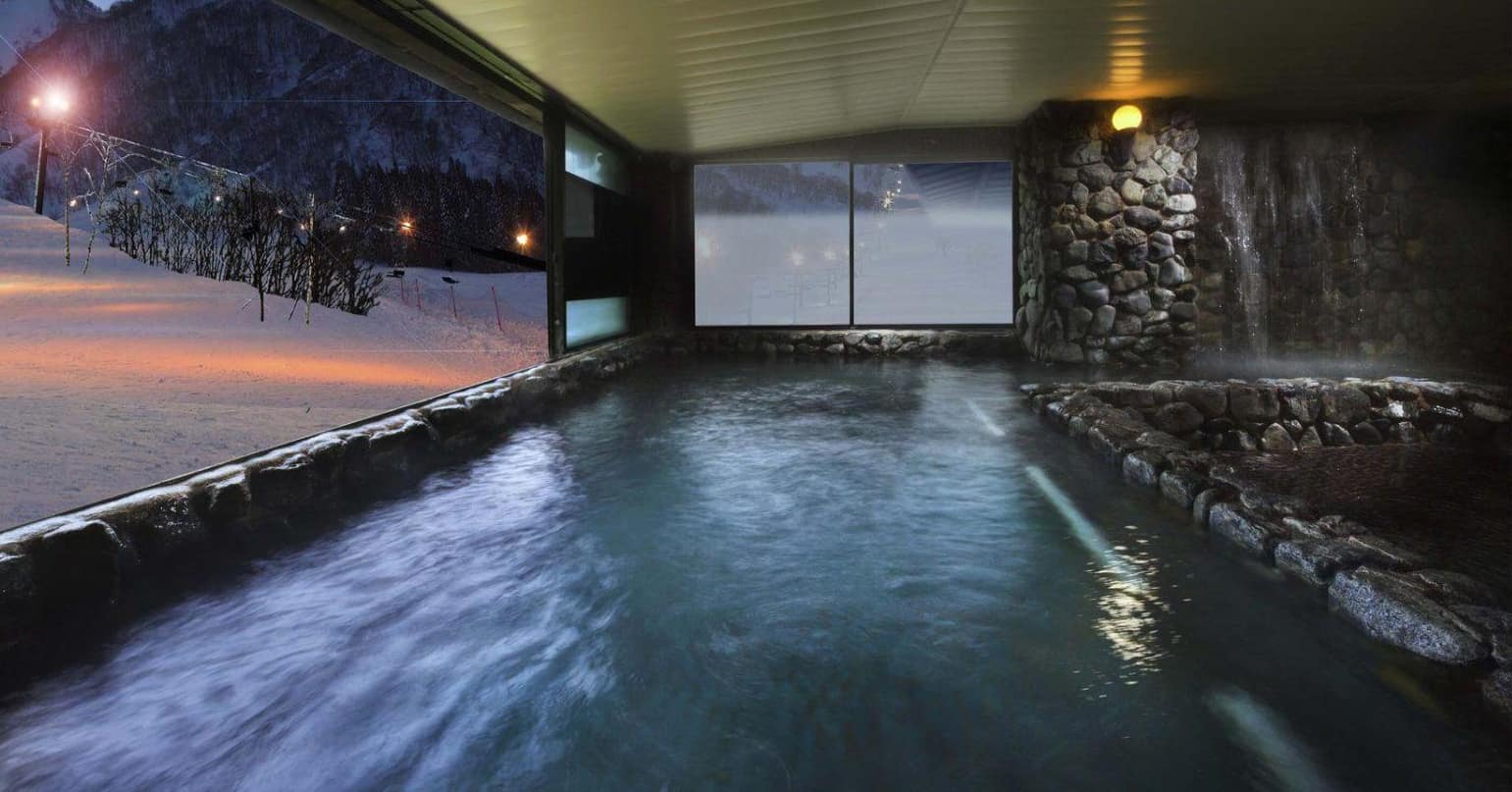 Open: 5:00am – 10:00am / 1:00pm – Midnight.
Price: ¥1000
Notes: Visit hotel front desk for access. Towels also available here.
Tel: +81-261-82-2236
5. Hakuba Ryujin Hot Spring
This Onsen is located within a ryokan and operates year-round. Unlike most of the others on this list, it's not undercover so it's a nice one to visit when snowing. In our opinion, there's no better way to cool down in an Onsen than to have snow falling on your head.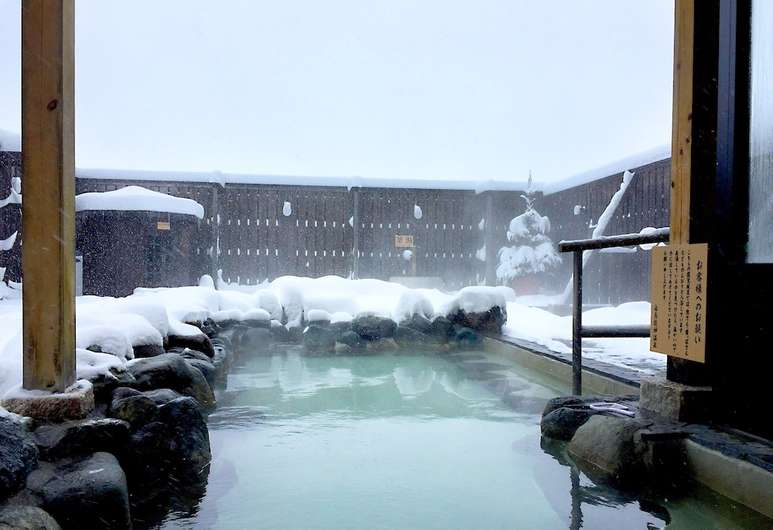 Open: 11:00am – 10:00pm
Price: ¥800 Adult, ¥400 Child
Notes: Irregular closing days.
Tel: 0621-85-2803
4. Hotel Hakuba (Himekawa Onsen)
Hotel Hakuba draws its thermal waters from the Hakuba Himekawa Onsen. These sodium & chloride springs are said to relieve weariness, and if they don't, the views back up to the northern alps are sure to get you excited to ski again – aches notwithstanding.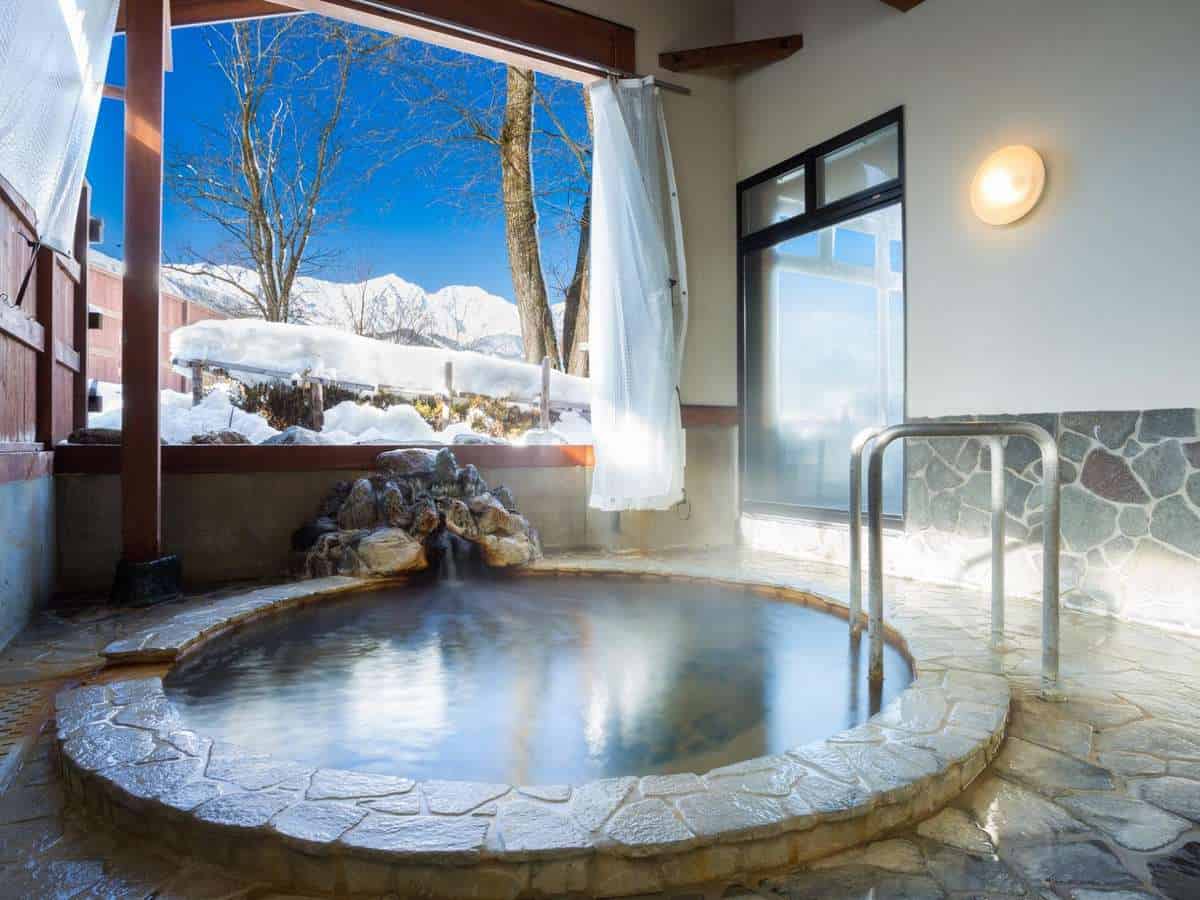 In addition to this roten buro ('open-air bath') there's a large daiyokujo ('public bath') with an expansive window down to the water level through which to view the mountains.
Open: 9:00am – 8:00pm.
Price: Unknown
Tel: +81-261-72-4444
3. Mizubasho Onsen (Sierra Hotel Hakuba)
Mizubasho Onsen prides itself as the largest hot spring in the Hakuba area, as well as being 100% Gensen-Kake-Nagashi, meaning it's 100% pure with no added tap water or additional heating.
Over 200 litres of mineral water is pumped up from deep below the surrounding forest every minute and spread throughout multiple indoor and outdoor baths. Although the Onsen was only opened in 2012, it was constructed using timbers from traditional housing as old as 160 years, making you think it's been there over a century.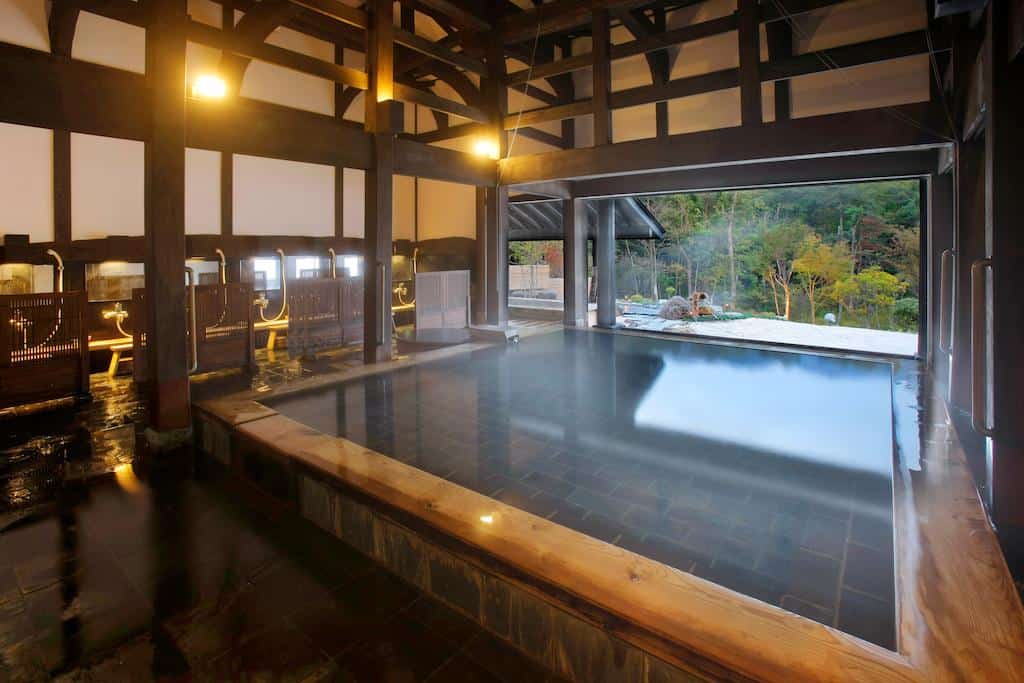 Open: 10:30am – 3:30pm
Price: ¥1000 Adult, ¥500 Child. (Busy season = ¥1500 Adult, ¥850 Child)
Tel: +81-261-72-3250
2. Hakuba Happo Onsens (Sato No Yu)
There are four public Hakuba Happo Hot Springs, all of which boast the high alkalinity you find in the neighbouring hotel Onsens. One of our favourites is Sato No Yu, which is a unique, hexagonal shaped indoor Onsen with a very traditional aesthetic.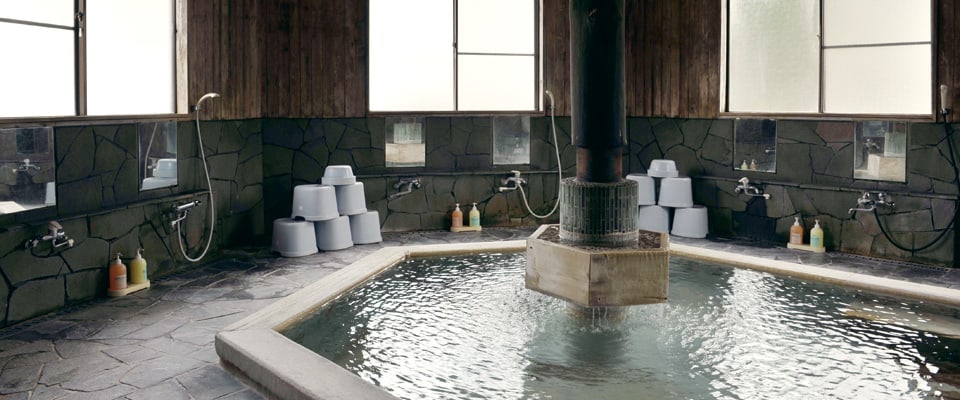 Open: Midday – 9:00pm (Last entry 8:30pm)
Price: ¥600 Adult, ¥300 Children.
Notes: Carpark (10 spaces) – ¥200 towel and ¥300 towel set.
Tel: 0621-72-6542
1. Highland Hotel Onsen
While this list came in no particular order, we think we've saved the best until last and the Highland Onsen may be the best Onsen experience in the entire Hakuba Valley.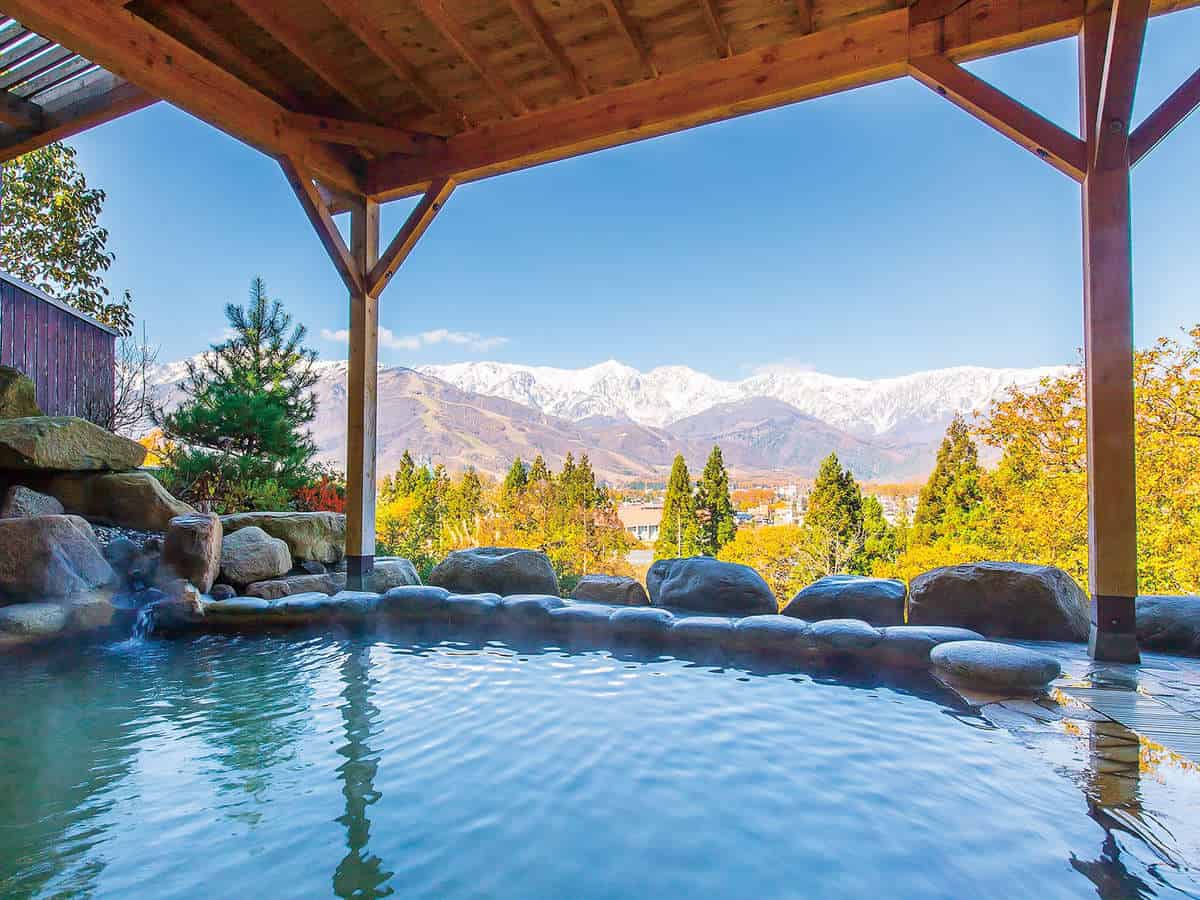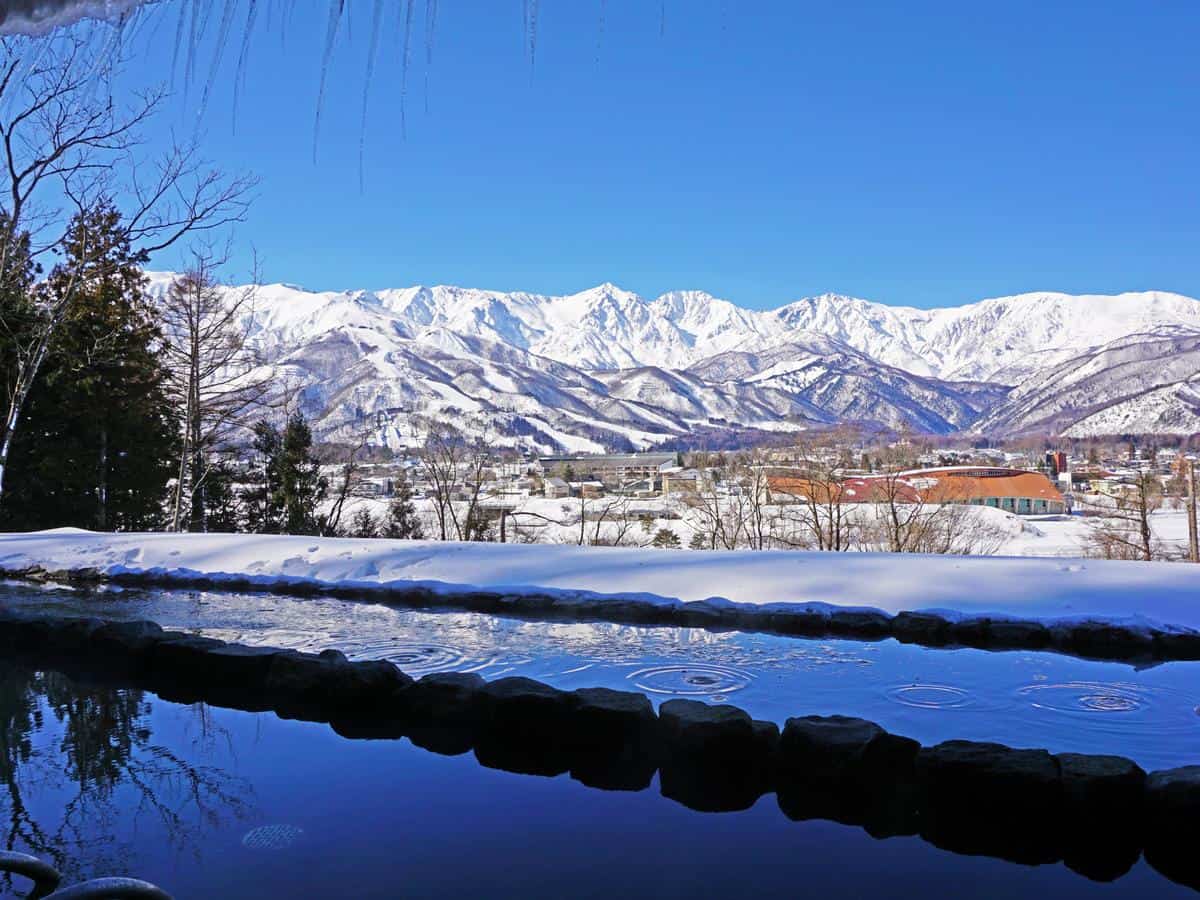 Stunning panoramic views are afforded out across the Hakuba valley and admission is a mere ¥600, so you know you're getting bang for your yen.
Open: 11:00am – 8:00pm
Price: ¥700 Adult
Tel: +81-261-72-3450
If you'd like to visit Hakuba and experience these amazing onsens for yourself, contact us for a quote.