Weekly Japan Snow Forecast Jan 17th – The Grasshopper
Mikael Lindnord enjoying some sunshine in Myoko this week, but the weather has turned and there is a lot more snow on the way.
Thursday 17th January (Japan time)
After a settled sunny week, we are now back in business. It's going to be a week of big snowfalls, especially on Honshu where a series of troughs each brings heavy falls. Between 1-1.5m or more should accumulate on the Hida and Echigo Mountains of central Honshu during the next ten days with a bit less elsewhere on Honshu and Hokkaido.
Our high-resolution model is calling for 74cm for both Hakuba and Niseko for the next seven days. Despite big totals, consistency will be a major feature with snow forecast to fall every day for the next nine days. Goodness gracious me!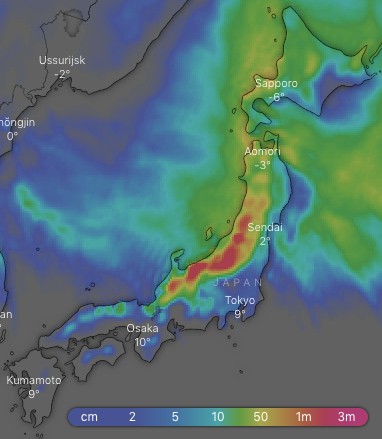 Thursday 17 Jan:
As promised, it's snowing! It's coming down heavier the further north we look where winds are coming from the west, while winds are from the SW on Honshu. Winds will gradually swing around to a strong-gale NW later today as temps plummet and snowfalls increase. Boom!
Friday 18 Jan:
Heavy snowfalls before dawn, then it'll gradually back off through the day as strong NW winds start to abate. Wrap up warm; it's going to be a super cold one.
Saturday 19 Jan:
Snow showers gradually petering out as NW winds continue to ease. Milder temps will creep over central and southern Honshu later in the day as winds swing around to the W-SW.
Sunday 20 Jan:
A trough deepens in the Sea of Japan then crosses Honshu during the day with heavy snowfalls. Temps will be relatively mild to start with, but they'll plummet once winds turn to the NW late in the day. Snow showers will also get going on Hokkaido during the morning, and then gradually ramp up to consistent and heavier falls in the evening as W-NW winds hit.
Monday 21 Jan:
Snow will continue to bucket down, but will start to ease in the latter half of the day as strong-gale NW winds begin abating.
Tuesday 22 Jan:
A bit of inconsistency starting to creep in between different models, but we should see more snow with potentially heavy falls on Honshu as yet another trough is likely to cross Japan.
Wednesday 23 Jan:
Models agree that a low will deepen east of Japan, but they all plonk it in different positions. However, it's unanimous that snow will continue to come down, with potentially more heavy falls on Honshu complete with freezing strong-gale NW winds there.
Extended Outlook:
The deep low should move further off to the E-NE of Japan while snow and freezing NW winds continue through next Thursday before easing later on Friday as a ridge or high builds. The next storm system looks to brew up next Saturday and should hit on Sunday. The crystal ball is a bit hazy regarding this system at the moment; it could be a big one, so check in next Thursday for all the dirty details.
This forecast was brought to you by The Grasshopper. The Grasshopper is Mountainwatch's resident meteorologist and he will be sharing his wisdom in the form of weekly snow forecasts for Japan and North America. Stay tuned!