Grasshopper's Weekly Japan Forecast, Dec 15 – Continuous Storm Cycles as Japan the Sleeping Giant Wakes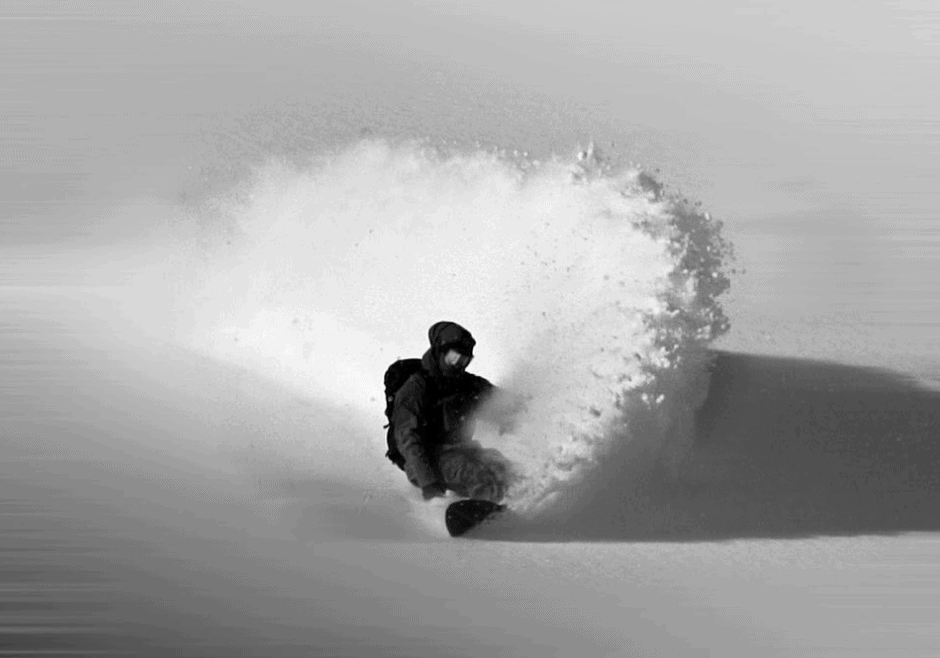 Mountainwatch | The Grasshopper
Valid Thursday 15thDecember to Thursday 22ndDecember
Kon'nichiwa my fine, fellow powder pundits, and welcome to the first Weekly Japanese forecast of the 2022-2023 season, where I'll be providing you with all the highlights and snowlights of the coming week.
And what better timing to rip into it than in the middle of one of Japan's veritable snow storms, which will see Japan stack on a good 10-20cm of supper fluffy stuff on Hokkaido and 30-50cm or more on Honshu, depending on which of the 500 or so resorts you look at. After low early-season snowfall, it's very much welcome, the sigh of relief almost audible as the prospect of a repeat of that all-time worst season of 2019-2022 diminishes.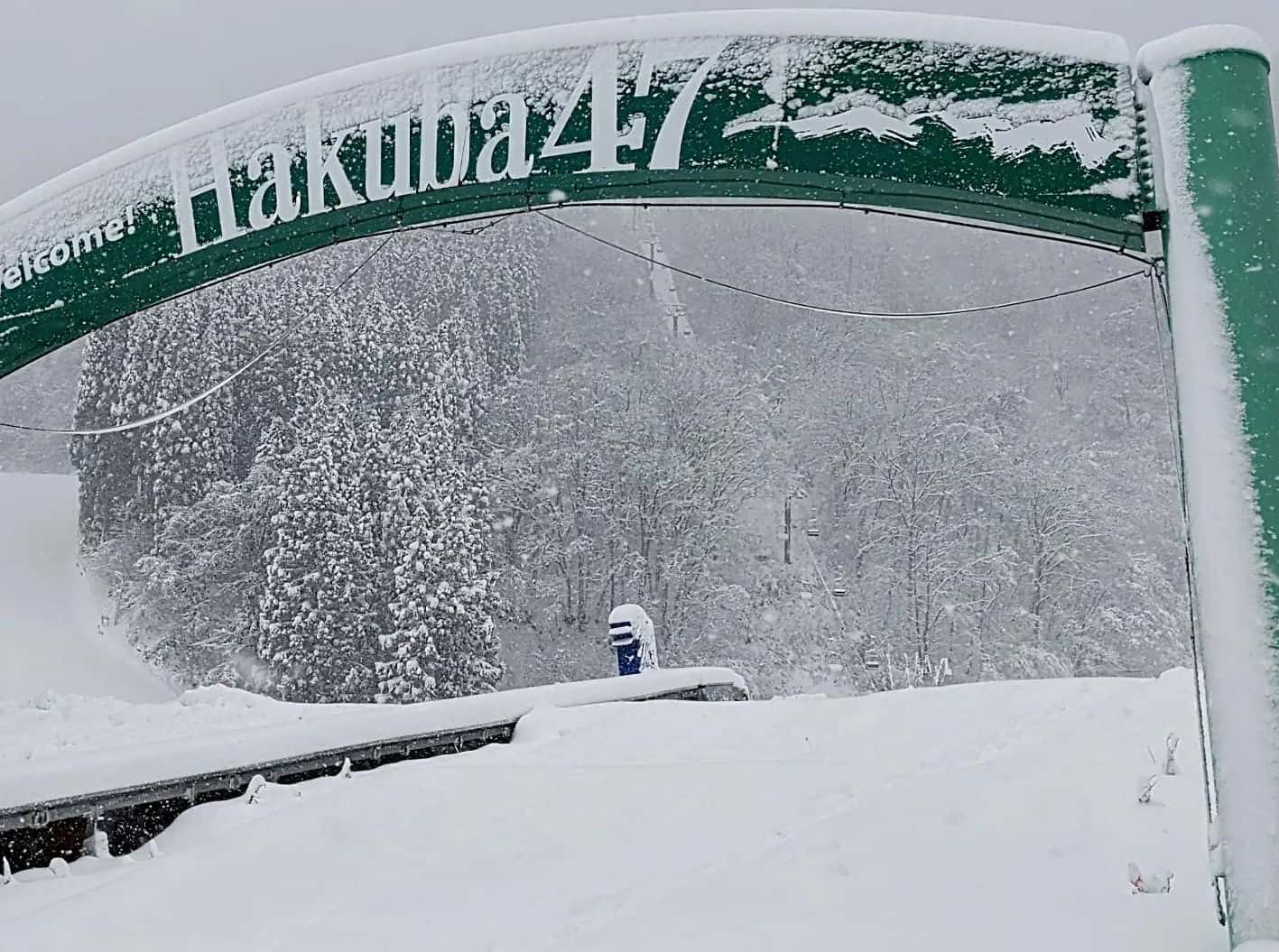 We'll see a brief interlude during Saturday, with calmer conditions and possibly even some sunshine, before the next Japowder storm gets underway late in the day, bringing heavy snowfall through Sunday into Monday, then abating later on Monday.
Snow totals for the week will reach up to around the 1.5m mark, most likely in the Echigo and Hida Ranges of central Honshu, according to our ECMWF 7-day snow accumulation chart, indicating that this sleeping snow giant has finally woken.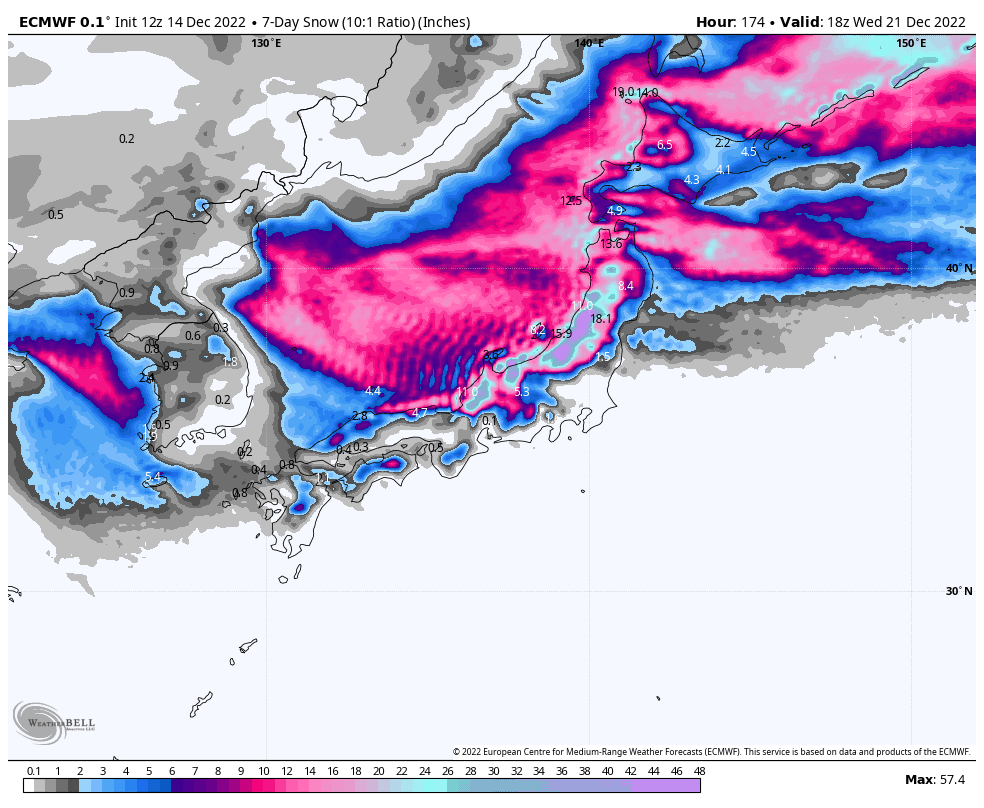 Thursday Dec 15 – Friday Dec 16
Strong, cold winds from the westerly quarter will continue to pump powder along and west of the spine of Japan over these two days.
Consistent light falls on Hokkaido of the lightest, fluffiest snowflakes should provide excellent conditions there, however winds may be an issue, and you'll need to wrap up warm.
Snowfall will gradually ramp up on Honshu today for some rather heavy falls for those resorts exposed to westerly snowfall, while others may receive little due to sheltering. Things will ease up tonight, and even clear over central parts, before a wobble in the isobars bring a fresh wave of freezing W-NW winds and heavy snowfall Friday morning, then abate later in the day.
Saturday Dec 17th – Tuesday Dec 20th
Any remaining snowfall will peter out early Saturday as a low develops in the south of the Sea of Japan, causing winds over Honshu to turn southwards.
The low will zip through the Tsugaru Strait, between Hokkaido and Honshu, late in the day ushering in an intense and frigid wind flow off the frozen continent, which will bring heavy snowfall to Japan during Sunday and Monday, before gradually abating during Tuesday as a ridge of high pressure builds, providing exceptionally ripable conditions.
Wednesday Dec 21st & beyond
It's likely another low-pressure system will build in the Sea of Japan during Wednesday and/or next Thursday, possibly bringing a period of warm southerlies accompanied by heavy rainfall, most likely aimed at central Honshu.
The low will eventually spin off to the north later next Thursday or next Friday, causing air to once again flow off the continent and kicking the Japow machine into top gear, with snow likely to fall over Japan through into next weekend.
Well, that's all from me this week guys, see you next Thursday.