What to do on and off the snow in Wanaka, New Zealand.
We've pulled together some of our favorite things to do in Wanaka to make your 2023 winter unforgettable.
With such a diverse range of activities on and off the mountain, Wanaka has everything you need to make the most of the 2023 ski season. Serviced by two world class mountains, Cardrona Alpine Resort and Treble Cone Ski Area, Wanaka is a dream winter destination for all snow lovers.
Hit the slopes
Take your pick with two world class mountains at your doorstep
If you're a budding ski or snowboarding enthusiast Wanaka is the place to be!
The home resort of many of New Zealand's brightest snow athletes, Cardrona Alpine Resort offers 465 hectares of skiable terrain,9 lifts across three wide, open basins, and some of New Zealand's most progressive terrain. Whether you're new to snow sports or after some challenging runs there's something for every skill level at Cardrona. Make a day of it and grab your lunch up the mountain from one of eight cafes and restaurants or stop in at the Cardrona Hotel for a bit of après on your way down the mountain.
Only accessible via Wanaka, Treble Cone Ski Field, is less crowded than many resorts. With 550 hectares of varying terrain, skiers and snowboarders of all abilities can enjoy the best of the mountain. If you're just learning The Platter is the perfect spot to start, if you're looking for something a little more adventurous Treble Cone offers some of the best off-piste terrain with constant stunning views of Lake Wanaka and the Southern Alps!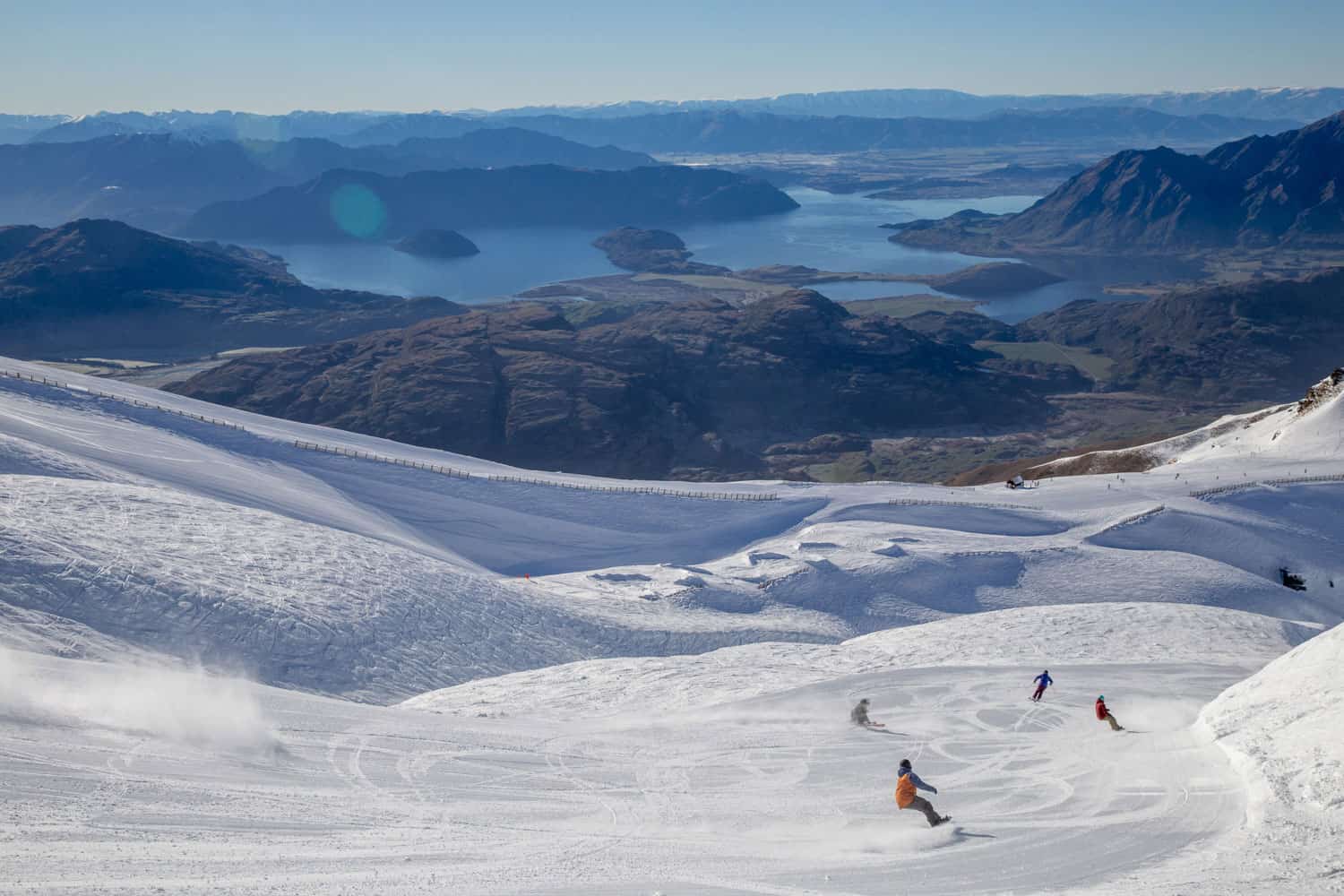 Heli Skiing
Take to the skies in a scenic helicopter flight paired with some incredible off-piste shredding. Harris Mountains Heli-Ski offers an unforgettable day of skiing or boarding wonder across the region, you'll have access to thousands of vertical feet of untracked snow. Pick one of their packages ranging from '3-10 run' days for those wanting to challenge themselves and push the limits.
Discover Cross-Country Skiing at Snow Farm
Want to try your hand at cross country skiing or snowshoeing, look no further than Snow Farm. Hire yourself some snowshoes and explore the stunning views of the Pisa Range or pop on some skis and give cross-country skiing a go. Snow Farm has a range of training packages available, book in with a class or get some one-on-one help with private lessons.
Explore Wanaka and all it has to offer this winter.
Check out the amazing food scene
With a bustling town center comes a fantastic food scene. If you're after the perfect cozy breakfast nook Scroggin Cafe and Eatery offers fantastic Turkish Eggs with housemade focaccia on their all day menu from 7am-3pm. For some of the best burgers you'll ever have stop by Red Star Burger Bar, and if you're in the mood for a slice of pizza or a bowl of pasta, Francesca's is the place to go!
While you're out make sure you check out some of the fantastic local breweries in the area. You've got Rhyme and Reason, b.effect Brewing Co., and Ground Up Brewing all just a few minutes out of town.