Nozawa – Great Snow and Traditional Japanese Culture Make It the Perfect Family Holiday Destination
There's something special about showing your family the beauty of Nozawa Onsen in Japan. The kids getting excited over oyaki (steamed buns) in the street or playing on their tatami mats and futons.
Your partner marvelling at the steam rising from the canals that flow through the village – testament to the hot spring water that runs straight from the mountain to the hot spring baths. Up the gondola and the ice coats the trees in silver, glinting in the sun.
Then there's the powder. It falls heavily, but silently. Blanketing the world in quiet white. Settling snowflakes in hair, on hoods and outstretched hands.
If you're daydreaming about a winter getaway right now, Nozawa could be your best bet for a family ski holiday. Here's why:
Experience traditional Japan
Nozawa has a traditional village feel because it's a living and breathing Japanese town run by the local farmers and original families, not a purpose-built resort. You won't find high rises and fast food chains here. Instead, a walk through town reveals Japanese-owned restaurants, villagers cooking their vegetables in the hot springs, and visitors from Tokyo wandering the streets in their yukata (casual kimonos) on their way to the free onsen baths.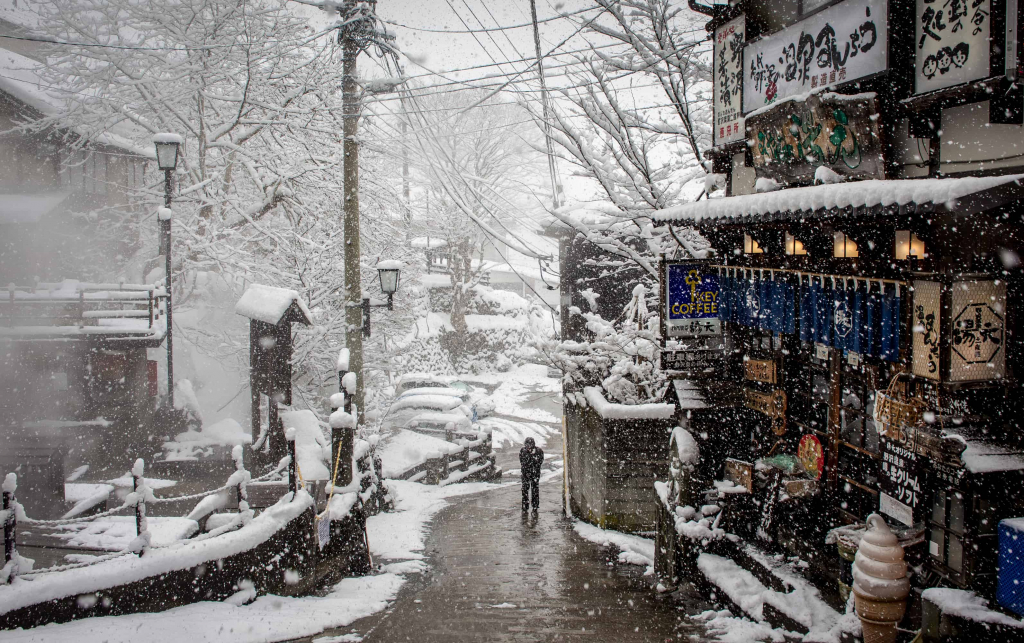 Nozawa's hotels are predominantly Japanese ryokans with tatami mats, futons and delicious multi-course meals prepared daily by the families that run them. There are enough English signs to get around with ease, but you'll get a real sense of being in Japan and interacting with local people. It's a truly cultural experience for the whole family and a wonderful thing to introduce younger generations to the joys of travel.
Ski runs for all ages and abilities
Nozawa has 40% beginner terrain, with the rest split between intermediate and advanced runs. Nozawa's terrain doesn't limit beginners to the bottom of the mountain, with two of the widest green runs accessible from the top of the gondolas. It's a great pleasure for beginners to get the full mountain experience with a fun gondola ride, stunning views of the Nagano Alps and easy runs among the snow-covered trees.
Nozawa has great progression from beginner to intermediate runs and safe terrain without any sudden cliffs or rocks. There is a dedicated English-speaking ski school with highly qualified instructors at Nozawa Ski School.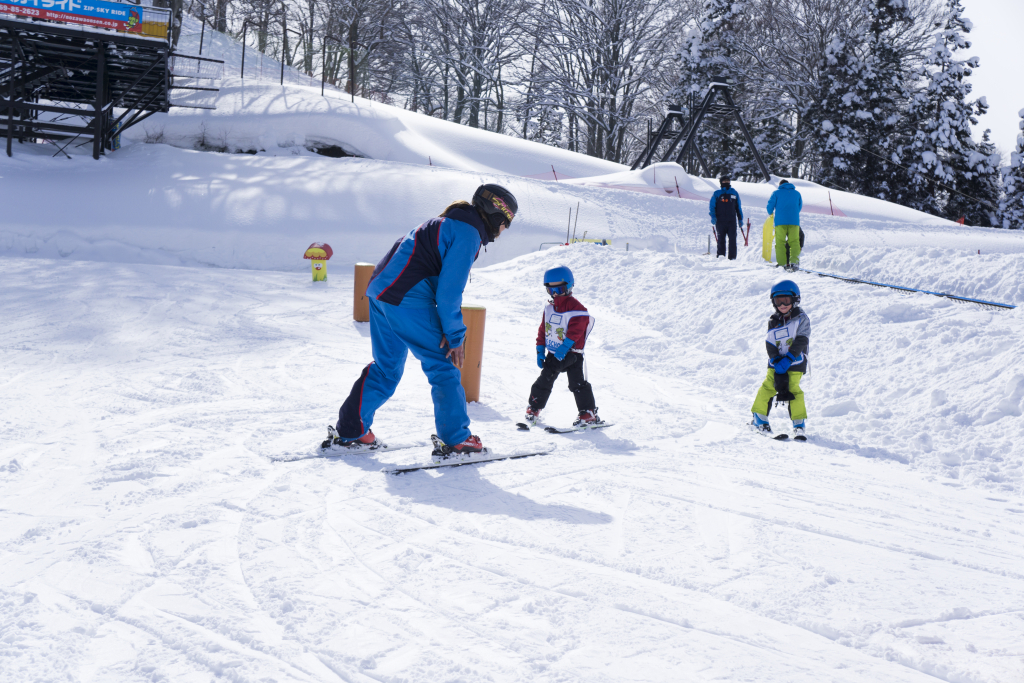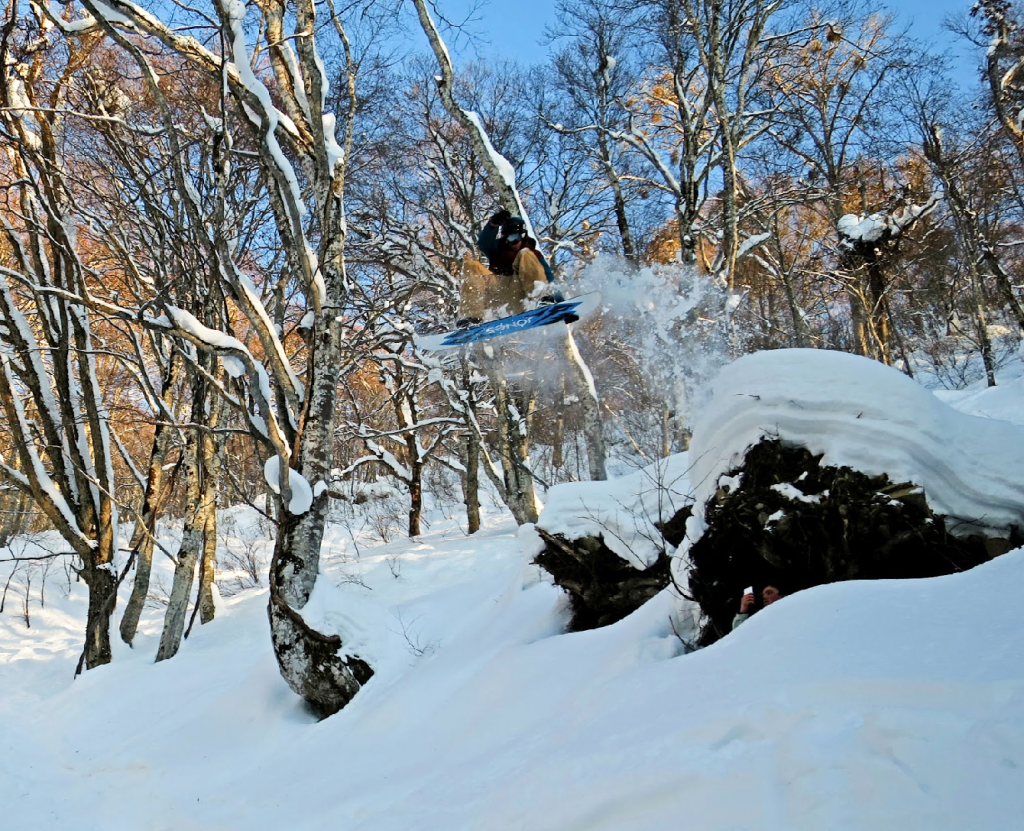 For the more advanced skiers and riders, Nozawa offers 300 hectares of terrain and 1,085 metres in vertical drop with tree runs, bumps and amazing untracked backcountry options. The top Yamabiko area is well known for its easily accessible (and actually allowed) off-piste tree runs with multiple natural half pipes.
Dedicated kid's activities and kid's area
It pays to have some back up activities for when the kids get tired or when the weather isn't playing ball. Unlike a lot of Japanese resorts, Nozawa has on-snow and off-snow activities to round out your holiday.
There's the famous snow monkey tour, snow shoe walking tours and Sparena spa complex if the kids want to go for a swim in a warm outdoor pool. Around town, the family can explore the 13 free onsens. The local tourism office provides a stamp book that can be used to do rubbings at each of the hot spring baths and you receive a free gift for completing them all.
Nozawa has a real focus on looking after kids so there's a brilliant kid's park at the Hikage base that can be used for free! It includes a jumping castle, slide, tubing, a zip line and day care all in one place. The Nozawa Ski School also runs out of this area so everything is conveniently in one location.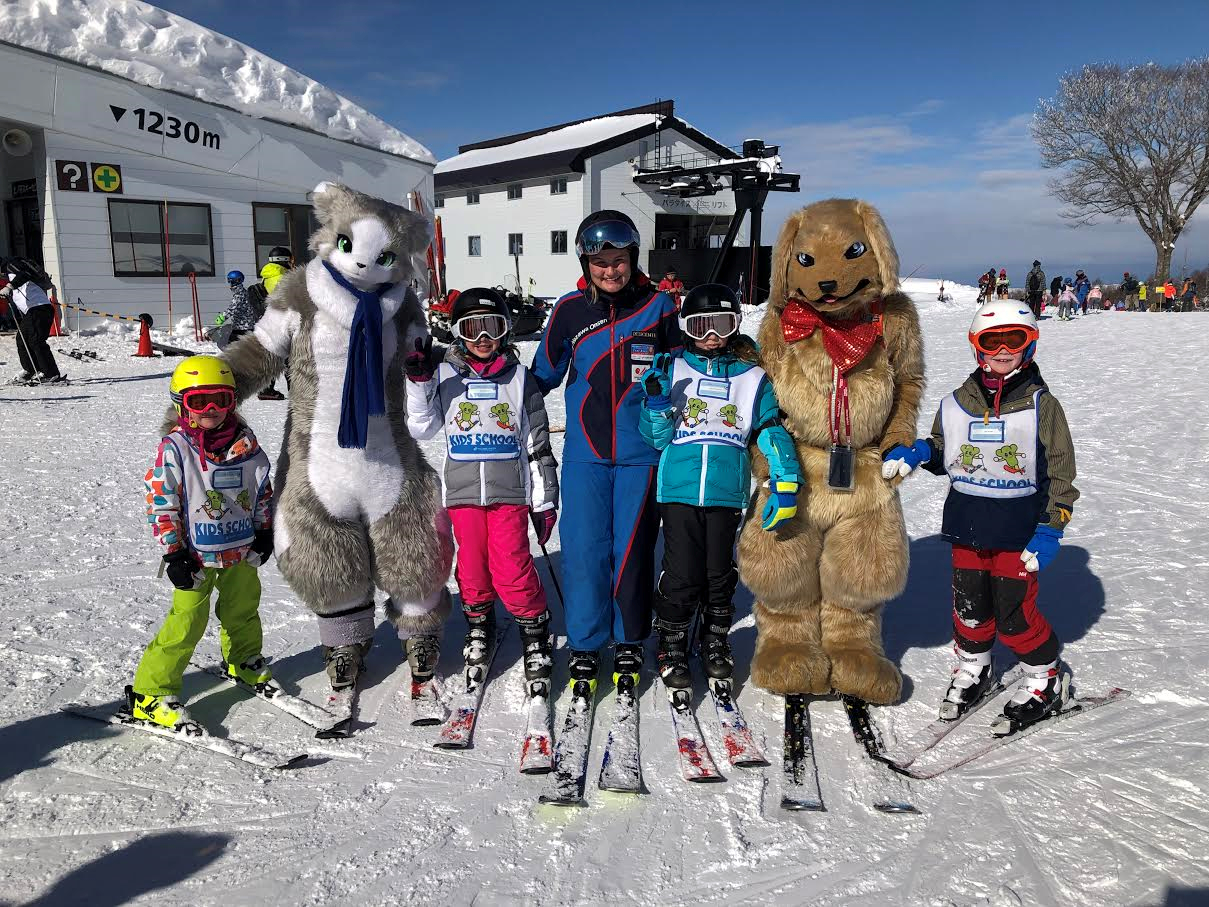 Food
Experiencing new food is arguably one of the best things about travelling. Having easy access to kid-friendly food is also essential and this is where Nozawa excels. There are over 30 restaurants all within walking distance of most accommodation options, as well as restaurants on the mountain itself.
The Japanese food is made by the local families, many of whom have lived in the village for generations. There's delicious ramen, sushi, nabe, okonomiyaki, udon, soba and more. Meanwhile, some convenient western options like pizza, healthy burgers and Mexican have cropped up recently. There are frequently vegetarian and even vegan friendly options now. Nozawa's village caters mostly to family-friendly cheap and intermediate budgets, with a few high-class options available.
As a note for the adults, there are plenty of lively bars to explore here. From karaoke to grungy bourbon bars, relaxed upscale lounges and tiny living room bars. You can walk between them all and enjoy a night of bar hopping you'll never forget. Don't forget to try the local sake!
When to visit Nozawa?
It's said that Nozawa is beautiful at any time of year, but there are certain months that suit families best. January is Nozawa's busiest month as it usually has the most reliable snowfall and falls over Australian school holidays and sometimes Chinese New Year. December can be hit or miss with the snow, although a white Christmas is a stunning experience. February and March are dramatically quieter and generally have more sunny days while still retaining a huge snow base and enough powder days to keep most people happy. Spring skiing can be a good option for little kids as there are less snow storms, more sunny days and warmer temperatures. It's also easier to book into lessons, day care and restaurants. Lift tickets are discounted in April and May but often only the top half of the mountain remains open as the snow starts to recede.
Nozawa Onsen is one of the most beautiful villages in Japan. It retains its culture and operates as a true Japanese village instead of just a ski town, lending it a special charm not found in other resorts. Your whole family will be daydreaming about that powder snow, those steaming onsen and ice-covered trees well after you leave.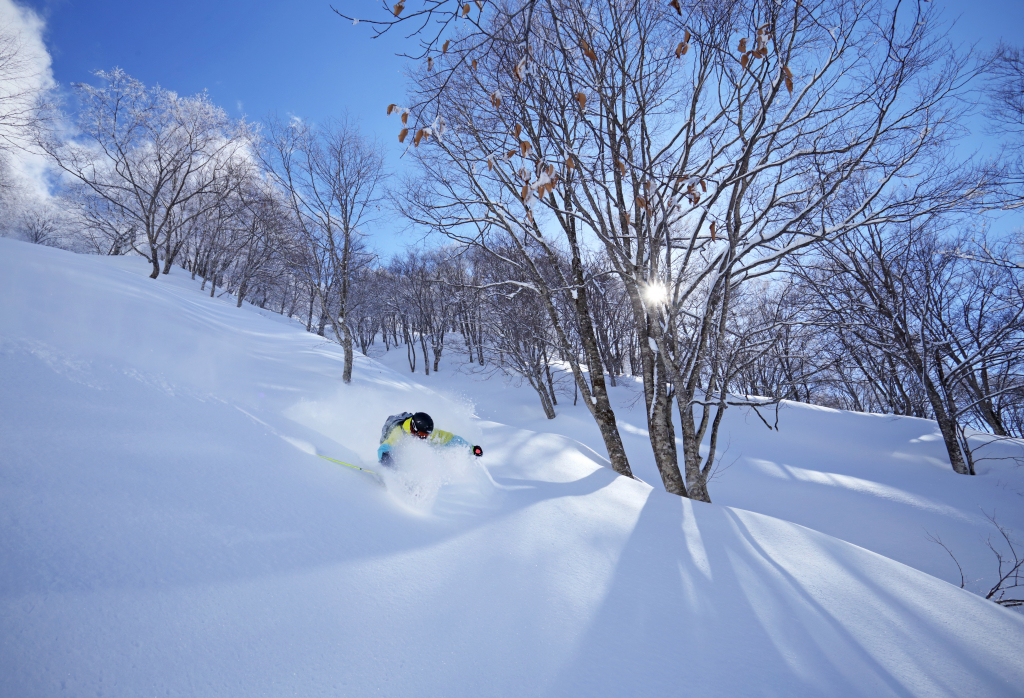 If you like the sound of Nozawa Onsen and want to visit it yourself then click here to see our latest packages or here to make an enquiry for a quote.
Written by Alex Parsons.