Weekly Japan Snow Forecast – The Grasshopper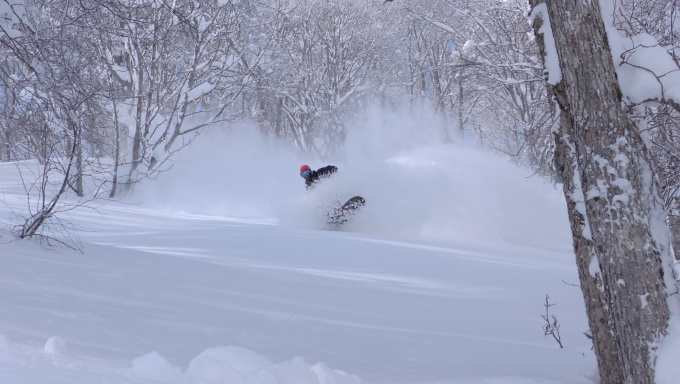 Konnichiwa my fellow froth merchants, this is your faithful Grasshopper bringing you the first forecast of the 2018/2019 northern hemisphere snow season. Now that the season is starting to ramp up, I will be bringing you these forecasts on a weekly basis, covering all meteorological highlights and lowlights that I can feel out with my super sensitive antennae.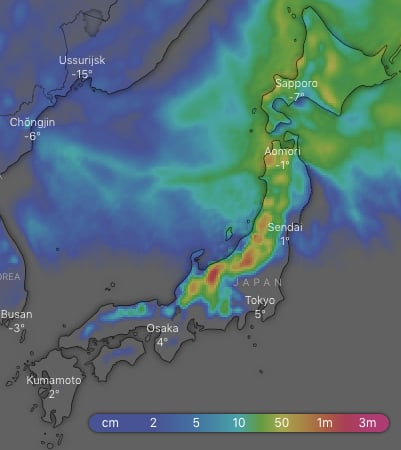 Thursday 13 December
Looking at the overall picture for the next ten days, the Hida and Echigo Mountains of southern Honshu, where major resorts like Hakuba reside, should take the cake with 1m-1.3m of snow falling on more exposed areas and half as much lower down. Elsewhere on Honshu we can expect up to 50cm-75cm, while 30cm-50cm should fall on Hokkaido.
Today:
Snow flurries continue over the northern half of Honshu and spread to Niseko this afternoon, while other areas will see plenty of sunshine.
Friday:
A low passes over Japan in the early hours, getting the Japow machine fired up. Freezing NW winds will dump snow to base levels through the day. The heaviest falls will be on Honshu during the morning.
Saturday:
Snow showers will peter out late in the day as the freezing NW winds ease and a high builds over Honshu.
Sunday:
The high drifts away to the east and a warmer S-SW flow develops over Japan. Snowfalls will increase on Hokkaido as a front moves onto the area, but it will turn to rain at low levels as temps rise.
Monday:
The front crosses Japan during the morning with snowfalls on upper slopes, but it'll rain lower down. Rain/snow showers will continue for the remainder of the day.
Tuesday & Wednesday:
Freezing NW winds will pump light fluffy Japow onto all ski resorts during these two days. Marvelous!
Thursday:
Snowflurries should clear Honshu as a ridge builds, but they're likely to linger on Hokkaido.
Outlook for next Friday and next weekend:
Models are picking a low will pop up in the Yellow or East China Seas, then cross Japan next Friday. We're likely to see a period of warmer S-SW winds with potentially heavy rain. However, as the low scoots off to the northeast, it should drag in colder NW winds and we should see some good snowfalls over next weekend. Keep in mind this is a long way off in the forecasting world, so check in next Thursday as I will shed more light on this system. Until then, happy shredding!
This forecast was brought to you by The Grasshopper. The Grasshopper is Mountainwatch's resident meteorologist and he will be sharing his wisdom in the form of weekly snow forecasts for Japan and North America. Stay tuned!