Weekly Japan Snow Forecast Jan 10th – The Grasshopper
Japan Forecast – A relatively settled and sunny week ahead
Thursday 10th January (Japan time)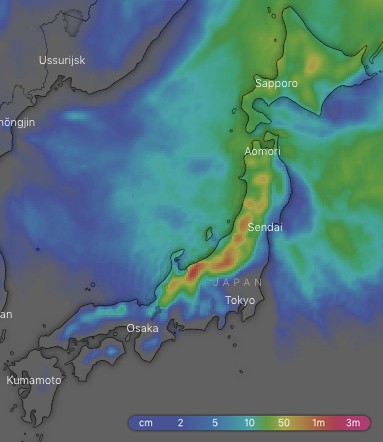 Ten-day snow accumulations. Another healthy chart to look forward to, but the devil is in the detail. Source:: windy.com
We have yet another very healthy looking ten-day accumulation chart on the forecast. However, it belies the fact that apart from good snowfalls tonight and another bigger dump on Tuesday into Wednesday, this week will be relatively settled with more sunshine than usual gracing Japanese slopes. This will be a nice change from blizzard conditions and give us a chance to revel in the huge dump from the previous 48 hours in which Mountainwatch reporter, Joey, measured 90cm on the stake yesterday at Myoko. Struth! A large portion of the ten-day accumulations will actually fall during the extended outlook period from next Thursday through next Saturday, so this storm will be one to keep an eye on.
Thursday 10 Jan:
It's a rare bluebird morning for central and southern Honshu thanks to ridge of high pressure, and there is just a bit of cloud and the odd snow flurry further north. As the ridge moves off to the east, winds tend more to the W-SW and it'll start snowing on northern Honshu from afternoon with decent falls, but temps will rise a little. Winds swing back to the NW tonight/overnight as temps drop and it'll start snowing elsewhere on Honshu and on Hokkaido.
Friday 11 Jan:
Wake up to a fresh batch of powder from the night before, with improving weather on the menu. Pressures will build throughout the day as NW winds ease and remaining snowfalls are reduced to just a fluttering of flakes.
Saturday 12 Jan:
A ridge of high pressure will be parked up over Honshu with the sun making a stellar appearance. Cloud and the odd snowflake on Hokkaido will also start thinning out. Later, after hours, a low fresh out of the East China Sea will skirt along the Pacific Coast, dropping snow onto the Pacific side of central Honshu.
Sunday 13 Jan:
Remaining snowfalls on the Pacific side of central Honshu will clear in the morning as the low sails east into the Pacific, leaving Japan under mostly calm and sunny high pressure. Lovely!
Monday 14 Jan:
High pressure continues to dominate with more sunshine and light winds to ward off any Monday blues. There might be a snow flurry or two on Hokkaido and southern Honshu, but it's unlikely to register on the measuring stake.
Tuesday 15 Jan:
What goes up must come down will be the moniker of the day. The high pressure shoves off to the east while a trough of low pressure deepens in the Sea of Japan, complete with a low centered in the Sea of Okhotsk – the makings of a Japow jamboree. The trough will hit from afternoon or evening, sparking up the NW winds as temps plummet and thence dropping a cornucopia of Japow.
Wednesday 16 Jan:
It'll continue to snow on Hokkaido and northern Honshu, while high pressure building further south will clear things up fairly early in the day.
Extended Outlook:
We may need a stronger word than "cornucopia" to describe snowfalls that are on the cards during the next storm cycle that is likely to hit next Thursday through next Saturday. This storm could be a real humdinger, complete with super cold, gale to storm force NW winds, especially during next Friday. Things may calm down next Sunday as high pressure lurks.
This forecast was brought to you by The Grasshopper. The Grasshopper is Mountainwatch's resident meteorologist and he will be sharing his wisdom in the form of weekly snow forecasts for Japan and North America. Stay tuned!