2022-2023 North American Snow Season Outlook – December Update: Early Season Storms Give Way to More Settled Period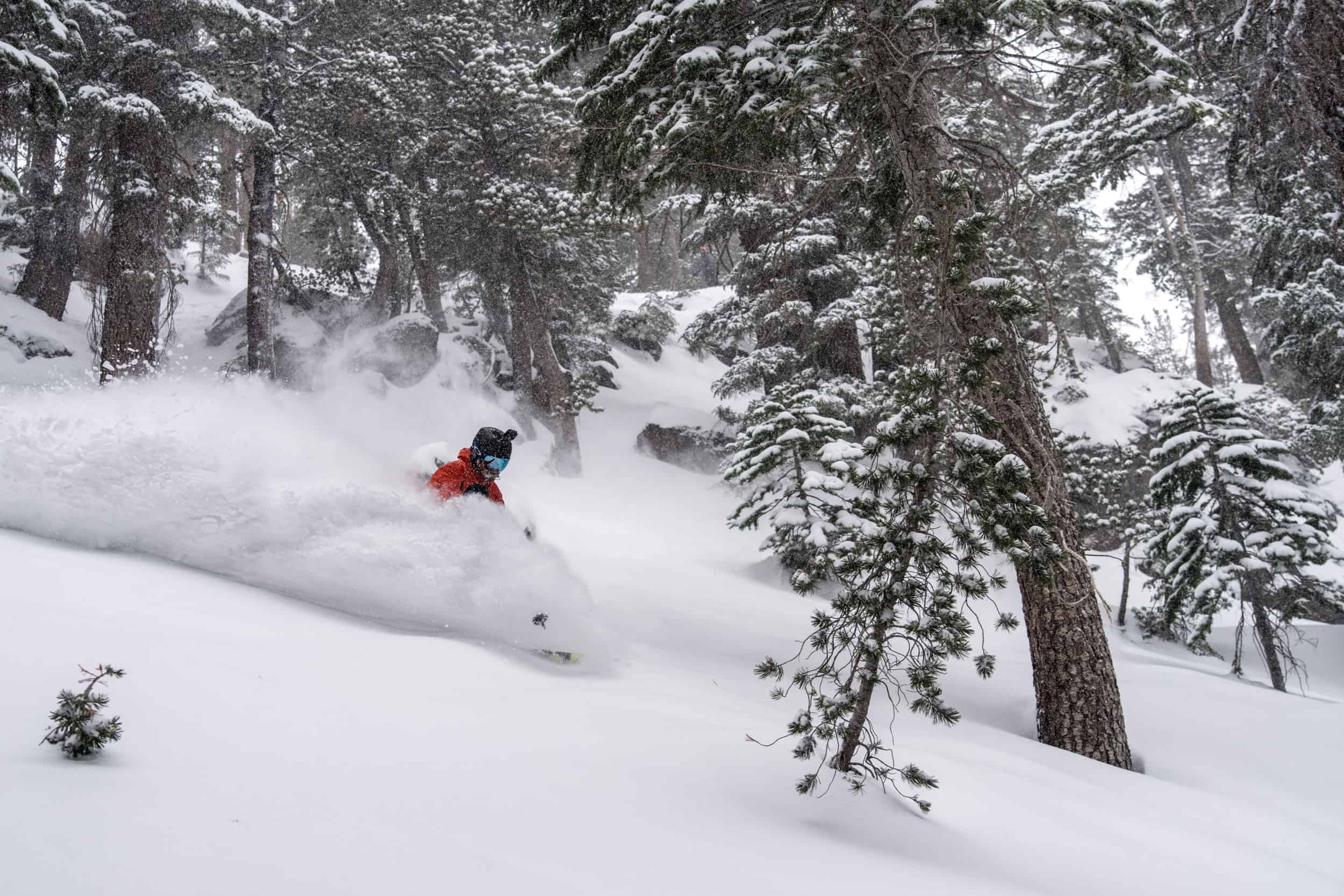 Mountainwatch | The Grasshopper
The great run of early season snowfall across North America's west has continued into early December, with average or above snowfall for most, except for way down south in Arizona and New Mexico where resorts are reporting about 50-75% of their usual snowpack for this time of year.
Resorts in the Pacific Northwest, Sierras, Idaho and Utah have particularly benefited from a number of moisture-laden storms from the Pacific Ocean. Snow packs there are floating up to 150-200% of their usual, and temps have been consistently chilly despite those storms often leading with snow of the heavy, wet variety and rain at low altitudes.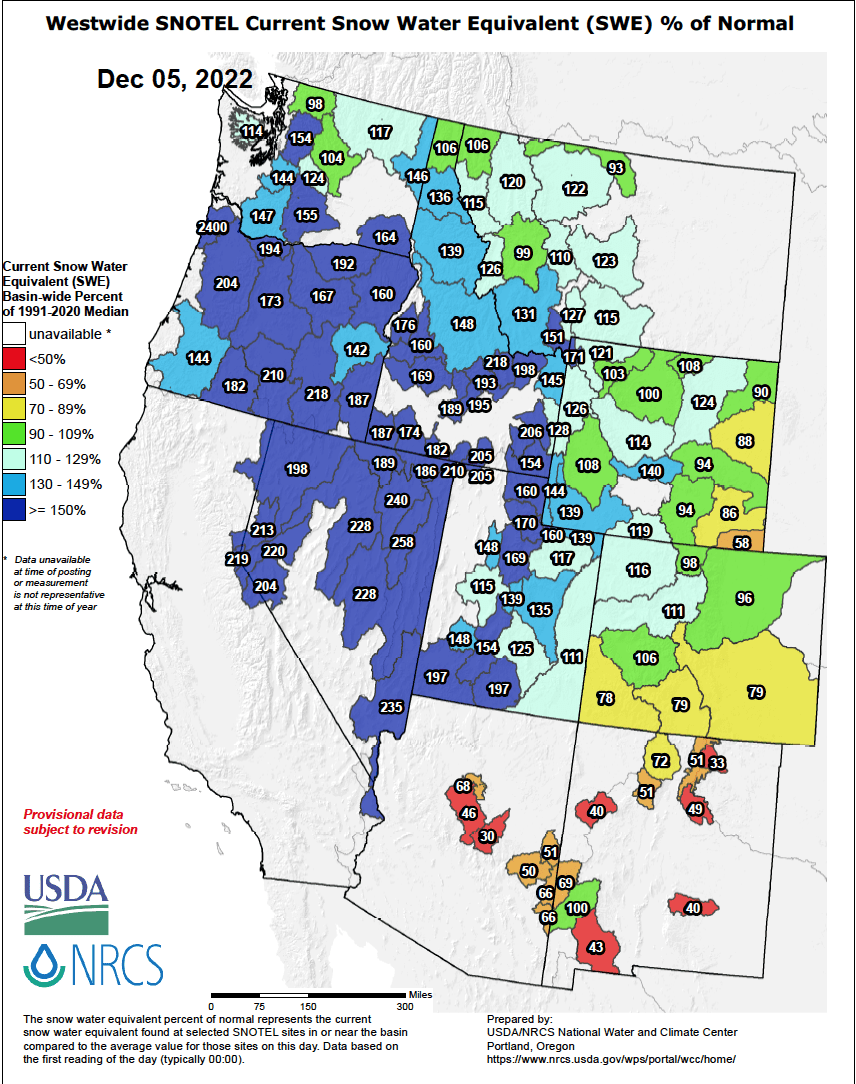 Powder for all as the storm cycle revs up this week
The next few days (Monday 5ththrough Wednesday 7thAmerican Pacific Standard Time) will bring a smattering of light snowfall of 5-15cm over the northern Rockies, but up to 25cm in Montana, as an artic high-pressure system pushes hard up against the eastern side, bringing temps down to a cold -20 to -10 degrees!
Meanwhile, a slow moving and slowly fading low currently sitting off the Pacific Coast will see resorts in the northern Sierras and Utah take home 10-20cm, while Colorado cops up to 25-45cm.
Then, from Thursday through Sunday, back-to-back storms will first roll over the Pacific Northwest and Sierras, where the heaviest snowfalls are expected, before punching further inland over the Rockies to ensure no one is left out in what should be a west-wide powdering.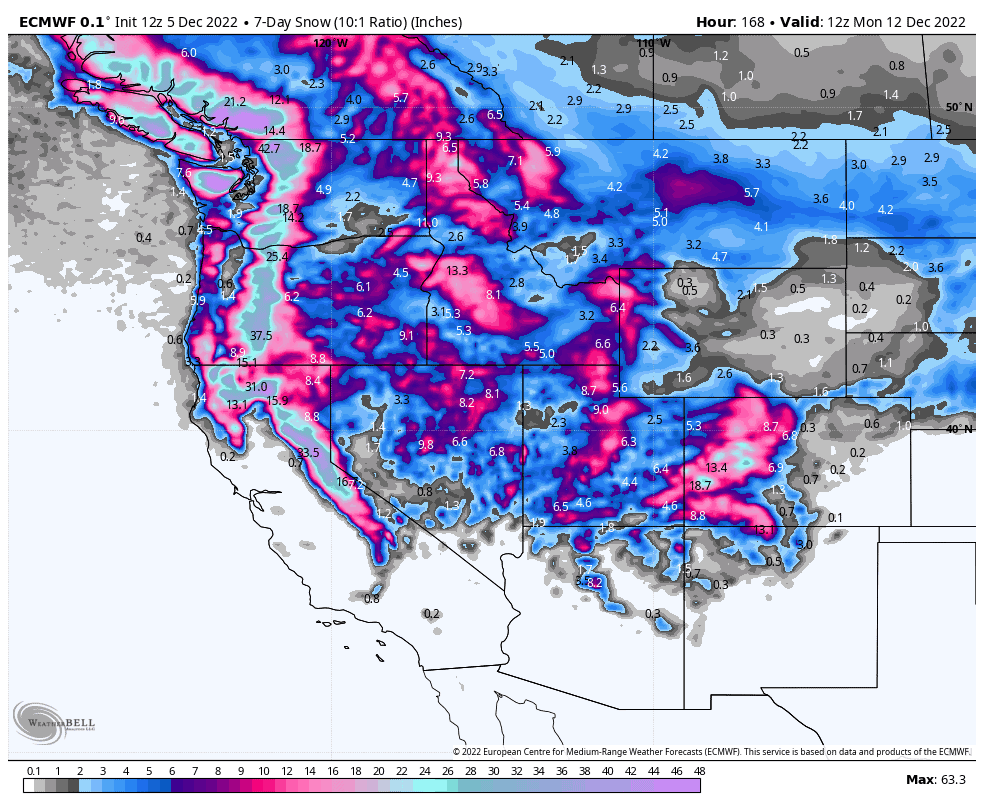 One more storm before a relatively settled period to see out December
The storm cycle looks to continue next week, with models expecting a third and potentially final storm system make landfall during Tuesday, December 13, before clearing out east from Friday. Snowfalls may favour the south, i.e. the Sierras, Utah, Colorado Arizona and New Mexico, while Canadian resorts remain cold and dry.
Note that here we're getting into the forecast fog, where models become less reliable and we can see wild swings in the situation, so take it with a grain of salt.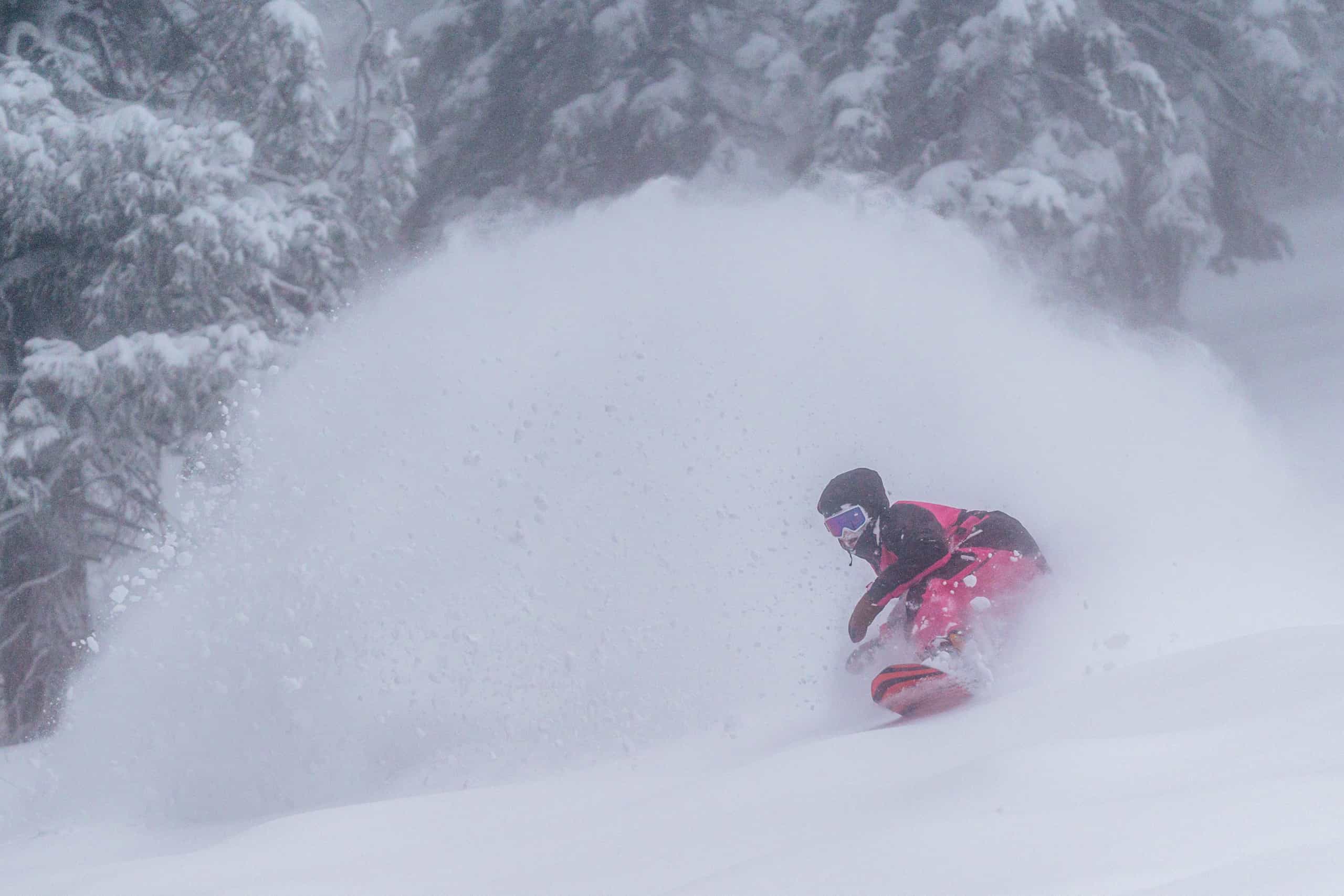 Looking even further into fog with a mouthful of salt, ensemble models indicate we'll see a prolonged settled period through the rest of December. It makes sense, right, what comes down must go up?
With high pressure dominating this period, particularly over Canada and the northern States, we may see only weak systems and light snowfalls, but also colder, calmer skies keeping the snow in great shape and providing great skiing conditions.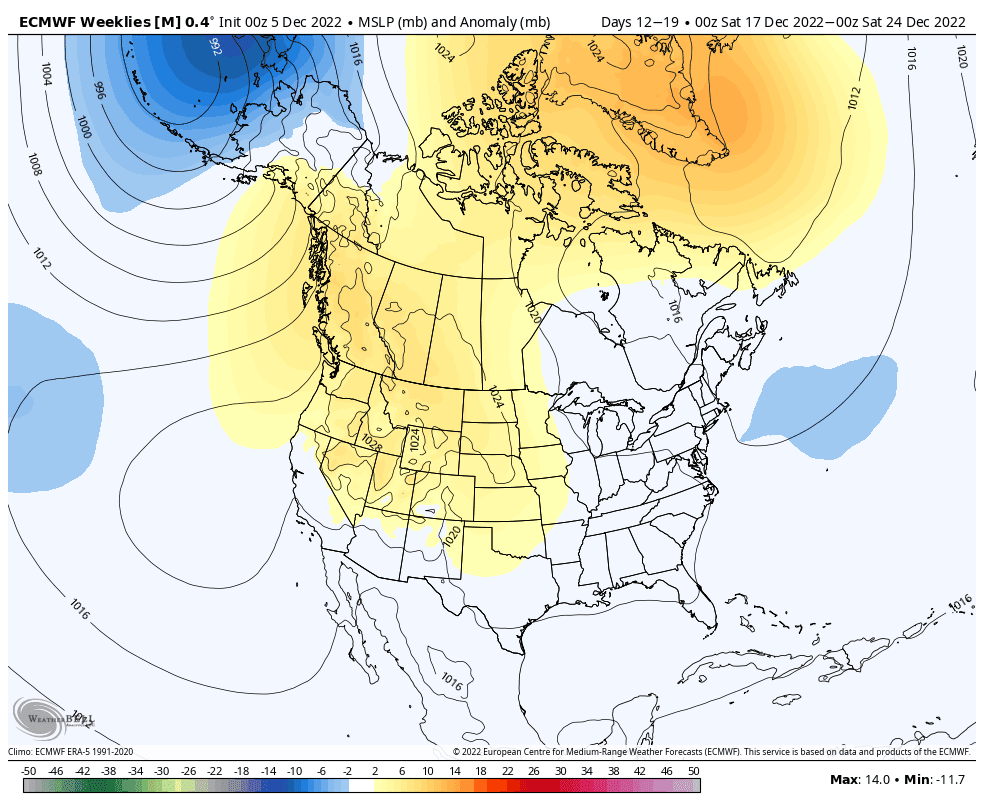 La Nina pattern holds strong
Looking much further ahead to the next few months, not much has changed since the previous outlook, which is no great surprise; it's only been a few weeks and the climate doesn't change course that quickly.
La Nina still plays out in seasonal models, as well as seasonal forecasts by American and Canadian meteorological agencies, which favours the north for above-average snowfall, while the south is most likely to be warm and dry.
La Nina appears to already have passed its peak and is expected to weaken into neutral territory during January or February. As such, you would expect La Nina's influence on North American snowfall to also wane during the season, but this isn't necessarily reflected in models as the pattern holds through March and only slightly weakens during April. This is most likely due to atmospheric responses lagging behind the ocean as it takes time to wind down.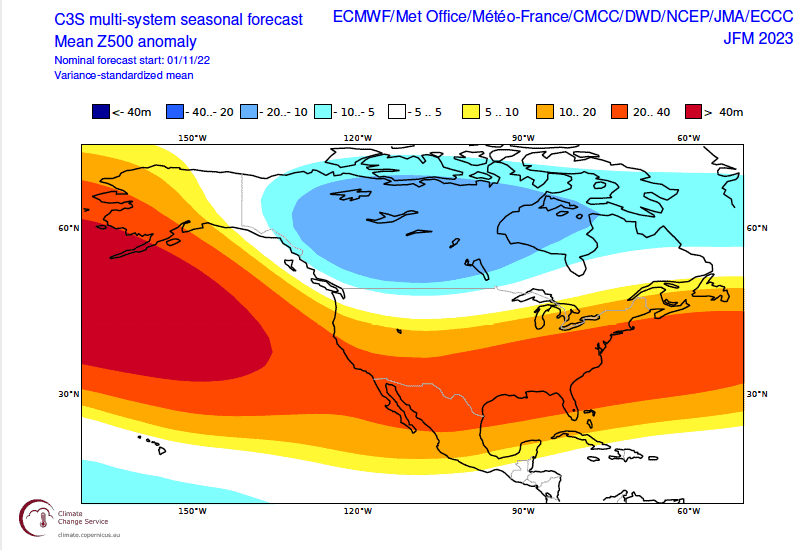 Wrap up
With a great start to the season for pretty much all of North American resorts, we haven't seen any seasonal trends play out yet, although it could be argued the slow start in Nevada and New Mexico is a result of La Nina, however as they are the farthest south, winter typically arrives here last. The coming storms over the next couple of weeks will further buckle any La Nina trends, setting up a solid base and allowing resorts to ride through the flat spells.
After a potentially settled back half to December, we could reasonably expect a weak La Nina snowfall pattern over the course of the rest of the season, which the image below succinctly illustrates. Compared to stronger La Nina's, the main difference here is a weaker signal and a band of low snowfall appearing over Canada. But don't let that faze you about venturing to those northern and southern extremes, because during a heavy or light season, it's often about timing as conditions fluctuate with passing storm cycles.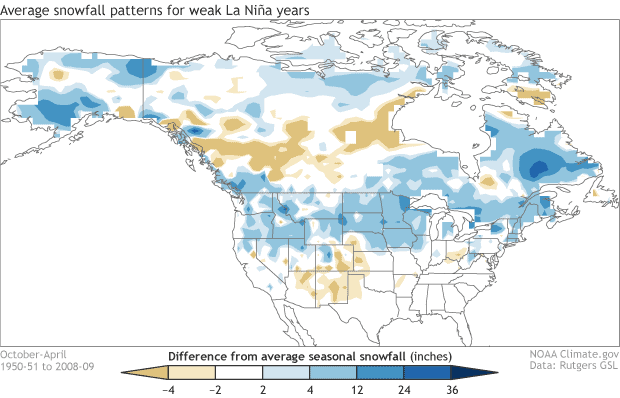 That's it from me folks, if you've got a different theory on what's going to happen this season, then hit me up on Facebook. I'll issue the next North American Outlook in the New Year. Before then, I'll be ripping into the weekly N.A. forecasts starting mid-December, giving you all the highlight and snowlights of each week.
Grasshopper