2022-2023 Japanese Snow Season Outlook – January Update : A Few Speed Bumps Then Snowy Business as Usual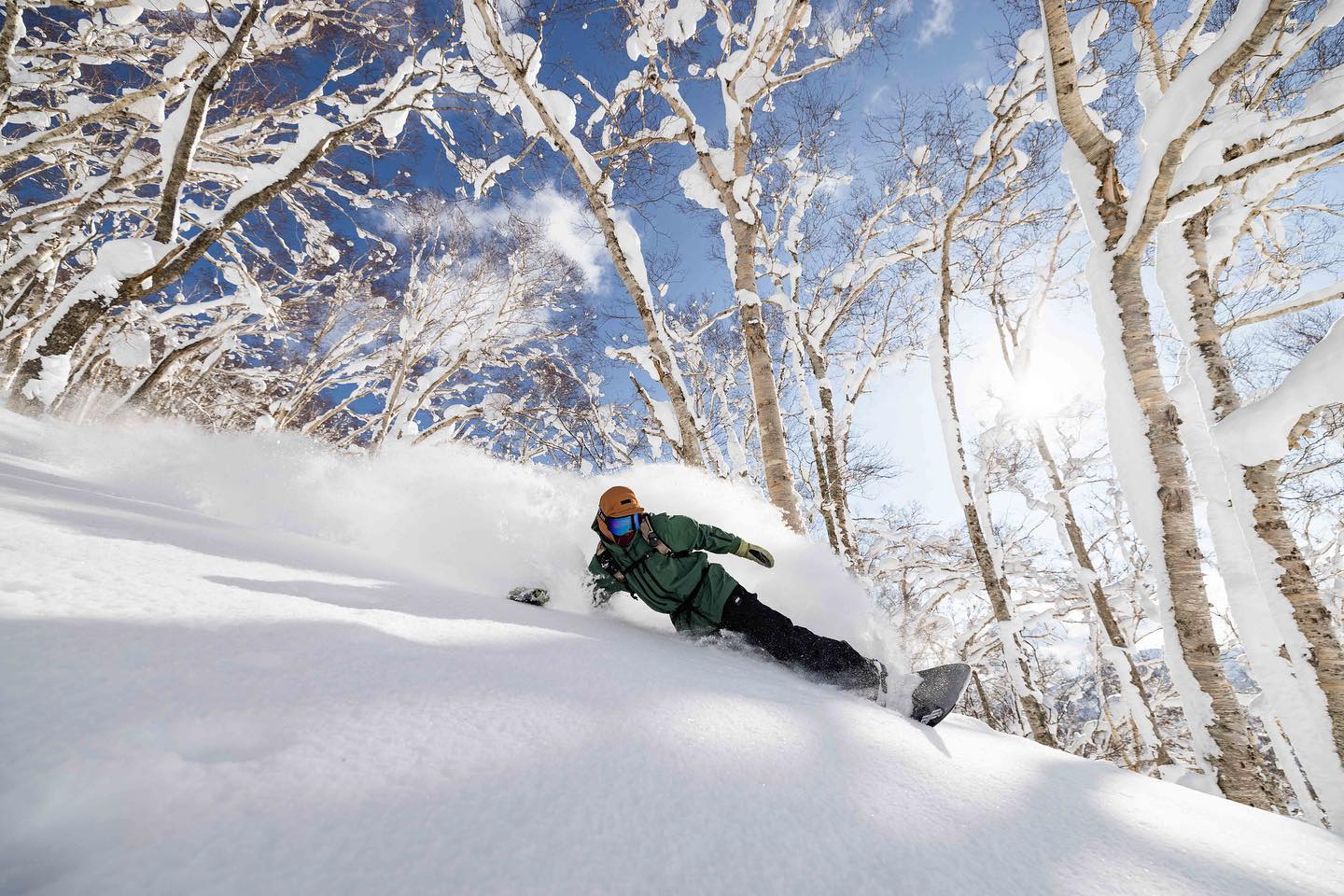 Mountainwatch | The Grasshopper
The Japanese snow season is in full swing after a few very fruitful weeks. La Nina is on its way out, but there are plenty of signs we will milk every snowflake out of it before the sun comes out for spring. On the way, however, there will be a few speed bumps to get over first.
When writing the previous Japanese seasonal outlook at the start of December, the Japanese powder machine was just getting started on Hokkaido, and we were waiting for things to kick off on Honshu after low preseason snowfall. Since then, snow has barely stopped falling on Hokkaido, where snow totals and depths are now about average or slightly above, while things eventually fired up on Honshu mid-December with three massive weeks.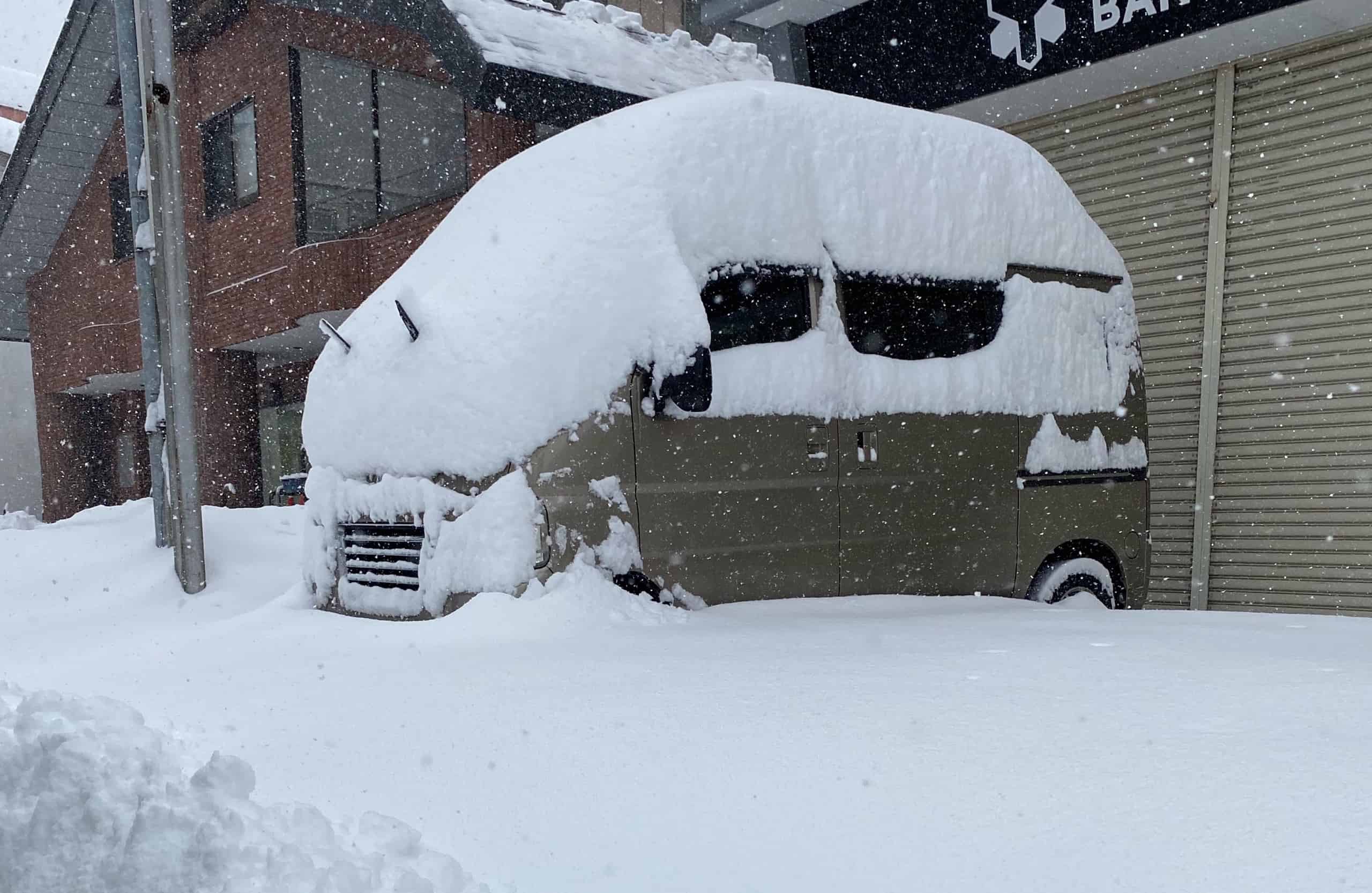 However, the snow didn't fall evenly over central Honshu as the wind direction favoured some resorts, but not others. For example, west-southwest winds would see decent snowfall on the Hakuba resorts, while resorts a little to the east, such as Myoko and Madarao to name just a couple, would receive little due to sheltering and has resulted in low December totals.
Winds from a more northwesterly direction this past week has dropped 154cm at the base of Myoko and 78cm at Madarao, allowing snow depths there to catch up somewhat. On the whole, snow depths on central Honshu are now close to average, and conditions are at expected levels of amazing, which Reggae is fizzing about after he jetted in just over a week ago.
January snowfalls temporarily slow for speed bumps
This week we'll see decent snowfall from Monday into Tuesday, the 9thand 10thJanuary, followed by settled conditions, with sunshine even. A wet and warm weekend is likely to follow as a low passes over from the west. There'll be great conditions during the week, but in terms of snowfall, it'll be a relative speed bump.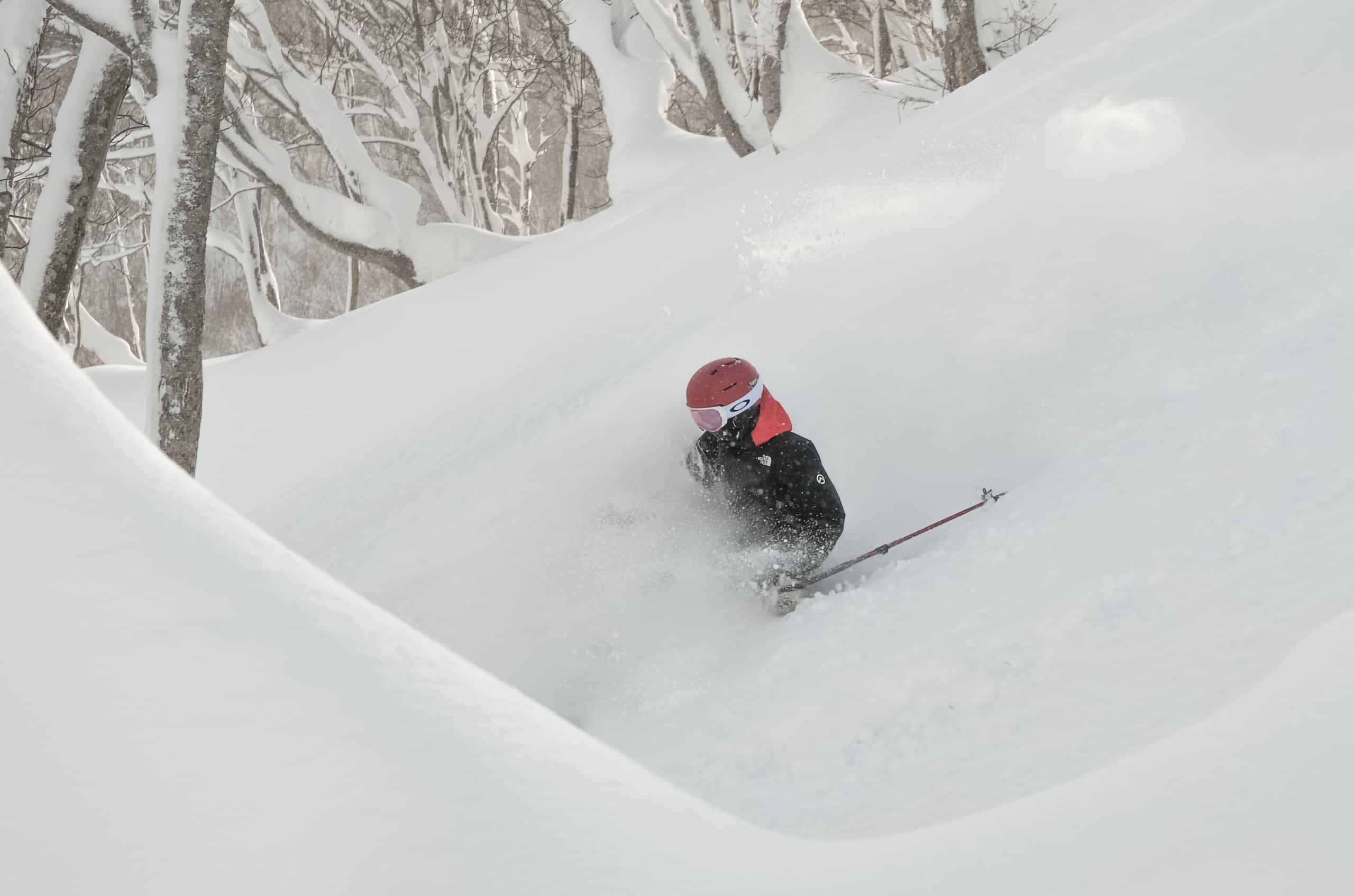 There are early signs of a good dump to start the following week, the third week of January, after the passage of the low mentioned above. On the whole, it may be another relatively slow week for Honshu, with only slightly more favourable conditions for northern Honshu compared to the week before. Hokkaido is expected to get back to business as usual with temperatures likely dipping to average or below.
The Japow Machine may change up a gear for the remaining week and a half of January, as the JMA and ensemble models indicate temperatures are most likely to end up below average. It'll be make or break whether snowfalls during this time will lift January totals up to average-or-above figures, as was indicated by earlier outlooks that were more favourable.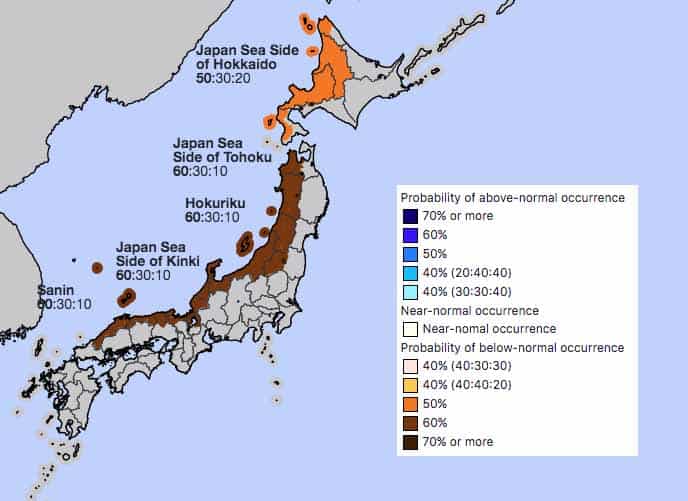 February on track to pump out the powder before spring comes on strong
Looking further ahead to February and March we see the favourable climactic backdrop gradually wane as La Nina clocks out somewhat a little prematurely. However, we should milk every last snowflake out of this La Nina as atmospheric responses will take a while to wind down. By the time that happens we should be well into March when snowfalls take a dive anyway as the Japanese powder machine runs out of fuel.
Conditions continue to look favourable for average-or-above snowfall during February, with models indicating the East Asian Winter Monsoon will remain strong, and the JMA giving us a good chance for average or below temperatures along with high precipitation.
In addition to the typical decline of snowfall during March, most other signs don't look particularly favourable for any late season comeback. Low pressure anomalies over Japan are expected to disappear during March, and the JMA give higher chances of warmer and drier than average conditions compared to February. In fact, it actually sounds like great spring skiing conditions to me – warm, sunny skies, with a massive snow pack built up over the harsh winter months still underfoot!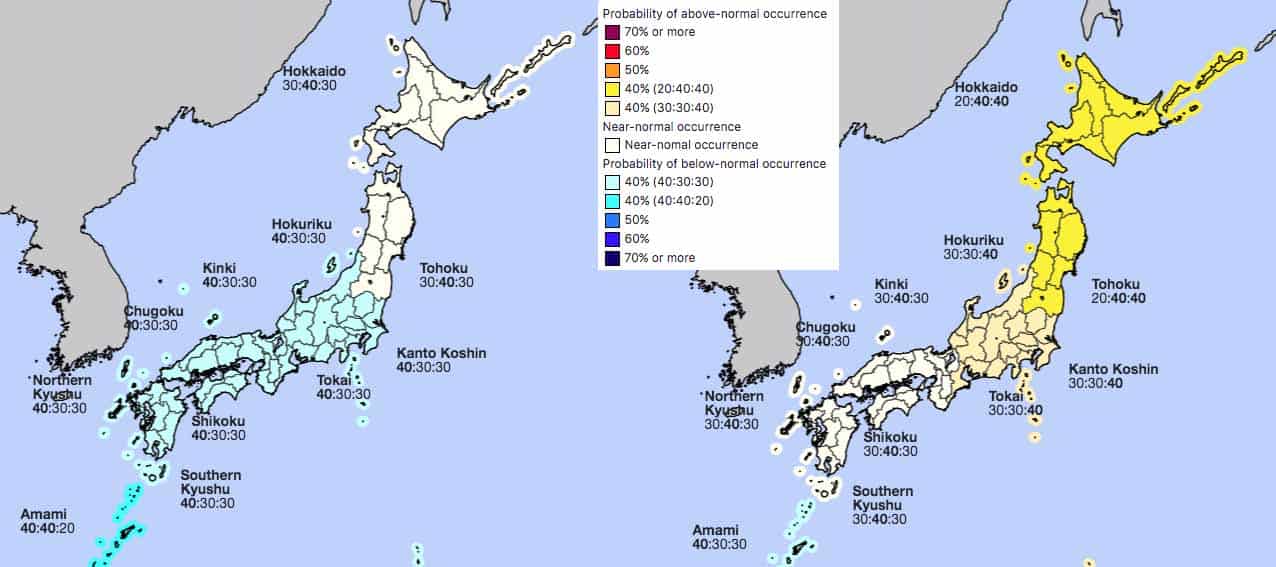 Wrap up
So, there we have it folks. We've got great conditions here in Japan at the moment, with plenty of powder to fill your boots. Although figures may be down over the next week or two compared to your usual Japanese standards, there's some good snowfalls on the way followed by bouts of sunshine, which is always welcome here during winter. Late January and February are looking good for a tonne more the fluffy stuff, setting us up nicely for spring as we ski into the sunset.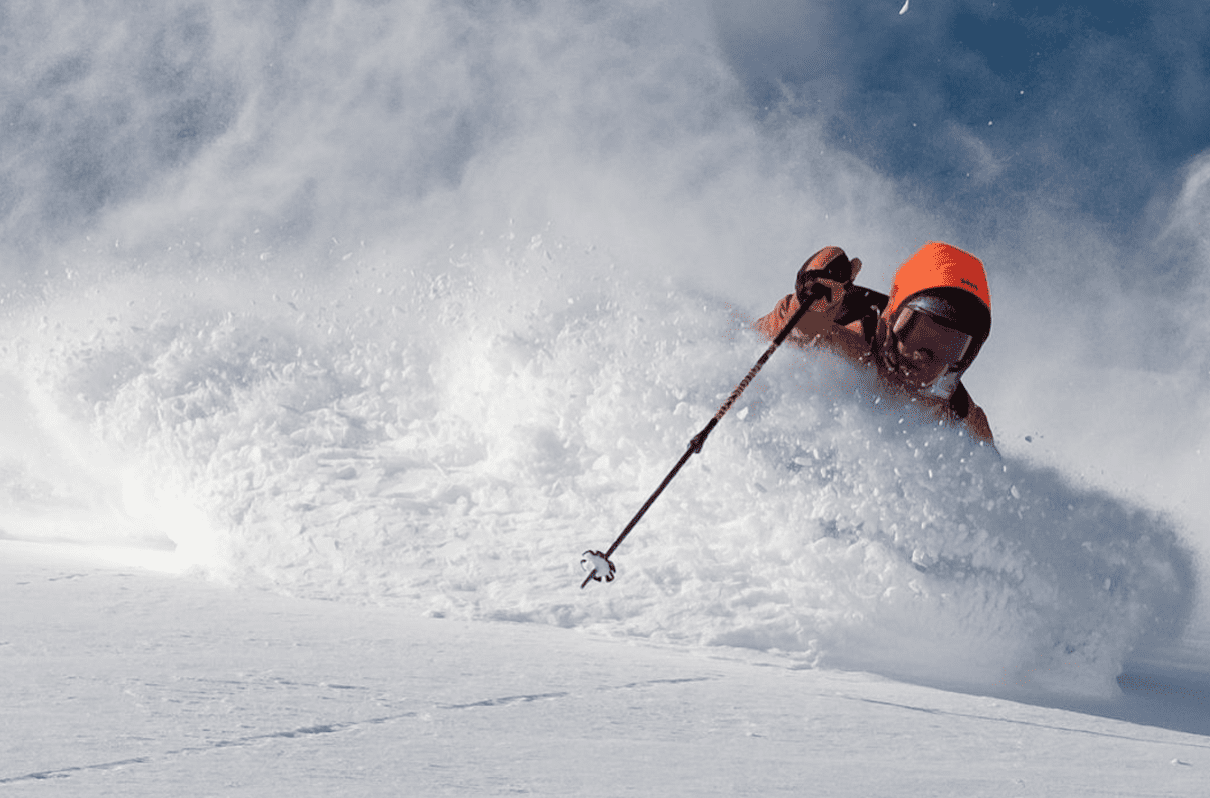 Well, that's it from me, I'll have another look at things early February. In the meantime, keep checking out my weekly Japan forecasts, and look out for the next North American Snow Season Outlook next week as the snow just keeps piling up there.
Grasshopper