2022-2023 Japanese Snow Season Outlook – December Update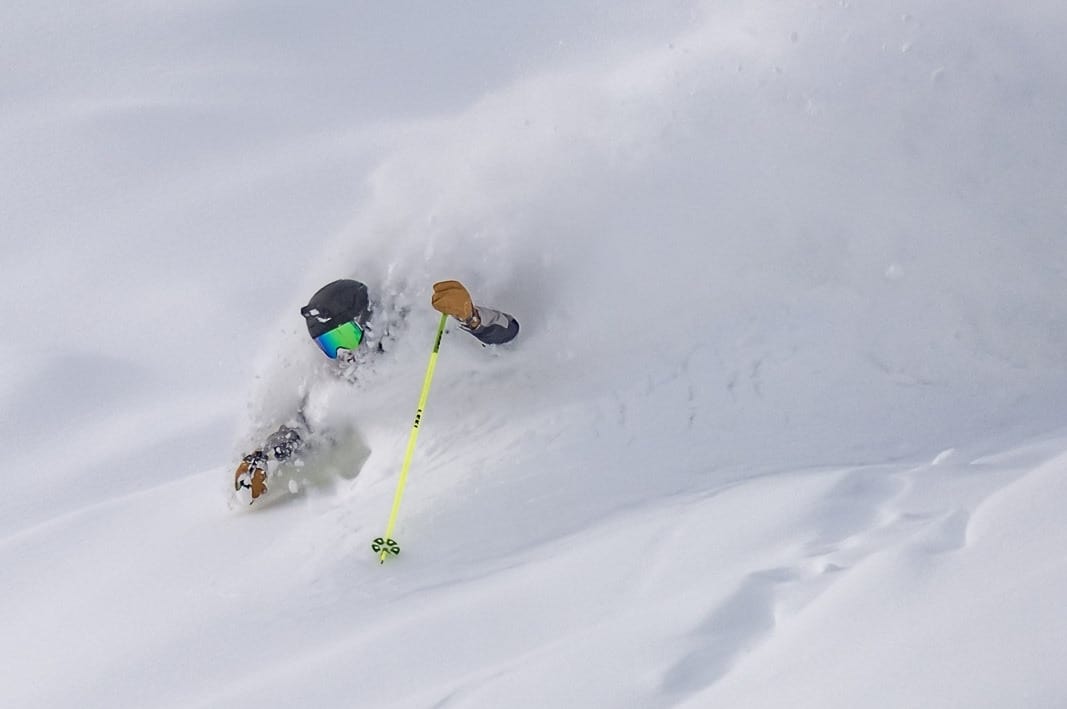 Mountainwatch | The Grasshopper
In a season that we're banking on La Nina to provide the goods again, the snow is yet to pile up on Japanese ski resorts after low early season snowfall.
Although most resorts plan to open mid-late December, many of those early-bird resorts have had to delay opening, or remain in a holding pattern until the snow deepens. Those lucky enough to open, such as Rusutsu and Niseko on Hokkaido, are scraping by with limited operations, typical for the start of the season.
As you might expect, it is the northern resorts where winter tends to hit earliest who are currently sitting in the deepest snow. Resorts located in the west of Hokkaido, such as those around Niseko and Sapporo, are reporting bases of around quarter to half a metre after decent snowfall over the last few days with 50-80cms over the past week.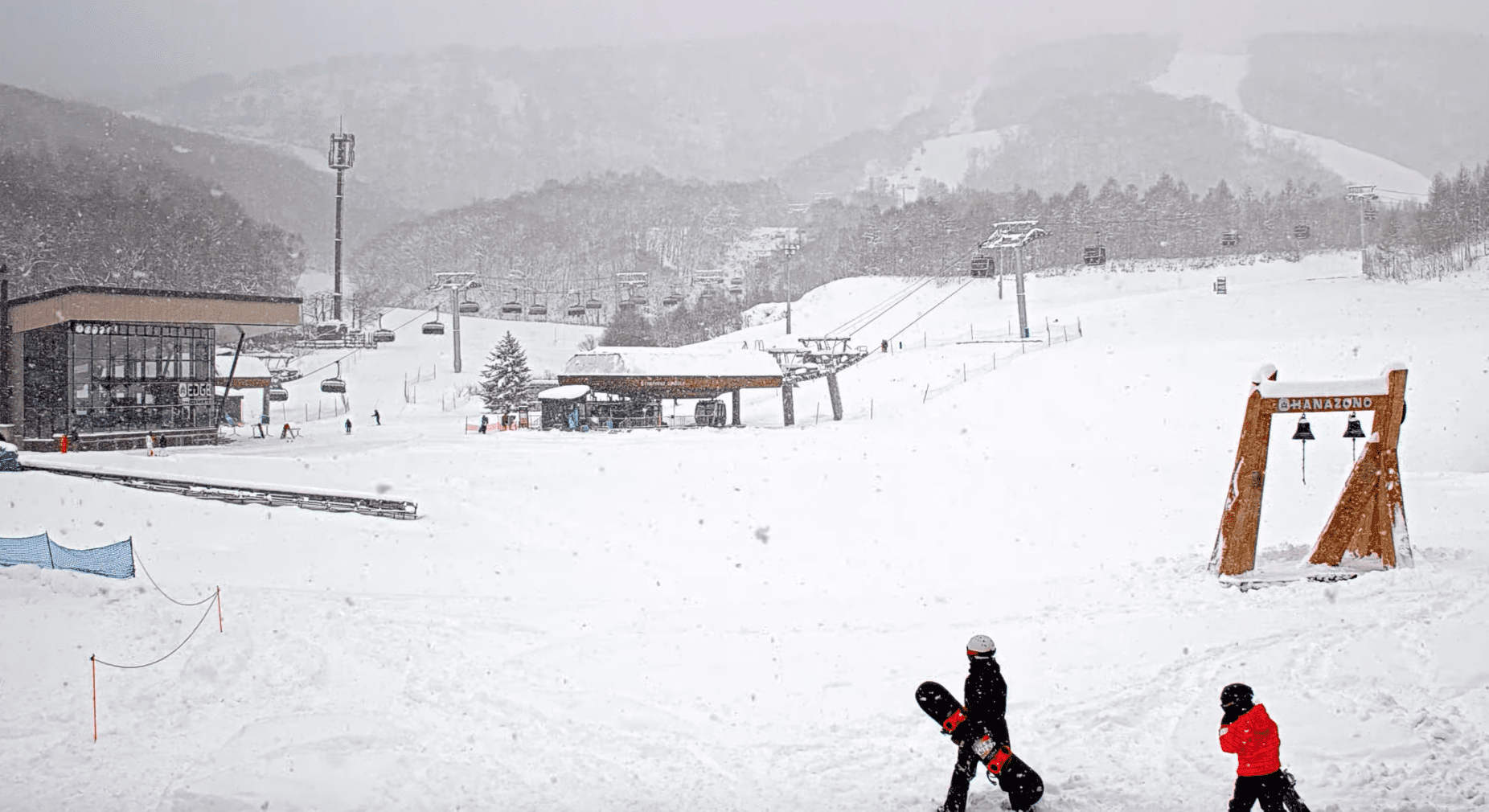 Resorts in central and western Honshu have only a thin veneer up high, and are thus eagerly awaiting that first big snowstorm of the season.
However, it's still early days. And if you remember rightly, last season started relatively slowly until the Japow machine really fired up late December in what ended up as a super deep season overall. Many locations exceeded double their normal snowfall, and 12 snow depth stations (out of 331 stations dotted around Japan) broke their annual maximum depth records.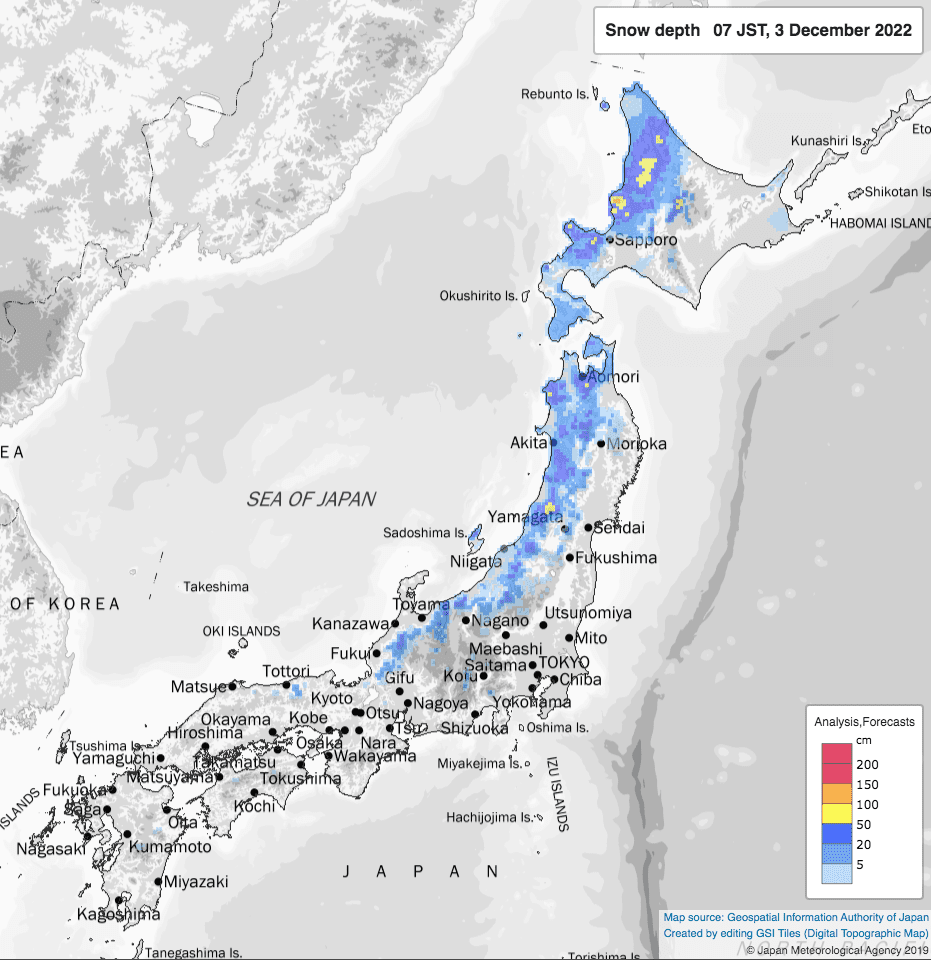 Good snowfall on the short-range
This week we appear to get our first taste of things to come with consistent light-moderate snowfall across the archipelago, followed by potentially heavier falls Sunday and early next week (between the 11th-15thDecember) with the passage of one or two low-pressure systems.
Ten-day snow accumulations show most resorts will cop at least half a metre of new snow between today, Monday the 5th, and Tuesday the 13th. This should see those resorts who are currently waiting in limbo to open, and the rest to open on schedule.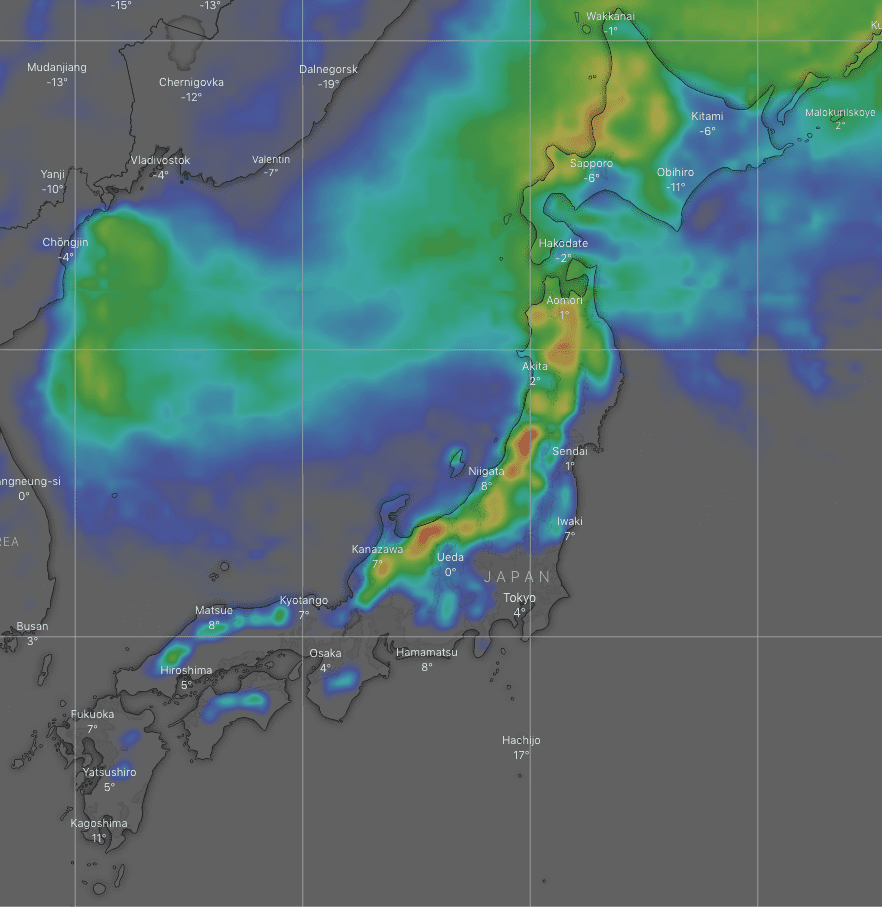 December Forecast
Looking further ahead through the back half of December, ensemble models indicate we'll see a bout of high pressure through December 17–19 as things settle down after the storms earlier in the week, with snowfalls likely petering out.
A lack of high pressure and encroaching low pressure from the north throughout the remainder of December is a sign we should see snowfalls ramp up, especially over Northern Honshu and Hokkaido where higher than average precipitation is likely.
However, snowfall over Central and western Honshu during this period may not be enough to bring this month's totals up to average, as indicated by the JMA's latest December outlook where it is suggested warm temps may plague the southern half of Japan.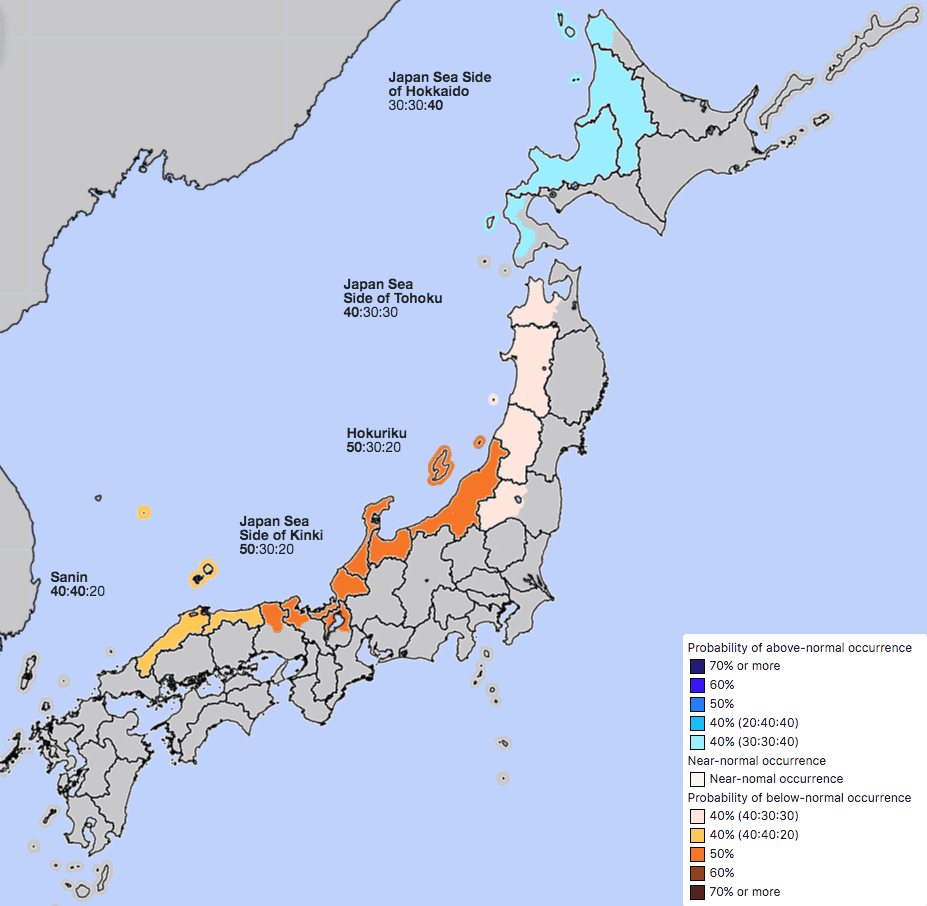 Outlook for January-March
With La Nina well and truly matured and on the wane, all expectations are that it'll reach neutral values sometime during January or February. The atmosphere will respond accordingly, although typically with a lag, meaning La Nina's beneficial contribution to Japanese powder will also wane, but hopefully late in the season after we've already milked it dry.

The JMA are expecting above average snowfall for winter as a whole along the snowy Sea of Japan side of the country, with January and February likely making up the shortfall for a slow December on central and western Honshu.
January in particular is looking good with colder than average temperatures and above average precipitation most likely, thanks to an increase in those cold northwest winds off the frozen continent and low-pressure anomalies.
Those wind and pressure anomalies are still there during February in the models, but are weaker, so the JMA expect colder temps are only slightly more likely over central and western Honshu, with average temps further north. Also, precipitation in February is likely to be higher than average over central Honshu and about average elsewhere.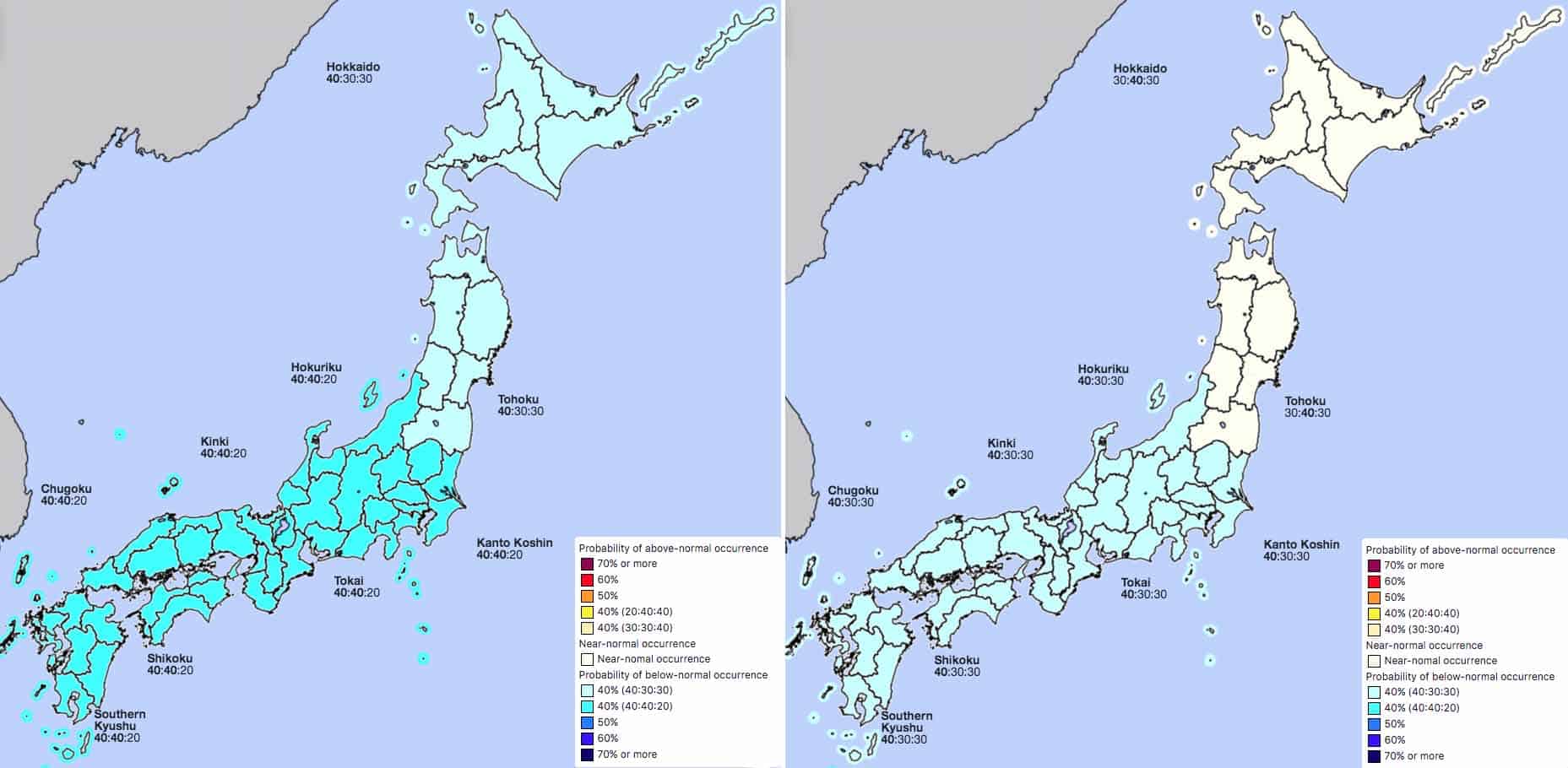 Wrap up
So, there we have it folks, things are looking to be firing up here in Japan. We haven't been lucky with early season snowfall, but there's plenty showing up in models over the next week and half, as well as a hopeful tail end to December, especially on Hokkaido.
All signs still indicate La Nina will pull through again this season, with January looking particularly good. But as its influence dwindles, we can expect an average or slightly better than average February, followed by an average March.
Well, that's it from me my fellow frothers. I'll have another look at this seasonal stuff in another month and my weekly Japan forecasts will start mid-December, once resorts are all up and running. In the meantime, look out for my North American outlook next week; the season has been blowing up there with widespread massive snowfalls.
Grasshopper