Mountainwatch | The Grasshopper
There may be some recent snow on the ground around the Australian and New Zealand Alps, but right now it's time to look towards the Northern Hemisphere and with North America and Europe already open for Australian travellers the opportunity of a trip to Japan is also becoming more likely by the day.
Another La Nina?
We are expecting a La Nina to peak over this December which is typically good news for Japan's snow totals. Some of the deepest winters in recent times being have been during La Nina conditions, including last years' season. It's not unusual for two La Nina events to occur consecutively and is commonly called a "double dip" and I know many are hoping for a double dip in terms of some of the world class conditions that were produced last year in Japan.
The image below shows the current global sea surface temperatures with a La Nina signal evident in the Central-Eastern Pacific shown by the blue cooler waters. This leads to the collection of warmer waters in the west and induces more convective activity than usual. Generally, La Nina years bode well for snowfall in Japan, but it is of course not an exact connection.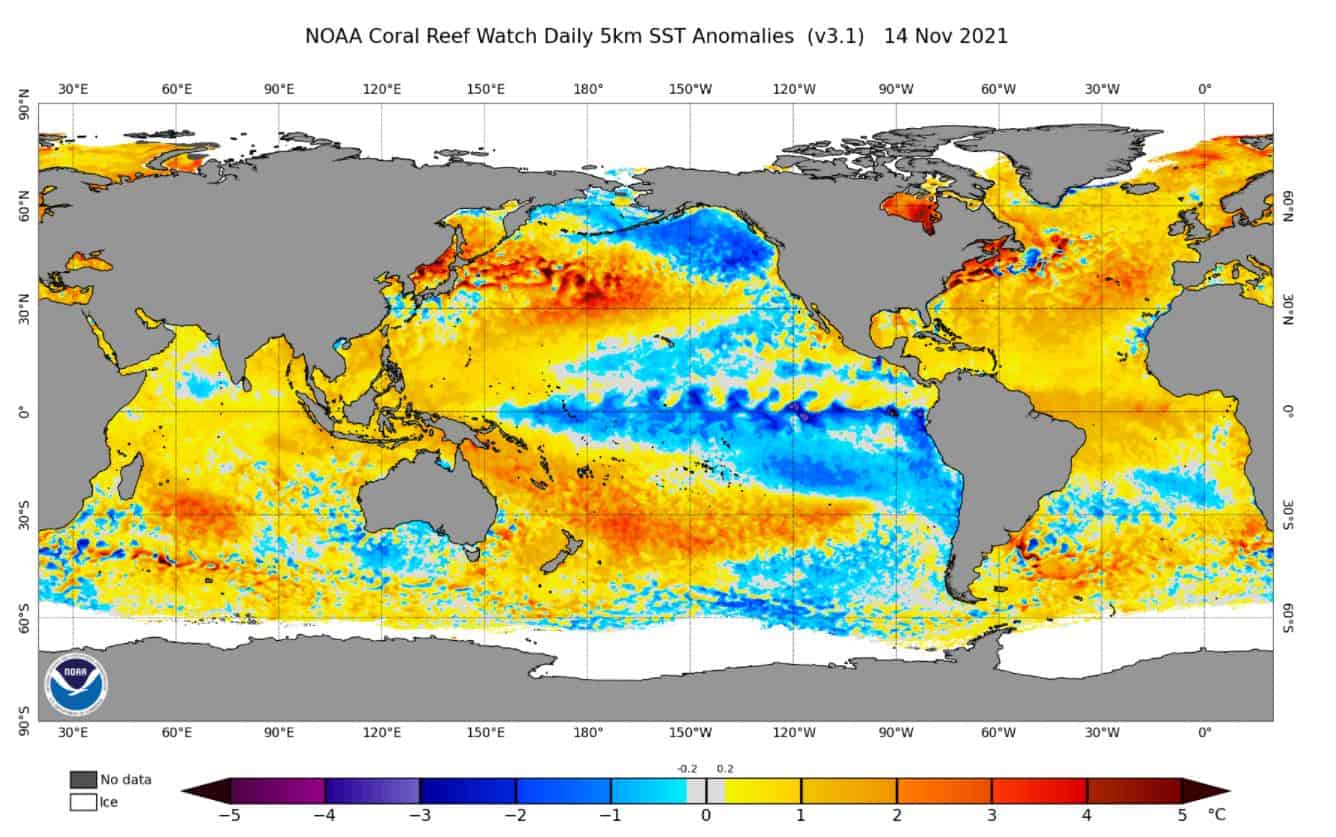 Highs and Lows
There are two features (among others) of the Northern Hemisphere winter landscape that help produce the big Japanese dumps we love to see, the Siberian High and the Aleutian Low. These help funnel cold air from Siberia over the Sea of Japan culminating in cold fronts that deliver plenty of Japow. From the plot below of multi-model forecasted MSLP (Medium Sea Level Pressure) over the winter months we can see a weakened Aleutian Low is predicted and an average Siberian High. A weakened Aleutian low is not generally great news unless accompanied by a strengthened Siberian High, but we can see this nice low-pressure anomaly visible over Japan below, which is far stronger in the JMA (Japan Meteorological Agency) forecast, generally meaning more convection and helping to counteract the slightly not totally desirable weakened Aleutian Low.

JMA Forecast 
The recently released JMA winter seasonal outlooks show a similar situation to last year (which didn't fully predict how good last year turned out). Temperatures are predicted to be close to average with areas in the north such as Hokkaido having a slightly higher likelihood of warmer than average temps while areas further south have  a slightly higher likelihood of cooler than average temps. Related to this it is looking like Hokkaido is most likely to have an average snow year (with average being some of the deepest snowfall in the world), and Honshu is tipped to have a little better season than usual.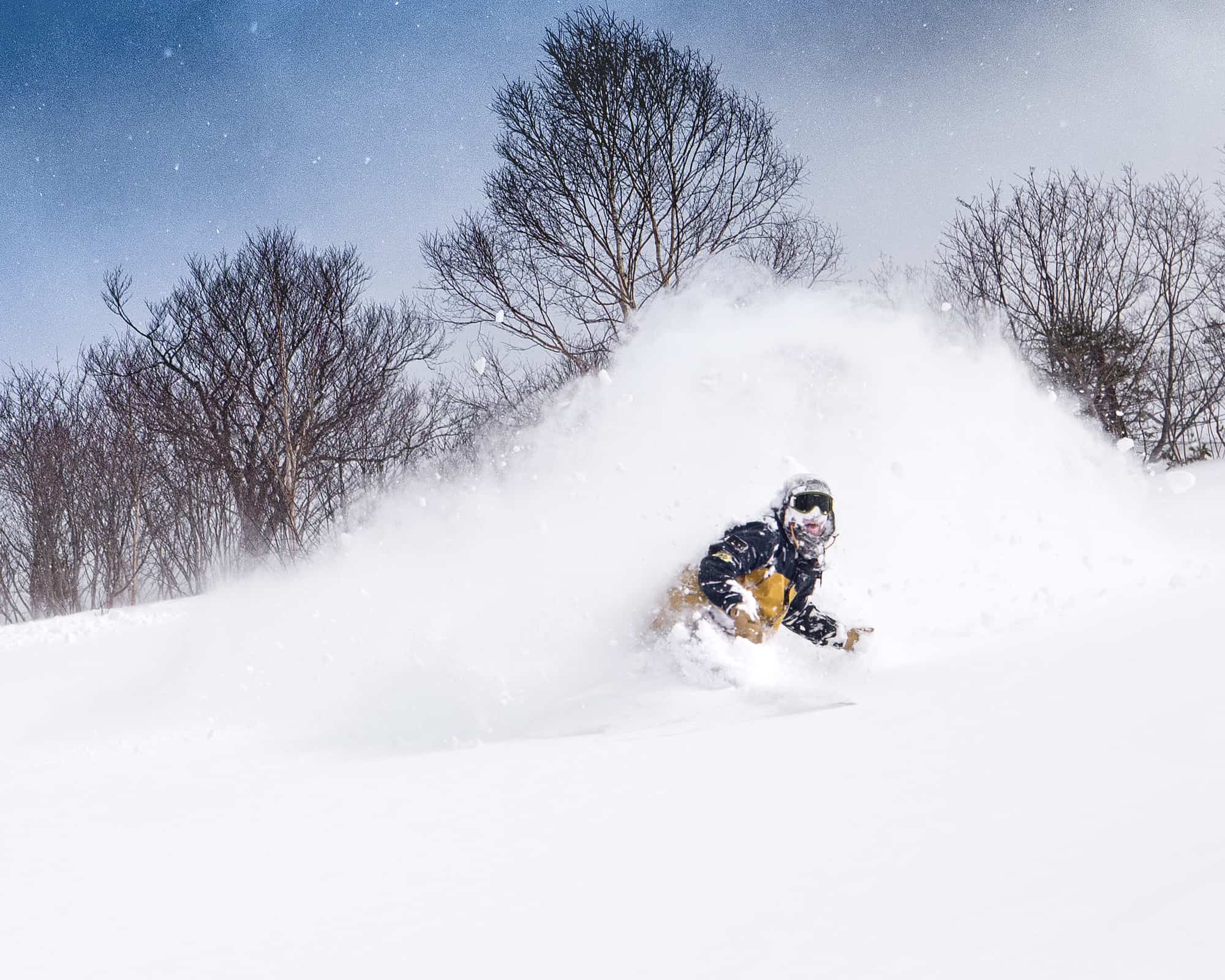 The outlook is pictured below, and with no red colours present it is always a welcome sight. It is important to recognise that the way these forecasts are presented is with three numbers, the first being the chance of below average, the second being the chance of average and the third being the chance of above average. So, when we look at brown areas of slightly above average temperature in Hokkaido this represents a 40 percent chance of temperatures being above average in the region and a 30 percent chance of both average and below average temps in this region.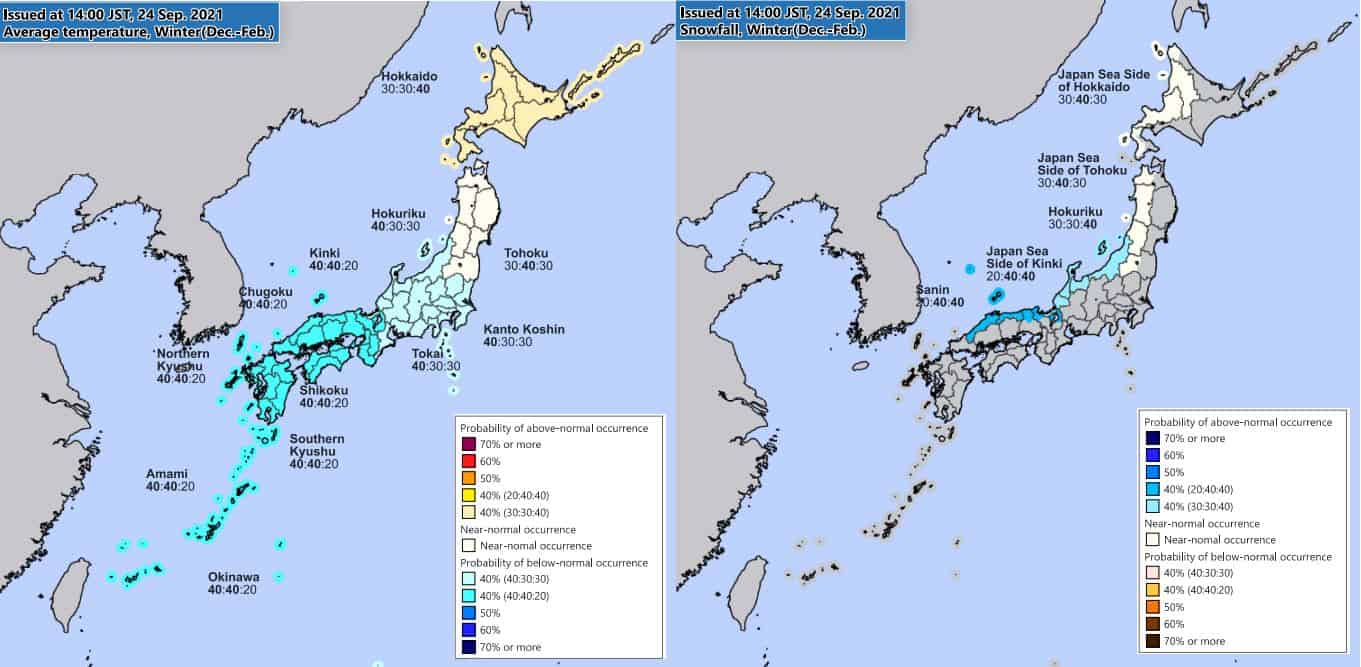 Local Knowledge
On a less meteorological note, many of the Japanese locals consider large numbers of Japanese stink bugs called kamemushi around at this time of year to be a sign of a big winter ahead, and this year there is reports of more stink bugs than many can remember. So, if you trust the local knowledge the season ahead looks very promising.
Conclusion
Overall, seasonal forecasts are not an exact science, but right now we are looking at most likely an average season for Hokkaido and a slightly better than average season for areas of Honshu. With travel to Japan becoming a very real possibility it's easy to get excited. I'll keep you up to date with changes and have an update in around a month. In the meantime, fingers crossed for some positive travel news and maybe time to get some research into areas you want to hit this winter.
That's it from me folks. If you've got a different theory on what's going to happen this winter, or just want to provide feedback, then please hit me up on the discussion below. Or you can follow me on Facebook. Remember to check out my weekly forecasts for both Japan and North America starting mid-December, giving you all the highlights and snowlights of the coming weeks.