BOOK NOW
OVERVIEW

INTINERARY

ACCOMMODATION

INCLUSIONS

GALLERY

TERMS AND CONDITIONS

REVIEWS
Gulmarg Curry Powder Tour
Heli-ski like backcountry terrain accessible via gondola! P/P
Jan 21 - Jan 31 (Private Groups Available All Season)
Gulmarg is a little resort with 1 chairlift and 2 gondolas, the top gondola reaches just under 4000m. It's the vast backcountry terrain available however that makes Gulmarg such a special place for every powder lover. The summit of Mt Apharwat is a few hundred meters above the top gondola at about 4500m. Some bowls from the peak have an impressive 1200m vertical descent! The amount of terrain is virtually unlimited and includes everything from steep chutes to open bowls and some super fun tree runs. Furthermore, some of the unforgettable runs will end at local villages, not only doubling the vertical meters but also adding a whole new dimension to this backcountry tour by adding the cultural aspect.
After having spent 8 days exploring the best backcountry runs in Gulmarg with our local guides, you'll have the opportunity to head out for an epic heli-ski experience if the snow conditions and the weather permits. A modern helicopter brings you into Pakistani airspace to find some amazing zones, 5 untouched descents down pristine Kashmiri Powder!
On the last day, transfer back to Srinagar and stay in a freshly renovated, traditional houseboat on Dal Lake. Enjoy a delicious home cooked meal and good nights rest, the next morning you get to experience how the locals trade via wooden boats before flying back to Delhi.
Gulmarg is gaining in popularity so now is the time to experience this powder paradise for yourself!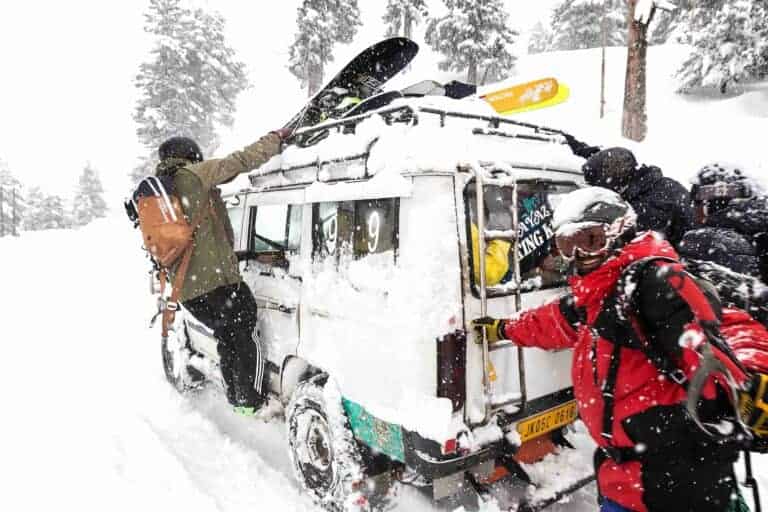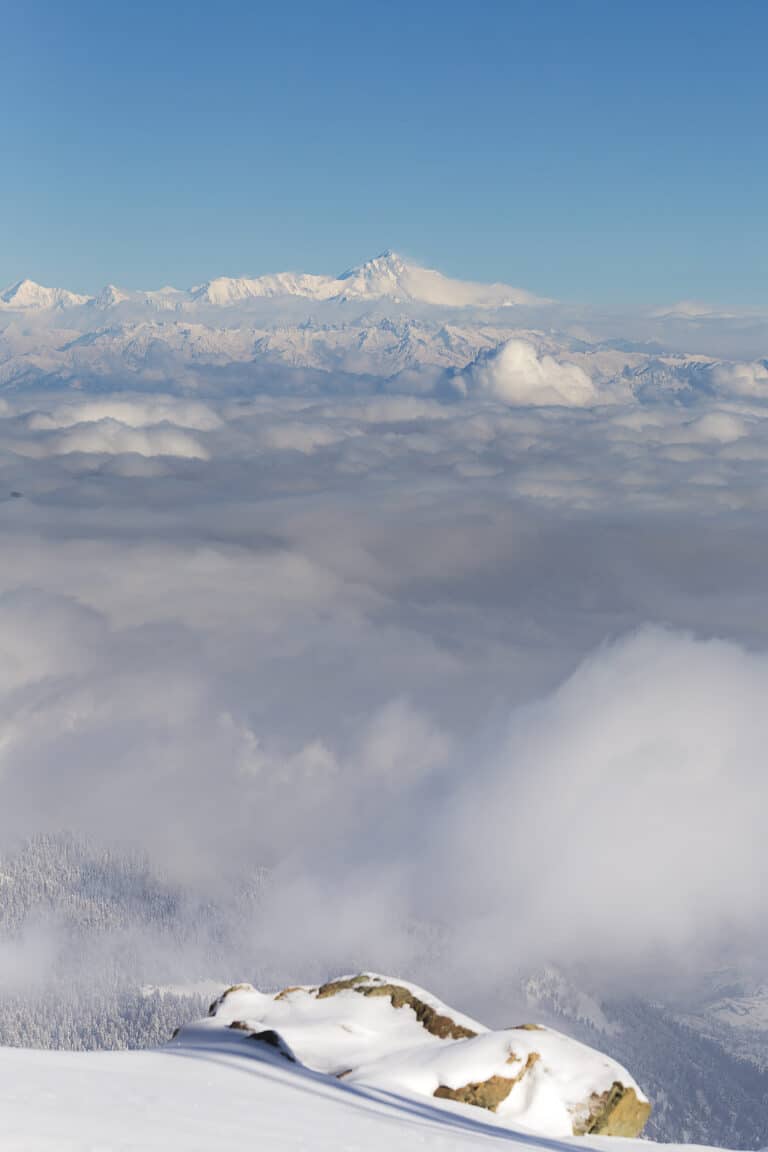 Day 1
Welcome to Delhi!
We always recommend arriving a day before departing for Gulmarg. This gives you some time to relax, prepare for the next day and see some of this crazy busy city. 
We recommend staying somewhere near the airport that has an airport shuttle, we usually stay at the Radisson Blue
Day 2
Head to the airport for your flight to Gulmarg. Make sure you get there on time as Delhi airport can be very busy and customs very slow. Nothing here goes like it does back home so prepare yourself by getting to the airport on time. The flight to Srinagar is only a short one and the last 15 minutes or so are simply beautiful seeing the Indian Himalayas get closer and closer. In Srinagar our friend Bashir will be waiting you and a porter will help you collect your luggage and secure it on their 4×4. First stop will be a liquor store where you can buy any alcohol you might want during the trip. Keep in mind once in Gulmarg it will be hard to buy any.
Then it's on your way to Gulmarg crossing plenty little towns, farm fields until the snow gets thicker and thicker. Check into your hotel, relax and get used to the altitude.
Srinagar – Gulmarg private transfer with stops in town
Luxurious accommodation with dinner included
Day 3 to 09
Spend these 8 days exploring the vast backcountry terrain Gulmarg has to offer. If the weather permits we'll use the 2 lifts and short hikes to get us to some unbelievable backcountry terrain. Think of open bowls, steep chutes or gentle open fields which all get back to the gondola – the possibilities are endless. After a few runs in the morning near the lift, we'll head further into the backcountry to do a final run which could end as low as 2000m, that's a run with 2000 vertical meters! If on any of these days the weather isn't playing along and the lifts are closed, we'll head towards the steep treeruns just below the hotel. All runs either end up near a road or in a town where a 4×4 Jeep will be waiting to drive us back to the top. Kashmiri cat skiing we call it!
All shuttles for tree skiing
8 day all access lift pass
8 full days guiding with 1 hour lunch break
Luxurious accommodation with breakfast & dinner included
Day 10
Depending on snow and weather conditions we'll have the choice of spending the day riding some unbelievable, untouched terrain only accessible via helicopter. A modern helicopter will takeyou into Pakistani air space to Sunshine Peak where you have the choice of riding 5 lines of your choosing! If the weather doesn't allow for heliskiing, or the group is not up for it, we'll have another day with our local guide to ride some of our favourite lines of the week! After having spent the last day either heli skiing or exploring new backcountry terrain in Gulmarg, a 4×4 Jeep will take us back to Srinagar in the afternoon. On the way, we can stop at a local cashmere factory and learn about the different types of cashmere and how it's made. Eventually, arrive on the shores of Dal Lake where a small boat will take you to a newly renovated houseboat where you'll spend the night.
5 heli ski runs with guides
Private transfer to Dal Lake with cultural stops
Comfortable accommodation on renovated houseboat, dinner & breakfast included
Day 11
After breakfast, you have the opportunity to take a wooden boat around the beautiful Dal Lake. Here you can see local tradesmen selling and trading their fresh produce or local handicrafts. On a nice day, you'll also have some unbelievable views of the
snow-covered Himalayas. When it's time to head to the airport a taxi will be waiting for you to drive you back and make your flight back to Delhi where the trip will end. We recommend adding 1 or 2 extra nights in Delhi after your trip. Not only can Srinagar receive a lot of snow so flights can sometimes get cancelled, it also gives you the opportunity to explore the Delhi region before heading back home. 
A good breakfast
Option to explore Dal Lake via wooden boat
Dal Lake – Airport transfer


This itinerary is just an example depending on weather and snow. We'll have the freedom to decide each day where to ride. The heli day can be booked in throughout the trip depending on weather window. 
Rosewood Hotel Gulmarg

A luxury hotel nestled in the Himalayas at an altitude of 2739m. The Rosewood Gulmarg offers a perfect blend of luxurious rooms, and suites with spectacular views over the valley or the mountain. Only minutes from Phase 1 gondola and after a day riding a short tree run back to the front door. The perfect location!

Features

Comfortable rooms (twin or triple share) with Balcony

Very good buffet breakfast included

Delicious buffet dinner included

Bar & Lounge area

Ski in, ski out

Rosewood Hotel Gulmarg

A luxury hotel nestled in the Himalayas at an altitude of 2739m. The Rosewood Gulmarg offers a perfect blend of luxurious rooms, and suites with spectacular views over the valley or the mountain. Only minutes from Phase 1 gondola and after a day riding a short tree run back to the front door. The perfect location!

Features

Comfortable rooms (twin or triple share) with Balcony

Very good buffet breakfast included

Delicious buffet dinner included

Bar & Lounge area

Ski in, ski out
INCLUDED
Return flights Delhi – Srinagar, premium economy with 30kg's luggage
All transfers within in Kashmir
9 nights accommodation in Gulmarg
1-night accommodation in a houseboat on Dal Lake, Srinagar
Daily breakfast
Daily dinner
All Access Lift pass
4×4 Kashmiri "taxi" on tree run days
Daily guiding by a local qualified guide
'Mountainwatch' host for the duration of the tour when needed
5 run Heli Day (optional)
EXCLUDED
Indian Visa
Lunch
Allowance
Backcountry gear (beacon, probe, shovel, backpack)
Flights to/from Delhi
Travel insurance
Tips for hotel staff & guides
EXPERIENCE + GEAR
This tour is for the advanced to experienced rider. Skiers/snowboarders should be confident to ride steep terrain with deep snow.
The hotel is located at 2,650m altitude and on most runs we start from around 4000 – 4500m altitude. Because some of these runs are accessible via hikes and start from this high altitude a good physical fitness is advised to prevent altitude sickness.
Because most of the runs are backcountry runs and are un-patrolled, backcountry equipment (backpack, beacon, shovel & probe) is a must! (Please advise if you don't have any and we can organise this for you)
Must have a min of 2 people to operate. Private groups preferred but also open to solo travellers.
Groups Terms and Conditions
Covid-19 Cancellation
Cancellations due to covid related border closures are subject to suppliers terms and conditions. In most instances refunds or credit will be available up to 30 days prior to travel as a result of a government order currently in place and preventing you from travelling to the region specified in your confirmation. Some exceptions may apply.
Cancellation and refund requests will only be accepted up to 40 days prior to travel to allow adequate time for international travel to resume.
Mountainwatch Travel will not be liable for any additional costs incurred as a result of Covid related restrictions or requirements, including but not limited to mandatory quarantine or Covid-19 testing.
Your refund will be processed after funds are received from suppliers, this can take between 4-8 weeks.
All refunds will incur a processing fee of $49 per person, deducted from your refund. If you choose to keep your booking as credit for future travel, the processing fee will be waived.
Refunds will not be available for change of mind or any other reason indirectly related to Covid-19, including but not limited to leave unapproved, loss of income or unwillingness to travel due to Covid-19. Refunds will not be available if you choose not to adhere to the government or airline's policy regarding vaccinations.
It is the client's responsibility to check the policies relating to international travel for the relevant countries. Note these can change at any stage.
DEPOSIT: A NON-REFUNDABLE deposit for all bookings is required within 5 days of your confirmation to secure your booking, otherwise your reservation may be automatically cancelled. Some properties may a require deposit payment inside the standard 5 days and an increased deposit to secure the booking. Payment of a deposit indicates acceptance of these conditions. Tour leaders are responsible for checking all travel dates and arrangements are correct at time of confirmation. If there is a discrepancy Liquid Tours/Mountainwatch must be notified immediately. Subsequent changes may incur amendment and/or cancellation fees.
PAYMENTS: Liquid Tours/Mountainwatch will accept payments by the following methods. Credit card, or direct deposit into our bank account. Agent payments can be made via direct deposit. Please note: there is a 1.5% charge when paying with Visa or Mastercard.
PRICES
All quotes are in Australian dollars unless stipulated otherwise and are subject to change prior to us accepting your booking request. Prices are based on the quoted itinerary including where applicable, coach transportation, economy class airfares, rail travel, multi-share accommodation, resort lift passes, rental equipment, instructors, etc. Prices are also subject to change in accordance with the following provisions.
Note: coach, airline, and rail fares are subject to change without notice at any time prior to full payment. All government taxes and charges imposed by suppliers beyond the control of Liquid Snow Tours/Mountainwatch (including ticketing fees and airline fuel surcharges) are payable by you and are subject to change. If there are any increases in such taxes or charges, or if you request any itinerary changes or the number or mix of passengers changes prior to you making payment in full, which increases the price of your booking, we reserve the right to change the price at any time by giving you notice. You must pay the additional charges prior to the date of your departure.
Unless otherwise stated, the cost of travelling to or from departure points, flights, visas, airport taxes, port taxes, city taxes, items of a personal nature, laundry, additional beverages and consumables are not included in the tour price.
Exchange rates are subject to change without notice (based on currency fluctuations) until final payment has been processed. Once a booking has been made on your behalf, your booking is subject to deposit and final payment being made by due dates as outlined on your statement or your booking may be cancelled.
Cancellation within 30 days prior to departure will incur a 100% cancellation fee. No allowance or refund can be made for unused meals, accommodation, transport, vehicle rental, equipment hire, lift tickets, or any other unused package components once travel has commenced. If a person or persons cancel from Liquid Tours/Mountainwatch booking, they and the remaining people in the booking will be liable for the additional accommodation costs that result from the cancelling persons.
ACCOMMODATION: Liquid Tours/Mountainwatch reserves the right to substitute and confirm alternative accommodation of a comparable or superior standard if necessary should that described in the proposal not be available. Your consultant will communicate any possible changes prior to deposit payments being received.
NOT INCLUDED: All other costs, apart from those detailed in a quote/invoice, are at the clients' own expense eg: passport and visa fees, inter-airport transfers, meals or any other items including those of a personal nature unless otherwise stated. If flight or other travel delays lead to missed connections, Liquid Tours/Mountainwatch cannot be responsible for train fares, taxis or other extra expenses.
RESPONSIBILITY: Liquid Tours/Mountainwatch acts only as an agent for the companies or persons (principals) providing or offering the means of travel, accommodation and other services (the principals' services) and bookings are made subject to the terms and conditions under which the principal's services are provided. Accommodation, flights, transportation and any other services are subject to availability at the time of booking. The principals reserve the right to change the prices of their services without notice. Confirmations and invoices are subject to re-issue if incorrect through error or omission and the passenger accepts liability to pay the correct costs for services. Liquid Tours/Mountainwatch reserves the right to cancel or withdraw any tour or passenger booking or to decline to accept or retain any person as a member of a Tour or passenger booking. This agreement is governed by the laws of the State of NSW, Australia.
LIABILITY: To the extent permitted by law, neither Liquid Tours/Mountainwatch nor anyone on its behalf can be held liable for any alterations, act or omission on the part of the service providers/principals for any consequential, loss, death, injury, accident, delay or damage occasioned to any person or their belongings (including baggage) in connection with the tour or holiday offers supplied by Liquid Tours/Mountainwatch whether or not such loss, injury or damage is due directly or indirectly to any default, negligent act, misrepresentation, breach of duty, or omission of the travel operator, their respective representatives, servants, contractors or agents. Matters outside the control of Liquid Tours/Mountainwatch may affect the services offered and Liquid Tours/Mountainwatch will not be responsible for any such matters. Programs, offers, tour prices, services and conditions are current at the time of publication of promotional material are subject to change without notice due to unforeseen circumstances, including increases in operating costs. Liquid Tours/Mountainwatch will not accept responsibility or liability for any traveller who contravenes the law or regulation of any country visited. Liquid Tours/Mountainwatch strongly advise against the use or possession of prohibited drugs in foreign countries and warns travelers that if found to be involved in the use or possession of illegal drugs on a Liquid Tours tour or travel package, we reserve the right to discharge the traveler from a tour. This is a zero tolerance policy.
FORCE MAJEURE: Except where otherwise expressly stated in these booking conditions, neither we nor any Third Party Supplier can accept liability or pay any compensation where the performance or prompt performance of our or the Third Party Supplier's contractual obligations is prevented or affected by or you otherwise suffer any damage or loss as a result of force majeure. In these booking conditions, 'force majeure' means any event which we / the supplier of the service(s) in question / the Third Party Supplier could not, even with all due care, foresee or avoid. Such events may include, whether actual or threatened, war, riot, civil strife, terrorist activity, industrial dispute, natural or nuclear disaster, adverse weather conditions, epidemics, fire and all similar events outside the control of the party concerned.
TRAVEL INSURANCE: We require all travellers to have travel insurance. Please ask your travel consultant about our comprehensive policies or click HERE for an online quote
I've joined Mountainwatch to Japan and India, and both tours offered memories that will stay with me forever. Bottomless snow, great culture, amazing food. Around every corner hid a secret that left an everlasting impression on me. Mountainwatch organised everything perfectly, and even so, we were still flexible enough to move around the travel itinerary according to the best possible snow conditions.
Tim
Mountainwatch finds the best spots and delivers the goods! Nippledeep powder and cheap laughs. It's been a blast going to Japan en Kashmir with them.
Jelle
ENQUIRE NOW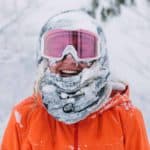 HAVE ANY QUESTIONS? Speak to one of our ski travel specialists today!
GET A QUOTE