Guide to ride: Queenstown Mountain Bike Edition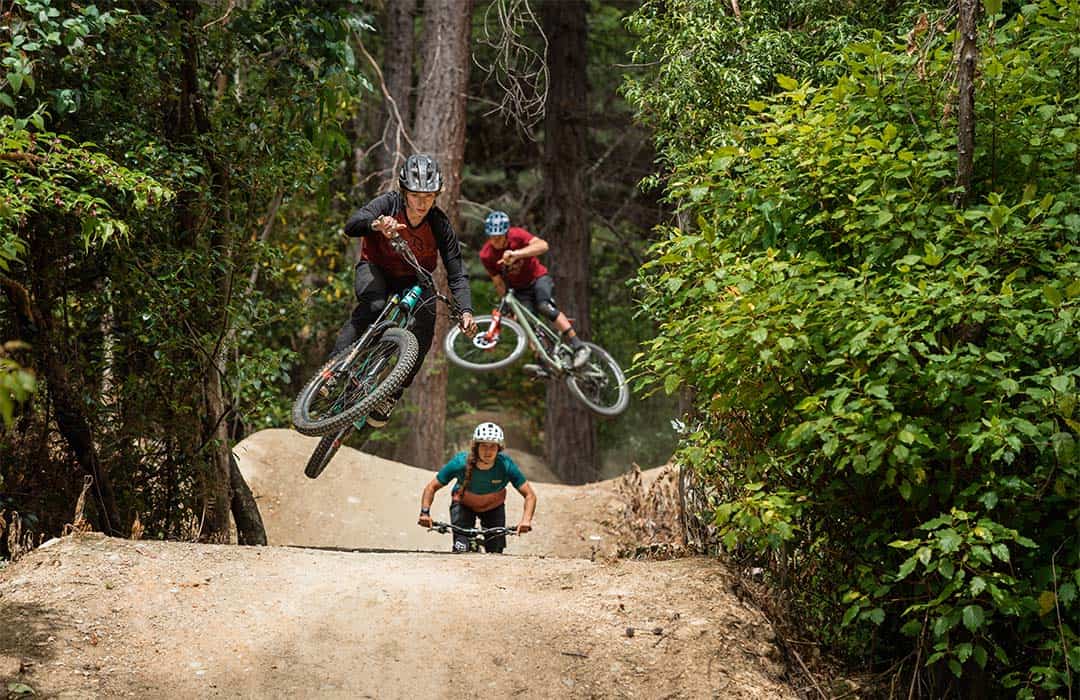 Mountainwatch | Annabel Herbison
Okay, so by now we're all pretty well acquainted with the fact that Queenstown is an epic winter destination. From its stunning mountain vistas, to its shred-ready alpine terrain, and onslaught of adrenaline-raising activities – heli-ski anyone?
But we're letting you in on a little secret, the snow is most-definitely only half the fun! When Spring sets in, this little slice of paradise turns into the ultimate bike town, instantly ready to ride until the snow gods deliver again. Which, when you think about it, means nine months of the year Queenstown is an ultimate mecca for mountain biking.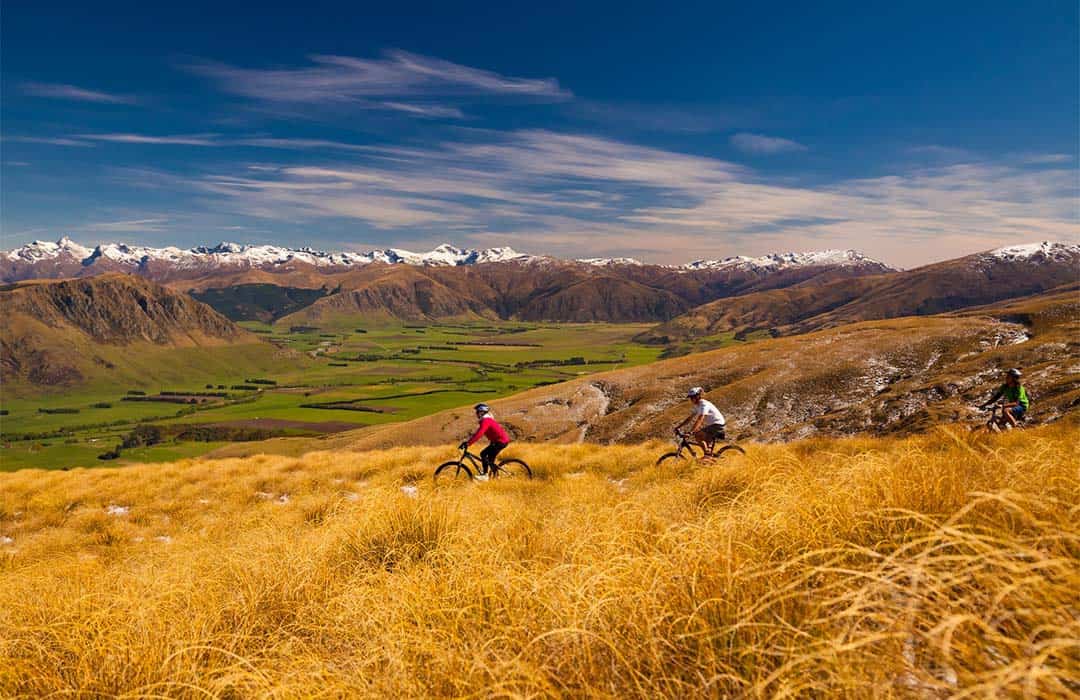 Boasting some of the county's best mountain bike parks, an extensive trail network, the most renowned dirt jump track on earth (pretty cool, huh?), and providing access to six of New Zealand's 22 'Great Rides', it's no wonder Queenstown is considered one of the Southern Hemisphere's premier mountain biking destinations. Oh, and we'd better mention it's also the home of the Crankworx Summer Series mountain bike festival this year!
Whether you're after a downhill adrenaline-fix, cross country adventure, memorable family holiday or want to experience the stunning Central Otago landscapes, Queenstown is the perfect playground to grab life by the bars and explore the great outdoors. Here's your guide to ride: Queenstown Mountain Bike Edition.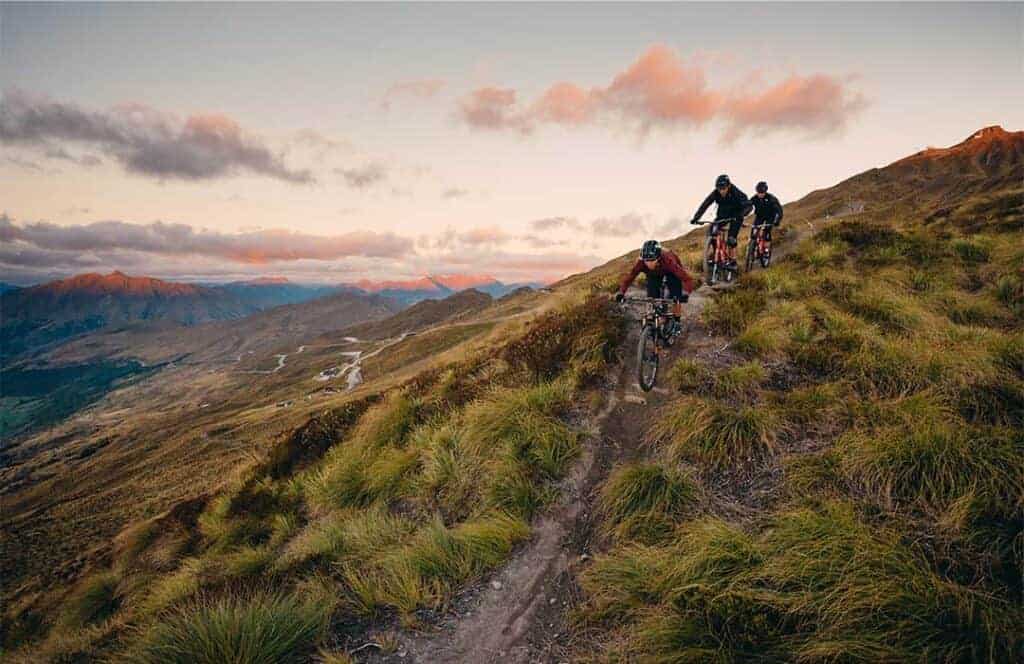 Famous Lift-Assisted Bike Parks
Ready to shred? Yes? Good answer. Now where to start… With three lift-assisted mountain bike parks and plenty of others to ride at your free will, Queenstown is a
hot-spot for mountain bikers of all levels. It's also well equipped with plenty of gnarly Downhill action for those seeking adrenaline – it's no wonder pros come here from around the world to ride and train.
In Summer, New Zealand's highest bike park, Cardrona, turns things up a gear with two of its chairlifts giving keen riders access to 345 vertical metres of mountain terrain. There are epic trails for all levels, from the black diamond Dirtstart Downhill built for the national champs, to the Peak to Pub ride down to Cardrona Hotel.
Hot tip: the 'TGIF' pass is a Friday night vibe, spend your sun-soaked evening riding trails, enter one of the 'Fast Fridays' mini-competitions and celebrate (victory?) with a cold beer.
Fifteen minutes from the heart of Queenstown, lies Coronet Bike Park– home to some of Queenstown's most renowned fun, flowy and technical mountain bike trails. Intermediate and expert riders flock to the famous Coronet XC, Coronet Peak DH, Hot Rod and Slip Saddle for hours of endless fun. Late nights at Coronet Bike Park are on a Thursday, so grab a sunset pass and enjoy that après feeling (mountain bike style) with an all you can eat BBQ and epic tunes.
Notably the most famous of the three, Queenstown Bike Park, sits right amongst the action, smack bang in the middle of town. This gondola-assisted bike park, has 30 world-class mountain bike trails, totaling over 30kms of riding and 450 metres of vertical descent – some of the trails are even known for being the steepest and gnarliest in the country – pretty impressive, yeah? But don't fear, there are trails for all riding abilities with local school kids making the most of the park from 3pm
(hot tip: ride before 3pm).
Non-Lift Assisted Bike Parks
 As well as the lift-assisted parks, Queenstown and Wanaka are home to some pretty insane pedal-only bike parks full of technical trails, single-track and some epic jump sections.
The Queenstown local's favourite, 7 Mile Scenic Reserve is a cross country trail network full of technical single-track and fast flowy man-made trails, with super-popular runs such as Jack B Nimble, Kachoong and IB55. The Queenstown Mountain Bike Club dubbed Fernhill Bike Parkthe home of natural tech and supreme flow! With famous trails like the Salmon Run and progressive jump lines like McNearly Gnarly it's the real deal.
The Express DH at Wynyard Bike Park is a favourite amongst Queenstown's DH riders, with a flowy top section that descends into more technical terrain. The park is also known for its epic dirt jumps, Mini Dream and The Dream Track – which has some of the biggest public jumps in the world. If you're looking for more dirt jumps that'll make you "yeeeeeew" head to the Gorge Road Jump Park, it's home to over 40 of them.
Over the crown range you'll find the newest bike park, Bike Glendhu. With 1000 hectares and over 30km of bike trails sitting pretty atop lake Wanaka, it's a stunning spot to get your shred on – whether you're a beginner, family or hunting the next adrenaline-fix.
Scenic Trails and Great Rides
If your need for scenery beats your need for speed, Queenstown and its surrounds are home to plenty of stunning trail networks and unforgettable rides that pass through some of New Zealand's most iconic backdrops.
Let's start with the country's most popular 'Great Ride', the Queenstown Trail– a network of trails that covers 130km of breathtaking off-road riding from the heart of Queenstown to Gibbston Valley, Lake Hayes, Arrowtown and beyond. Tackle this trail as you please, it can be broken down into short hour-or-so long rides, full day missions or multi-day journeys.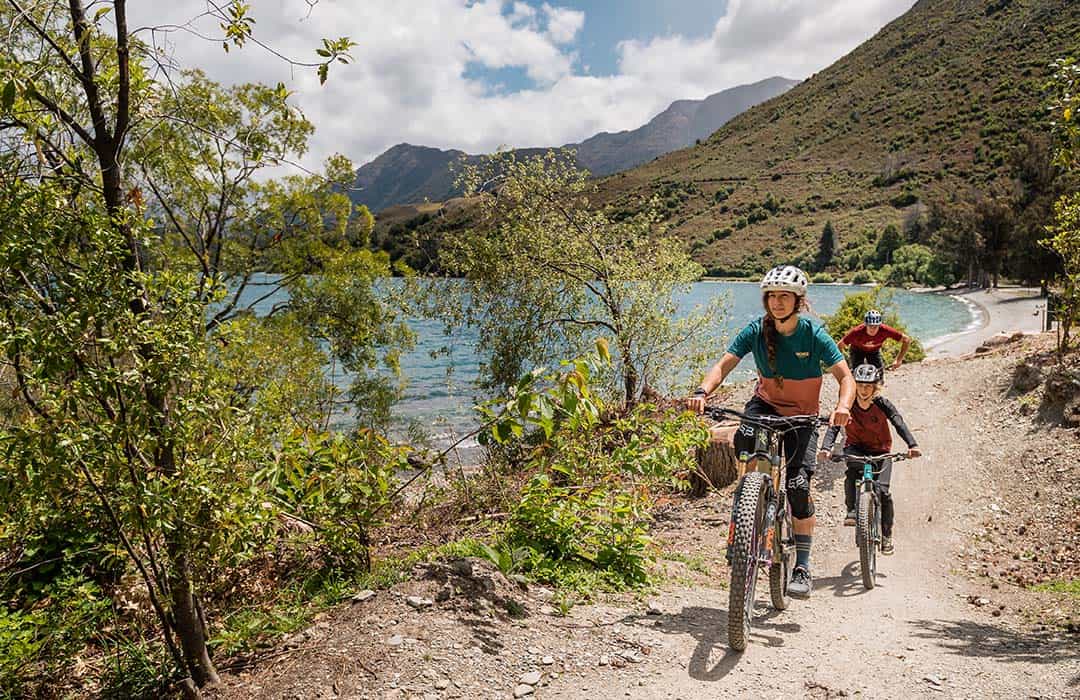 If you're partial to a wine, we recommend riding the Gibbston River Wine Trail which winds its way high above the Kawarau River through Central Otago's spectacular wine country. And yes, we highly recommend stopping in at the wineries as you go for a tasting or two.
Less than an hour outside of Queenstown lies one of the country's newest and most sought-after trails, Lake Dunstan. Ride 55km from Clyde to Cromwell alongside an incredibly scenic, crystal blue lakefront, and make sure to stop in for a burger at Burger Afloat – New Zealand's first floating burger bar. While in the region, the Roxburgh Gorge Trail is a must ride, a trail where history and old gold working meet scenery and jet boating….yes, parts of this trail are accessed by jet boat (bike and all) …how's that for a memorable experience?
If you're looking for a Central Otago hidden gem, the Welcome Rock Trail in Garston is the ride for you. This 27km single loop trail along the Roaring Lion Water race was hand built by Tom, a fourth-generation farmer, using just a pick-axe! Sitting 1,000 metres up atop Welcome Rock station, you'll ride past giant schist rocks, tussocks and panoramic views – all in blissful privacy.